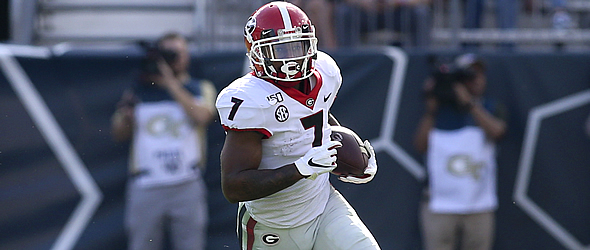 D'Andre Swift boasts a three-down skill-set and is more ready for the NFL passing game than most.




Vitals



College: Georgia
Height/Weight: 5' 8"/212
Hands: 9"



Important NFL Combine Numbers



40-Yard Dash: 4.48
Vertical Jump: 35.5"
Broad Jump: 10' 1"
20-Yard Shuttle: DNP
3-Cone: DNP



College Production

(Stats)


High-end NFL Player Comp(s): Aaron Jones
Low-end NFL Player Comp(s): Devin Singletary

Best Scheme Fit: Mostly universal, but his best fit figures to be outside zone. Boasts a three-down skill-set and is more ready for the NFL passing game than most college backs.

Strengths

Concerns
Breakaway speed was lacking in 2019; film is littered with chunk plays but not a lot of home runs.


Anticipates contact and absorbs contact well but will run a bit too high at times, causing him to lose some of the physical battles in the hole and opening himself up to unnecessary punishment. (1:30, 3:55, 5:33)


Shows the ability/willingness to operate outside of original play design, but tends to be a bit too conservative in this regard when his athleticism would likely allow him to break off a longer run. (0:05, 0:12, 1:44, 2:02, 4:10)


Needs to be more aware of keeping the ball high and tight and in his outside hand. (0:00, 0:37, 1:23)


Didn't miss a game in three seasons, but he played through a myriad of minor injuries and was limited to six touches over the last two contests of 2019 due to a shoulder issue.
Bottom Line

There are unlikely to be many running back prospects in this draft more ready to contribute immediately than Swift. While carrying the ball is still their primary function, running backs must have the trust of the coach in virtually all facets of the passing game if they hope to see more than half of the team's snaps. His best attribute may be his receiving skills. At Georgia, he was used out of the backfield, in the slot and out wide, and Pro Football Focus charted him with only three drops on 76 catchable balls in his career. While the defenses and blitz packages he will face in the NFL will undoubtedly be more complex than what he saw in college, Swift is well ahead of the curve as it relates to most prospects when it comes to protecting the quarterback. It goes without saying that if he is a highly capable and versatile receiver, then he's probably well above-average in terms of quickness and works well in space. Check and check. He's also no slouch when it comes to running with power. He's not elite in that regard, but he has enough thump to run effectively between the tackles and convert in short yardage.
Swift excels in space, typically picking up huge chunks on draw plays and screens. Surprisingly for a player who ran a 4.48 at the NFL Combine, shows such immediate burst and creates so many chunk plays, the Philadelphia native didn't pull away from many second- and third-level SEC defenders. In other words, he doesn't destroy pursuit angles like some of the best do in the open field. It's hardly a deal-breaker and something he should be able to improve as time goes on, but it's slightly disappointing for a prospect that has so much else working in his favor. Swift is also occasionally guilty of seeking out contact when he probably could drop his patented "dead leg" on a defender and pick up more yardage - something that might explain in part why his long run was 47 yards on 196 carries last season. He also runs too high at times. Durability - at least in terms of missing games - wasn't a problem in college, but he probably won't be as lucky at the next level if he isn't more careful about consistently lowering his center of gravity.
Despite never playing more than 500 offensive snaps or logging 200 carries in any of his three seasons in college, Swift profiles as an immediate three-down back with a high floor (as the primary pass-catching back in a committee) and a high ceiling. While it's not always easy to tell from the film, it's obvious his football intelligence is also very high, making it much more likely he'll reach his upside. It wouldn't be overly surprising if Swift is forced to share time with a backfield partner - like Jones and Singletary - while his new team takes its time easing him into a featured role since he was never asked to assume a heavy workload in college. However, the odds are high he'll do enough as a rookie to prove he's ready for a regular dose of 225-plus touches over the remainder of his first NFL contract.

---
Doug Orth has written for FF Today since 2006 and been featured in USA Today's Fantasy Football Preview magazine since 2010. He hosted USA Today's hour-long, pre-kickoff fantasy football internet chat every Sunday in 2012-13 and appears as a guest analyst on a number of national sports radio shows, including Sirius XM's "Fantasy Drive". Doug is also a member of the Fantasy Sports Writers Association.