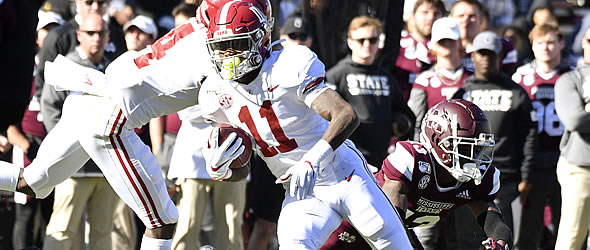 Every team wants at least one player capable of being able to outrun everyone and dictate coverage.

Predict the top ten picks of the NFL Draft for a chance to win FFToday prizes. Enter our NFL Draft Contest.



Vitals



College: Alabama
Height/Weight: 5' 11"/188
Hands: 10 1/8"



Important NFL Combine Numbers



40-Yard Dash: 4.27
Vertical Jump: 42"
Broad Jump: 10' 11"
20-Yard Shuttle: DNP
3-Cone: DNP



College Production

(Stats)


High-end NFL Player Comp(s): John Brown
Low-end NFL Player Comp(s): Will Fuller

Best Scheme Fit: As the primary deep threat in either a rollout-heavy run-based offense (of Shanahan and Kubiak fame) or a true spread attack.

Strengths
Blistering speed makes him virtually impossible to catch once he gets a step on a defender. (0:00, 0:12, 0:43, 0:45. 2:01, 2:01)


Shows a flair for the dramatic catch (0:03, 0:41, 1:09) and was charged with only five drops during his three-year college career (one in 2019), per Pro Football Focus.


Scored a touchdown on 25 of his 100 career offensive touches.


Willing to pay the price over the middle and near the goal line. (0:48, 2:13, 2:33, 2:46, 3:41, 4:43)


Able to apply the brakes quickly enough to be an effective receiver on hitches and fade-stops. (5:17, 5:45)


Concerns
Struggled against press coverage against top-flight competition (0:56, 1:46, 2:26, 13:10) and wasn't always able to create the kind of immediate separation one might expect from someone with his athletic profile. (2:41, 6:10, 13:10)


Efficiency metrics off the charts but overall catch and yardage production surprisingly lean even after accounting for his unbelievable supporting cast; benefited a fair amount from manufactured touches in his career.


A bit more straight-line than someone with his explosive measurements says he should be.


Needs more active hands when trying to disengage early in his route.


Charted with only two contested catches in 2019 per PFF despite boasting a 42-inch vertical and showing the ability to get physical when necessary.


Bottom Line

Ruggs is an interesting dichotomy upon himself. He was never his team's lead receiver in three years at Alabama, yet perhaps no player dictated coverage for the Crimson Tide more than he did. He is the rare deep threat with sure hands, yet Alabama never really went out of its way to take advantage of either trait (only four catches on balls that traveled at least 20 yards in 2019, per PFF). Crimson Tide quarterbacks enjoyed a 151.4 passer rating on throws in Ruggs' direction over his career, yet he was never able to be anything more than his team's third-most productive receiver. It's hard to put too much blame on his shoulders, as Alabama rarely finds itself in a desperate position on offense and can pick its spots. Add in the fact Ruggs played with the likes of Calvin Ridley, Jerry Jeudy, Robert Foster, DeVonta Smith, Irv Smith Jr. and Jaylen Waddle during his college days and it's no wonder he was sometimes a forgotten man.
The problem with using the excuse of the Crimson Tide's deep supporting cast as an excuse for his relative lack of production is that Ruggs never came close to being his team's most productive receiver. This past year alone, he caught two or fewer balls in four games and had four or fewer in 10 of his 12 outings. He never even reached 30 receiving yards in five career bowl games. That's an alarming lack of production for someone being touted as a top-three wideout in this class by many and the best receiver prospect by some. It would be easy for his supporters to suggest he was seeing a lot of coverage tilted in his direction, but that seems unlikely given how Jeudy won the 2018 Biletnikoff Award and considering Smith topped 200 yards twice last year (and even scored five touchdowns in one of them). There is also the small matter of Ruggs occasionally struggling to beat press coverage or create separation on deep routes when he could have very well been one of the top five fastest receivers in college football in 2019.
So what gives? Given the chance, Ruggs would have likely been the clear top wideout on his college team had he played for any one of roughly 125 Division I programs. However, in terms of projecting him forward to the NFL, it's always dangerous for evaluators to expect a player to be able to do something in the pros that he never did in college - lead a receiving corps, in this case. Every NFL team wants at least one player capable of being able to outrun everyone else and dictate coverage, so Ruggs will have no shortage of fans on draft day. But pure speed is rarely enough by itself, so the absence of another special skill tends to get those receivers placed into the field-stretching role more often than not at the pro level. Ruggs would do well to find the kind of consistency Brown enjoyed last year, but the odds are much stronger he'll settle into more of a Fuller-like complementary role in which he mixes one big week in with three relative duds on a semi-regular basis.

---
Doug Orth has written for FF Today since 2006 and been featured in USA Today's Fantasy Football Preview magazine since 2010. He hosted USA Today's hour-long, pre-kickoff fantasy football internet chat every Sunday in 2012-13 and appears as a guest analyst on a number of national sports radio shows, including Sirius XM's "Fantasy Drive". Doug is also a member of the Fantasy Sports Writers Association.