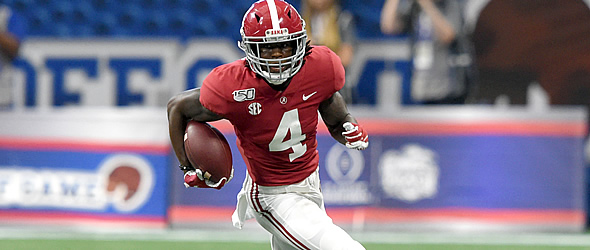 Jerry Jeudy is equipped with a route-running skill set that would make most NFL players blush.

Predict the top ten picks of the NFL Draft for a chance to win FFToday prizes. Enter our NFL Draft Contest.



Vitals



College: Alabama
Height/Weight: 6' 1"/193
Hands: 9 1/2"



Important NFL Combine Numbers



40-Yard Dash: 4.45
Vertical Jump: 35"
Broad Jump: 10'
20-Yard Shuttle: 4.53
3-Cone: DNP



College Production

(Stats)


High-end NFL Player Comp(s): Antonio Brown
Low-end NFL Player Comp(s): Stefon Diggs

Best Scheme Fit: Universal.

Strengths

Concerns
Thin build and may not have the ability to add much more strength; he will need to win with quickness and footwork in the red zone.


Due to the ease in which he defeated tight coverage off the line of scrimmage in college, it's more of a mystery than a concern what will happen if an NFL corner has success with using press against him - at least initially.


Susceptible to the occasional focus drop (5:19, 7:14, 11:31) and relies on body catching a bit more often than he should.


Bottom Line

It was once said that the only person who could stop Michael Jordan was his college coach, Dean Smith. (For what it's worth, Jordan played with at least two future All-Americans in each of his three seasons at North Carolina.) The reason for the comparison to Jordan here is not because Jeudy will be the NFL's answer to "His Airness," but rather because it's almost scary how gaudy his production at Alabama could have been had he not had to share targets with so many current and future pros (Calvin Ridley, Henry Ruggs, Robert Foster, DeVonta Smith, Irv Smith and Jaylen Waddle among them) throughout his career. Jeudy is lightning in a bottle personified and equipped with a route-running skill set that would make most NFL players blush. There may not be a receiver prospect in the last five or so years who gets open faster or creates more separation in the first second or two after the snap than he does.
Jeudy does not come without flaws, although it's probably more accurate to say the holes in his game right now are mysteries as opposed to concerns. He is a bit on the slight side and probably won't be able to do much about that during his pro career. Alabama's opponents did attempt to press him from time to time, but I could not find one instance in the 12 or so games I watched where a cornerback got an effective jam on him. Thus, there's no telling if or how long Jeudy would be rendered ineffective should an NFL corner have a bit of success in press coverage. If he does have one issue that approaches a concern, it may the fact he was charged with seven drops in 2019, per Pro Football Focus. He also showed the ability to wall off his defender as a blocker, but it's fairly obvious that blocking was not a high priority of his in college.
While any prospect can theoretically bust in the NFL, Jeudy seems highly unlikely to do so. It seems much more probable he will explode on the scene immediately and become his team's primary receiving option within the first month or two of his rookie season. The ease with which gets his defender out of position, avoids a jam and creates quick separation is remarkable. Receivers with his physical gifts who are also seemingly administering a graduate-level course on the position while still in college are extremely rare. Even in a draft that boasts so much receiver talent, Jeudy is a cut above the rest. He is one of the most complete receiver prospects I have evaluated since the loaded 2014 draft class.

---
Doug Orth has written for FF Today since 2006 and been featured in USA Today's Fantasy Football Preview magazine since 2010. He hosted USA Today's hour-long, pre-kickoff fantasy football internet chat every Sunday in 2012-13 and appears as a guest analyst on a number of national sports radio shows, including Sirius XM's "Fantasy Drive". Doug is also a member of the Fantasy Sports Writers Association.