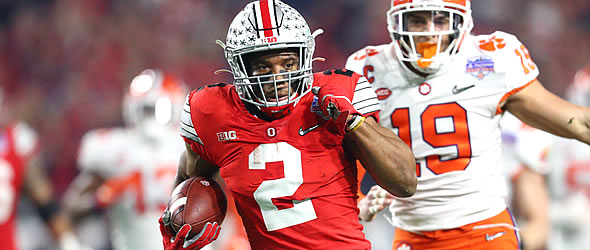 An outside zone scheme would suit Dobbins' speed, vision and explosiveness the best.




Vitals



College: Ohio State
Height/Weight: 5' 9"/ 209
Hands: 9 1/2"



Important NFL Combine Numbers



40-Yard Dash: DNP
Vertical Jump: DNP
Broad Jump: DNP
20-Yard Shuttle: DNP
3-Cone: DNP



College Production

(Stats)


High-end NFL Player Comp(s): Marlon Mack
Low-end NFL Player Comp(s): Bishop Sankey

Best Scheme Fit: Outside zone would suit his speed, vision and explosiveness the best.

Strengths
Hits the hole decisively and delivers the big play as often as any running back in this draft. (0:34, 0:55, 1:11, 1:39, 1:57, 2:45, 4:13, 4:54)


Sees the field well (0:40, 2:43, 3:10, 3:20, 6:02), allowing him to cut back and make something out of nothing when the original play breaks down. (1:40, 2:43, 3:20, 7:00, 7:14)


Anticipates well and often forces the defender to come up empty, be it behind the line of scrimmage (0:49, 3:20, 6:02, 6:42) or in the open field. (1:08, 5:45, 6:02)


Strong stiff-arm (0:05, 1:21, 3:28) only accentuates his ability to run with power and break tackles on a semi-regular basis. (0:00, 0:55, 1:18, 3:28, 3:29, 4:06, 7:14)


Amassed 71 catches in his college career and should be able to contribute immediately out of the backfield as a receiver. (1:09, 1:22, 2:19, 3:04, 4:37)


Did not miss a game in three college seasons and played his best against the best; averaged 27 carries and 174.8 yards rushing (6.5 YPC) in six games against ranked opponents in 2019.


Concerns
Able to hold his own occasionally as a blocker (0:36, 3:08, 4:47) but he got confused or was outmatched far too often in pass pro. (0:21, 2:44, 3:13, 3:31, 3:41, 4:03)


Worked the angle route well (1:09, 1:22), but he wasn't asked to run an expansive route tree and has room to grow in terms of doing so crisply.


Forced 73 missed tackles in all in 2019, but broke only seven tackles on 71 catches in his college career, per Pro Football Focus.
Bottom Line

Dobbins did not work out at the NFL Combine due in part to a high ankle sprain suffered in his final college game, but he gave evaluators a glimpse of his raw athleticism in 2016 when he ran a 4.45 in the 40, a 4.09-second short shuttle and posted a 43-inch vertical jump at a Nike-sponsored event in Oregon. Those numbers carried over to the field, as his explosiveness shows up on his tape more often than perhaps any other trait he brings to the table. To that end, the Texas native led all draft-eligible running backs with 31 carries of 15-plus yards in 2019, per PFF.
For all the upside Dobbins possesses and the gaudy numbers he produced in college, he is not an easy projection to the next level. First, there is the multilayered issue of Ohio State boasting substantially more NFL talent than most of its opposition most weeks and its offensive scheme creating more space for a high-level athlete like Dobbins than most college backs get. In short, while Dobbins did well to anticipate where holes were about to form on many of his runs, he also ran through his fair share of alleys that most good high-school running backs could exploit. Beyond that, he was manhandled too many times as a blocker in 2019, which would almost certainly keep him from becoming a featured back early in his career if it continued in the NFL. For whatever reason, Dobbins improved significantly in this area as the season came to a close.
Dobbins is a bit of a walking contrast. He is a big play waiting to happen on just about every touch, but there are too many times where he doesn't pull away from defenders. He runs with power and flashes the ability to break tackles consistently, but he also gets stopped dead in his tracks too often on inside runs. He is a capable receiver, but it was hard to watch him in pass protection until the final few games of 2019. There's no question he has the goods to be a three-down back in the NFL, but the aforementioned dichotomies raise enough concerns about consistency that he should probably be drafted as the explosive change-of-pace back in a committee. If his play in the final few games can quiet concerns about his issues in pass pro for evaluators and he can quickly pick up where he left off in that regard, then he has as good of a chance to be the most productive at his position in this class as any back. Also, while scheme fit is important for most running backs, it may be more important for Dobbins than most. It's not that he can't run in between the tackles, but rather his ability to create space and accelerate quickly would be wasted to some degree.

---
Doug Orth has written for FF Today since 2006 and been featured in USA Today's Fantasy Football Preview magazine since 2010. He hosted USA Today's hour-long, pre-kickoff fantasy football internet chat every Sunday in 2012-13 and appears as a guest analyst on a number of national sports radio shows, including Sirius XM's "Fantasy Drive". Doug is also a member of the Fantasy Sports Writers Association.