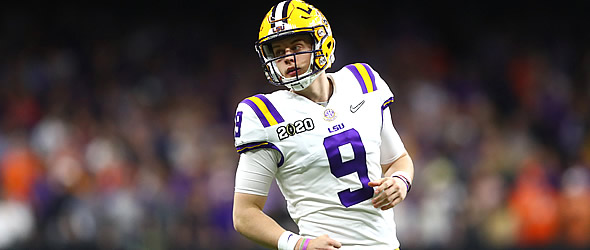 It's hard to argue that Joe Burrow's best fit is in a true spread, run-pass option offense.




Vitals



College: LSU
Height/Weight: 6'3"/221
Hands: 9"



Important NFL Combine Numbers



40-Yard Dash: DNP
Vertical Jump: DNP
Broad Jump: DNP
20-Yard Shuttle: DNP
3-Cone: DNP



College Production

(Stats)


High-end NFL Player Comp(s): Aaron Rodgers
Low-end NFL Player Comp(s): Tony Romo

Best Scheme Fit: Hard to argue that his best fit is in a true spread, run-pass option offense, although the number of timing throws he made in college bode well for his ability to thrive in a more traditional offense as well.

Strengths
Extremely accurate ( 0:14 , 0:31 , 1:47 , 3:41 , 6:13 , 6:29 ); doesn't lose any of his touch on the move and usually crushes the defense's soul with his downfield strikes on plays he breaks containment. ( 0:08 , 0:39 , 2:18 , 2:54 , 3:31 , 7:19 )


Exhibits a high level of composure and navigates the pocket well ( 0:40 , 2:17 , 2:54 , 3:18 , 7:19 ); already scans the field/looks off defenders like a pro and consistently wins from the pocket. ( 1:28 , 2:57 , 8:27 , 8:35 )


More than willing to stand in against the rush and doesn't flinch when he knows a hit is coming. ( 1:09 , 3:54 , 3:55 , 6:05 , 7:35 )


Athletic enough to do some damage on a zone read and/or make a defense pay for an undisciplined rush although he is not a game-breaker with his feet. ( 1:44 , 3:43 , 4:15 , 8:38 )


Confident yet heady playmaker unafraid of tight-window throws. ( 0:34 , 0:37 , 4:11 , 4:57 , 5:00 , 6:54 )


Career touchdown-to-interception ratio of 78:11 only underscores how good his decision-making process is.


Played his best against the best; in seven 2019 games against the stiffest competition (Texas, Florida, Auburn, Alabama, Georgia, Oklahoma and Clemson), he averaged 397 yards passing to go along with a 27:2 TD-to-INT ratio.
Concerns
Takes sacks he doesn't need to and/or occasionally holds on to the ball too long as opposed to moving on to the next down. ( 2:00 , 3:20 , 6:18 , 9:24 )


Needs to be more selective about challenging the defense as a runner. ( 0:10 , 1:01 , 1:59 , 3:31 , 3:42 )


Occasionally floats a ball outside the numbers and/or struggles to drive the ball as far down the field as he should. ( 0:29 , 2:24 , 4:45 , 5:05 )


Fair to wonder how much his improvement from 2018 to 2019 was a product of his development and how much of it was OC Joe Brady's NFL concepts.
Bottom Line

Andrew Luck was unquestionably one of the most accurate quarterback prospects of the last decade. Burrow is in that class in terms of accuracy. It's almost as if anything within 20 yards is an extended handoff. LSU's up-tempo, RPO-heavy offense - along with the Tigers' plethora of NFL-ready receiving weapons - certainly showcased just how high of a ceiling Burrow has. Yet, even in an ideal situation against average competition, a quarterback capable of averaging 378 yards passing and posting a 10:1 TD-to-INT ratio is ridiculous. Throwing for 60 touchdowns in a season is equally absurd. To do all of this in the best conference in college football and make it look mostly effortless is beyond amazing.
Burrow is not a perfect prospect, however. No matter how gaudy his production was in 2019, it was just one season and doesn't erase the fact he was a sub-60 percent passer in 2018. There's also no question a great deal of his 2019 production was the result of letting his talented backs and receivers picking up massive chunks of yards after the catch on quick-hitters (flares, slants, etc.). It is also fairly obvious he doesn't like giving up on plays and living for another down, which is an admirable trait when things work out and an undesirable trait when the don't. Like most young signal-callers, he also needs to gain a better appreciation for when he should put his body in harm's way as a runner and when he is better served settling for a short gain.
With that said, two of the most desirable characteristics a quarterback prospect entering the league can possess is accuracy and the ability to win the chess game that football often becomes at the pro level. Burrow has both in spades. The Rodgers comp is a very high bar for the Ohio native, but that kind of ceiling is within reach considering his accuracy, awareness and vision - the last two of which may have been the biggest reasons he thrived in LSU's spread attack in 2019. A more reasonable expectation is Romo, who did a good job of extending plays for most of his career and was an underrated athlete. So while it may be scary to trust one year of production in college, Burrow doesn't have the feel of a player that will bust. A more likely outcome is he evolves into a top-10 quarterback in the league by the time he is ready to sign his second contract.
---
Doug Orth has written for FF Today since 2006 and been featured in USA Today's Fantasy Football Preview magazine since 2010. He hosted USA Today's hour-long, pre-kickoff fantasy football internet chat every Sunday in 2012-13 and appears as a guest analyst on a number of national sports radio shows, including Sirius XM's "Fantasy Drive". Doug is also a member of the Fantasy Sports Writers Association.