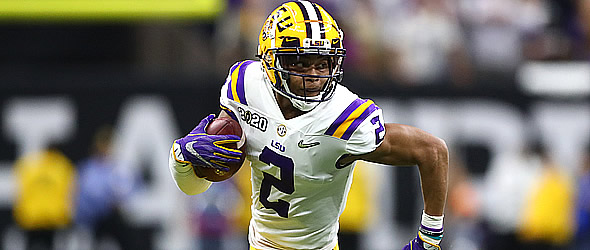 Predict the top ten picks of the NFL Draft for a chance to win FFToday prizes. Enter our NFL Draft Contest.



Vitals



College: LSU
Height/Weight: 6' 1"/202
Hands: 9 1/8"



Important NFL Combine Numbers



40-Yard Dash: 4.43
Vertical Jump: 37.5"
Broad Jump: 10' 6"
20-Yard Shuttle: DNP
3-Cone: DNP



College Production

(Stats)


High-end NFL Player Comp(s): Marvin Jones
Low-end NFL Player Comp(s): Mike Sims-Walker

Best Scheme Fit: Primary slot option in a spread attack or as the "Z" receiver in a West Coast offense.

Strengths

Concerns
Lined up almost exclusively in the slot, severely limiting the amount of physical coverage at the line of scrimmage (105 of his 111 catches and 1,518 of his 1,540 receiving yards in 2019 came out of the slot, per Pro Football Focus).


Does not create a lot of separation.


Beat up zone coverage so much in 2019 - he spent much of 2018 as a perimeter receiver - that his ability to beat man coverage consistently is up for debate.


Tends to stand straight up and slow-play too much when he is trying to set up his defender on a short route. (0:31, 1:01, 1:08, 3:40)


Bottom Line

When many of the same key players go from serving as the main contributors on the 38th-ranked scoring offense and 69th-ranked total offense one year to one of the most unstoppable units in college football history the following season, certain questions need to be asked. (Was the previous year's offensive coordinator that unfit to do his job? Did the key returning contributors improve THAT much? Were players from the previous season miscast and the following season cast perfectly?) The general sense is the 2019 version of the Tigers took off in part because Joe Burrow had more time to bond with his teammates last spring after not being afforded that luxury following a late transfer from Ohio State in 2018. The hiring of Joe Brady from the New Orleans Saints as the program's passing game coordinator/receivers coach undoubtedly contributed to LSU's decision to move Jefferson inside on a more regular basis to be the "big slot" that has been such a critical part of Sean Payton's offenses for years with the Saints. Whatever the answers are to the questions above, the decisions paid off in a big way for Jefferson, as he went from a 54-875-6 receiving line (working primarily as an outside receiver) in 2018 to 111-1,540-18 (working almost exclusively out of the slot) in 2019.
Jefferson possesses at least two qualities that make him a great slot receiver: exceptional body control and what appears to be zero apprehension for running routes over the middle of the field. Those attributes will serve him nicely at the next level, but NFL general managers - even in today's more wide-open game - tend to shy away from a high draft pick on a receiver whose primary home will be inside (at least when there is also a significant question about how effective he will be on the perimeter). His 4.43 speed helps to quiet some of those concerns, but the NFL chews up and spits out about as many receiver prospects who boast that kind of speed as it keeps. In other words, a wideout needs more in his bag to stick around for a while. (Does he create a lot of separation? Does he win more than his fair share of contested-catch situations? Is he special after the catch?)
It's not hard to imagine Jefferson's career mirroring that of Michael Thomas or Davante Adams if he lands in a great situation with an elite quarterback, strong position coach and creative play-caller; he plays the ball in the air like they do at times. It's also not hard to imagine Jefferson becoming a Michael Jenkins clone in which he enjoys a steady career but never strikes much fear into a defense. Part of being a great player is the ability to make teammates look better than they are. Jefferson does not appear to be that kind of player. The 2019 FBS receptions co-leader does enough of the things to earn trust from quarterbacks that he should start in relatively short order and enjoy a productive pro career, but he very much has the look of a complementary receiver at the NFL level who will be asked to move the chains and perhaps serve as his team's primary red zone option in lieu of a stud tight end or dominant alpha receiver. Just don't expect him to be "the man" unless all the stars line up perfectly for him.

---
Doug Orth has written for FF Today since 2006 and been featured in USA Today's Fantasy Football Preview magazine since 2010. He hosted USA Today's hour-long, pre-kickoff fantasy football internet chat every Sunday in 2012-13 and appears as a guest analyst on a number of national sports radio shows, including Sirius XM's "Fantasy Drive". Doug is also a member of the Fantasy Sports Writers Association.