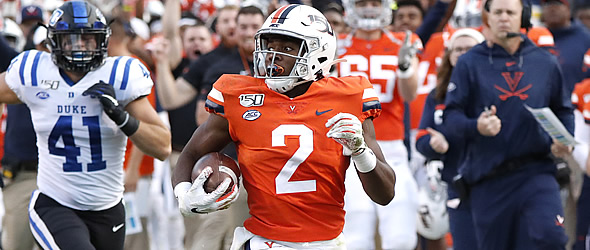 5.05 – WR Joe Reed, Chargers
Reed was likely drafted for his return prowess, but he joins a team in the Chargers who lack much in terms of depth at the receiver position. As one might expect for a 6-0 receiver who checks in at over 220 pounds, Reed turns into a running back after the catch. He spent most of his time in the slot with Virginia last season, so he's got a shot at playing time there if LA wants to change up from Keenan Allen on occasion. Unfortunately, Reed is a long way away from being a polished receiver, so perhaps he ends up being more of a jack of all trades who spends most of his time in the return game.
Where should I expect him to go in my rookie drafts? Outside of the first four rounds.
5.16 - WR Tyler Johnson, Bucs
Height/Weight: 6' 1"/206
College: Minnesota
NFL Comp: Mohamed Sanu
The Golden Gophers will never be accused of executing a highly diverse passing game, and they proved it with their usage of Johnson over the last two seasons. While running short and intermediate routes are his strength, Pro Football Focus charted him running a slant route 26.1 percent of the time since 2018 - an insanely disproportionate percentage of a single route being run by one player.
Johnson curiously opted against running and jumping at the NFL Combine, so the questions about his straight-line speed and athleticism will remain unanswered for a while longer. PFF also credited him with 24 drops on 238 career catchable targets, but none of those "limitations" kept him from putting up some gaudy numbers in the Big Ten (78-1,169-12 in 2018, 86-1,318-13 in 2019) in what was very much a run-heavy attack.
Perhaps the best thing that can be said about him is that while he may not be the best at anything, he does enough of the important things consistently to beat his defender. His limited athletic profile makes him a scary bet to ever become a No. 1 receiver, but his resourcefulness figures to catch the eye of Tom Brady. Johnson has a real shot to beat out Justin Watson and Scotty Miller as the third receiver in Tampa Bay. While Chris Godwin figures to remain the primary slot option, the rookie could see early snaps there and warrants consideration as a late-round grab in redraft leagues if he ends up winning the No. 3 job.
Where should I expect him to go in my rookie drafts? 2.09. He's my 12th-ranked rookie receiver.
5.22 - QB Jake Fromm, Bills
It's not hard to understand why the Bulldogs opted for Fromm over Jacob Eason when they were forced to make a decision, as Fromm is consistently accurate and far less prone to putting his team in compromising positions - a big deal for a team that prides itself on running the football and playing defense. It also helps the evaluation process when a prospect shows he can do more than hold his own against the Crimson Tide (2018 SEC Championship). In fact, he arguably outplayed Tua Tagovailoa before the latter was forced to leave with an injury in that contest. With that said, Fromm attempted 32 or more passes only six times in 43 career games. In those six outings, he completed 54 percent of his passes, threw for 10 touchdowns versus 10 interceptions and Georgia went 0-6.

The draft usually produces at least one or two quarterbacks like Fromm every year - players short on arm talent and athleticism whose upside is probably as a career backup that will get exposed if he's needed to run the offense for multiple games. He'll likely keep a job in the league for a while because he recognizes his limitations and compensates by making smart plays, but there's not a lot of film to suggest he'll be able to play with the same kind of anticipation that allowed Chad Pennington to carve out a decent living in the NFL before shoulder injuries ultimately ended his career. His arm strength limitations figure to hurt him in Buffalo, but he should have a great shot to be Josh Allen's backup.
Where should I expect him to go in my rookie drafts? Outside of the first four rounds.
6.08 - WR Donovan Peoples-Jones, Browns
A former five-star receiver coming out of high school, Peoples-Jones has about all the measurables a team could ask for a receiver (6-2, 212; 4.48, 44.5-inch vertical, 11' 7" broad, 33.5-inch arms). Unfortunately, the production didn't match the workout numbers at Michigan. It's worth wondering how much of that was a product of uneven quarterback play with the Wolverines. Part of his disappointing production was due to a lack of attention to detail in his route-running, which could be due to an overreliance on his athletic ability. He also lacks the kind of suddenness one would expect with his explosiveness. The reason he gets a mention here is Cleveland's depth chart at receiver behind Odell Beckham Jr. and Jarvis Landry in relatively bare. It's possible Peoples-Jones never evolves into anything more than a situational deep threat, but it's just as likely his athleticism allows him to be much more than that.
Where should I expect him to go in my rookie drafts? 2.11. He's my 14th-ranked rookie receiver.
6.10 - QB Jake Luton, Jaguars
Jacksonville landed what it hopes is its long-term quarterback in the sixth round last season in Gardner Minshew, and it goes back to that well again here. Isaiah Hodgins - a receiver prospect likely to get drafted soon - made him look better than he is at times during his stay in Corvallis, but Luton has some tools to work with that could allow him to challenge Minshew if he slips in Year 2. Even if he can't move particularly well, Luton values the ball and possesses more than enough arm strength. More than likely, he will spend the next year or two developing as Minshew's primary backup.
Where should I expect him to go in my rookie drafts? Outside of the first four rounds.
6.22 - WR James Proche, Ravens
Baltimore addressed the slot on Day 2 with Devin Duvernay and go back there late on Day 3. Fortunately, whereas Duvernay is more of a "power slot", Proche wins with good hands and plus route-running. The SMU product is like his draft classmate in that he possesses very good ball skills. Proche will almost certainly be limited to slot duties in large part because he struggles against physical coverage, and his size (5-11, 201) contributes to his relative inability to do much after the catch.
Where should I expect him to go in my rookie drafts? 4.04. He's my 20th-ranked rookie receiver.
6.28 - WR Isaiah Hodgins, Bills
Height/Weight: 6' 4"/210
College: Oregon State
NFL Comp: Cameron Meredith
Ultimately, the primary job of every receiver is being able to catch the ball and do it consistently. Arguably no prospect in this draft does that better than Hodgins, who was credited with only three drops on 249 catchable passes in his career per Pro Football Focus. His ball skills may be the best in this draft class, and that's a noteworthy thing - especially considering the fact he has some nuance and savvy to his route-running for being such a tall receiver. For football fans who have been around a while, he's got some Ed McCaffrey to him.

On the downside, while he was able to get vertical in college due to his craftiness, he looks every bit like the 4.61 runner on tape that he showed himself to be at the NFL Combine. He also offers very little after the catch (11 broken tackles on 176 career catches, per PFF) and isn't strong enough to this point to deal with physical coverage, which might force him to be a slot for the foreseeable future. With that said, he's got a chance to be a solid possession receiver and red zone contributor in the not-too-distant future. He's going to have trouble breaking through the Stefon Diggs-Cole Beasley-John Brown trio right away, but he's resourceful enough to contribute right away if one of those players goes down.
Where should I expect him to go in my rookie drafts? 4.09. He's my 21st-ranked rookie receiver.
7.08 - WR Isaiah Hodgins, Bills
Height/Weight: 5' 9"/207
College: Arizona State
NFL Comp: Devin Singletary
Depending on the source, Benjamin play between 195 and 201 pounds in 2019. It's hard to tell that by the way he runs, however, as he is fearless between the tackles and breaks more tackles than he probably should. Benjamin is also a twitchy back who can stack multiple moves together in a short time and possesses more contact balance than one might usually expect from a player of his size. His hands are solid (six drops on 88 career targets per Pro Football Focus), but it's probably a bit pie-in-the-sky to project him as a mismatch weapon in the passing game or a back who can threaten a safety when he gets flexed out.
He is occasionally guilty of trying to make too much out of a hopeless cause and being too impatient for his own good when he probably just needed to wait a split-second for his blockers to clear a path. However, running backs who run with an attitude as often as Benjamin does tend to stick around a while in the NFL, so while he may not end up becoming an all-purpose weapon, he should have a future as a solid third back behind Kenyan Drake and Chase Edmonds.
Where should I expect him to go in my rookie drafts? 4.02. He's my 13th-ranked rookie running back.
7.31 - RB Raymond Calais, Buccaneers
HC Bruce Arians mentioned shortly after drafting Calais that he viewed the Louisiana-Lafayette product as a "very smaller but much faster version of David Johnson." Take it for what it's worth. As it is, Calais is a 5-9, 180-pound running back, so it's reasonable to say he wasn't drafted to pass protect or challenge on Jones and Ke'Shawn Vaughn for work in between the tackles. Therefore, would think the Bucs selected him with the idea he was a superior pass-catching back, but he managed only 20 catches over three seasons for the Ragin' Cajuns. (The good news is that number came on 21 targets.) What he does provide that no one else in Tampa has is speed: 4.42. Arians added in that same post-draft interview that he while Calais wasn't Tarik Cohen, "he's kind of that style guy … joystick-type guy." Thus, it's possible Arians & Co. see him as their version of James White, and that's always going to be a fairly big deal in an offense led by Tom Brady.
Where should I expect him to go in my rookie drafts? 4.01. He's my 12th-ranked rookie running back.

---
Doug Orth has written for FF Today since 2006 and been featured in USA Today's Fantasy Football Preview magazine since 2010. He hosted USA Today's hour-long, pre-kickoff fantasy football internet chat every Sunday in 2012-13 and appears as a guest analyst on a number of national sports radio shows, including Sirius XM's "Fantasy Drive". Doug is also a member of the Fantasy Sports Writers Association.