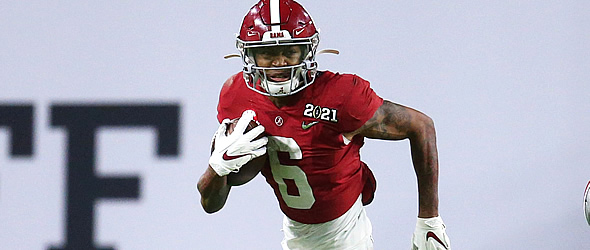 Vitals

College: Alabama
Height/Weight: 6''0"/170
Hands: 9 1/4"
Age: 22



Important NFL Combine Numbers



40-Yard Dash: N/A
Vertical Jump: N/A
Broad Jump: N/A
20-Yard Shuttle: N/A
3-Cone: N/A



College Production

(Stats)


High-end NFL Player Comp(s): Tyler Lockett
Low-end NFL Player Comp(s): A more dynamic Brandon Lloyd

Best Scheme Fit: Universal.

Non-bolded times - Good examples of attribute
Bolded times - Average/poor examples of attribute
Position-Specific Attributes and Grades
Attribute
Att Grade
Scale
Examples
Ball Tracking
9.0
10.0
1:12, 2:34, 2:44, 3:17, 3:58, 4:19
Contested Catch/Body Control
10.0
10.0
1:11, 1:30, 1:33, 1:49, 2:12, 2:34, 2:59, 4:19, 4:28, 6:57
Hands
10.0
10.0
1:07, 1:33, 2:17, 4:19, 4:28, 5:29, 1:33, 4:14, 8:46
Release
9.0
10.0
0:17, 0:30, 0:55, 0:58, 1:33
Route-Running
9.5
10.0
0:44, 0:52, 2:09, 2:56, 9:48
Run After Catch
9.5
10.0
0:33, 0:52, 1:07, 1:34, 3:01, 3:44
Physicality/Competitiveness
6.0
8.0
1:23, 3:15, 4:19, 4:47, 7:38, 1:40, 2:56, 3:42, 8:39
Separation
5.5
6.0
0:43, 0:44, 0:52, 2:09, 2:44, 2:59
Speed
3.5
4.0
0:43, 0:55, 1:34, 3:32
Blocking
1.5
2.0
0:08, 0:15, 6:03, 6:07, 8:39
Film Grade
73.5
80.0
Pre-Draft Fantasy Prospect Grade* (out of 50): 45.5
* - How well does his skill set carry over to the fantasy game? For receivers, a player needs to be a realistic threat for 70 catches and 1,000 receiving yards at some point early in their career to be a candidate for a perfect grade. Positional scarcity at the pro level is also a part of the equation.
Positives
Outside of his lanky frame, name an area or attribute necessary for a receiver to succeed and there's a good chance Smith has it in spades. At times, it appears as if he is floating on air waiting to bring down a contested catch. Other times, he slips a tackle on a comeback and picks up 20-plus yards after the catch. On top of that, he has some of the best hands in this class. And if it wasn't obvious from watching him compete for 50/50 balls above, he is feisty and unafraid to get physical. Does the latter work for him all the time? Of course not, but it is refreshing to see a player of his size fight for extra yards and take some pride in blocking for his teammates. Perhaps the most telling aspect of his talent: (former) OC Steve Sarkisian opted to make him the X (typically the featured wideout) receiver in his offense despite the presence of past and future first-round picks Jerry Jeudy, Henry Ruggs and Jaylen Waddle. It probably goes without saying for a player with his aforementioned skills, but he is highly versatile as well; Pro Football Focus credited him with 46 catches out of the slot in 2020.
Negatives
Smith has been dubbed "The Slim Reaper" for good reason: he routinely steals the soul of the cornerback defending him, but he does so at 170 pounds. Of note, there have been 255 receivers invited to the NFL Combine since 1987 who weighed less than 180 pounds; only about 10 have enjoyed some degree of sustained success. Even Calvin Ridley - a string bean in his own right - checked in at 189 at Indy in 2018. The point to be made here is that it would seem to be a reasonable assumption that Smith is a poor bet to consistently hold up over a 17-game schedule, especially if he insists on getting physical as often as he did in 2019 and 2020. Some of the better corners in the SEC were able to force him to the sideline merely because he lacked the strength to stop it from happening. Did it happen often? Well, 117 catches for 1,856 yards in 2020 would suggest it didn't, but it will happen more often in the NFL.
Bottom Line
In many ways, Smith is a great fit in today's NFL. So few defenses jam receivers at the line of scrimmage now, which enables players with quick feet, loose hips and a sixth sense of how to operate in space to move freely and punish defenses if they can make the first man miss. Smith obviously does this. If opponents do not wise up quickly and make him work to get off the line of scrimmage, he will be a problem at the next level. Then again, Smith is so quick and shifty that it may be unrealistic to expect anyone outside of the best press corners in the NFL to be able to jam him off the line. Sarkisian did a masterful job of moving Smith around and scheming him touches last season, especially after it became obvious (following Waddle's injury) that he was the key to Alabama's passing game. That in no way discounts what he did in more traditional situations, which should help explain why his film grade is so high. Smith's game suggests he could (and should) be his new team's Day 1 X receiver, but his size probably makes him a better bet to begin his career as the Z who doubles as the primary slot option in three-wide packages. Either way, expect him to be the exception to the rule as it relates to lightweight receivers. His game is so well-rounded that he is a solid bet to enjoy a career similar to Lockett's.

---
Doug Orth has written for FF Today since 2006 and been featured in USA TODAY's Fantasy Football Preview magazine since 2010. He is also a high-stakes player who often appears as a guest analyst on a number of national sports radio shows, such as Sirius XM's "Fantasy Drive." Doug is also a member of the Fantasy Sports Writers Association.