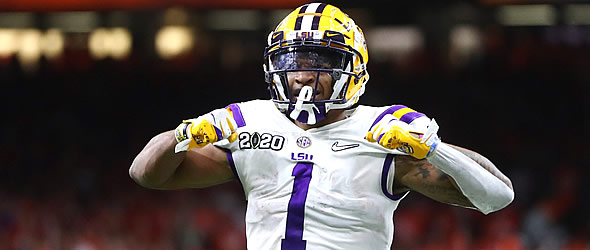 Vitals

College: LSU
Height/Weight: 6'0"/201
Hands: 9 5/8"
Age: 21



Important NFL Combine Numbers



40-Yard Dash: 4.38 (pro day)
Vertical Jump: 41" (pro day)
Broad Jump: 11'0" (pro day)
20-Yard Shuttle: 3.98 (pro day)
3-Cone: 7.00 (pro day)



College Production

(Stats)


High-end NFL Player Comp(s): Sterling Sharpe
Low-end NFL Player Comp(s): Chris Godwin

Best Scheme Fit: Universal. Chase offers the necessary strength, speed and physicality to be an X receiver in a West Coast scheme and enough versatility to play inside or outside in a spread attack.

Non-bolded times - Good examples of attribute
Bolded times - Average/poor examples of attribute
Position-Specific Attributes and Grades
Attribute
Att Grade
Scale
Examples
Ball Tracking
9.0
10.0
1:26, 2:07, 2:46, 5:32, 5:58, 4:16
Contested Catch/Body Control
9.5
10.0
0:51, 2:02, 2:10, 2:46, 4:23, 7:00, 6:55
Hands
9.0
10.0
0:32, 0:51, 2:37, 3:44, 5:54, 7:43, 0:15, 0:57, 3:44
Release
9.5
10.0
3:17, 3:29, 4:09, 4:54, 5:11, 5:32, 0:16
Route-Running
9.0
10.0
0:36, 3:18, 3:53, 5:18, 5:32, 0:15, 2:18, 2:38
Run After Catch
9.5
10.0
0:15, 0:43, 3:09, 3:32, 3:35, 3:53, 4:00
Physicality/Competitiveness
7.5
8.0
2:25, 2:47, 3:21, 3:29, 7:00, 0:16
Separation
4.0
6.0
1:16, 2:47, 3:30, 5:18, 0:53, 1:03, 4:30
Speed
4.0
4.0
0:43, 3:48
Blocking
1.0
2.0
0:09, 8:49, 5:41
Film Grade
72.0
80.0
Pre-Draft Fantasy Prospect Grade* (out of 50): 47.0
* - How well does his skill set carry over to the fantasy game? For receivers, a player needs to be a realistic threat for 70 catches and 1,000 receiving yards at some point early in their career to be a candidate for a perfect grade. Positional scarcity at the pro level is also a part of the equation.
Positives
Chase's 40 time, vertical jump, broad jump and bench (23 reps of 225 pounds) all trump that of former LSU standout Odell Beckham Jr., while his ridiculous sub-four second shuttle time is just four-hundredths of a second off of OBJ's. What is scary is that much of his 2019 tape highlights his ability to win at the catch point and his physicality (23 broken tackles and 411 yards after contact in 2019 were the most by an FBS receiver). Further evidence of his dominance: 85.1 percent of his college catches resulted in a first down or touchdown. His pro day results suggest he was hard at work after opting out in August of 2020 to make himself into an even more dynamic offensive weapon. Chase's strong hands - and his confidence in them - shows up repeatedly, easily plucking passes all over his catch radius with the greatest of ease. He seemed to possess a sixth sense for when his quarterback was in trouble (0:43 and 1:42 are but two examples of big plays he created by simply applying scramble drill rules). Chase also has another quality lacking in many of today's receivers: he's not a diva.
Negatives
Any player that opted out of the 2020 season makes for a difficult evaluation for a multitude of reasons, including but not limited to missing out on a year's worth of sharpening fundamentals. Chase's ability to outmuscle the opposing corner at the line of scrimmage showed up time after time, but the best receivers in the league tend to avoid the jam more often than not. He'll need to disengage cornerbacks more quickly in the NFL if he hopes to become the next Dez Bryant (Chase has said he models his game after him). The 21-year-old could stand to sharpen up his routes at the top of his stem because he doesn't consistently create the kind of separation on in- or out-breaking routes one would expect from a player with his OBJ-like measurables. How much of this can be blamed on the knowledge he was more athletically gifted than his opponent just about every week? Another slight knock of his game is the limited number of routes he ran for the Tigers. His downfield blocking was good at times, but he needs to be much more consistent with his effort.
Bottom Line
In an offense where he played alongside the man who just set the NFL record for receiving yards by a rookie (Justin Jefferson) and a likely second-round pick in this year's draft (Terrace Marshall), OC Steve Ensminger opted to make Chase the "X" (the featured receiver in most offenses). Even with Jefferson around, LSU's opponents seemed to identify Chase as the more dangerous threat. Despite regularly facing the opponent's best cornerback as a result, he responded by breaking single-season SEC records for receiving yards (1,780) and receiving touchdowns (20) as a sophomore. The question with Chase is not if he will succeed at the pro level, but rather if he will be a top-five receiver versus a top-20 wideout. None of his aforementioned negatives are areas that should create a great deal of concern, making his relative modest 6-0 and 201-pound frame about the only thing scouts would change about him if they could. His game is on par with what fans see every week in Godwin and is more advanced now than when Davante Adams entered the league in 2014. As such, he should quickly emerge as his team's primary target. It should come as no surprise if he has the same kind of immediate success Jefferson enjoyed as a rookie.

---
Doug Orth has written for FF Today since 2006 and been featured in USA TODAY's Fantasy Football Preview magazine since 2010. He is also a high-stakes player who often appears as a guest analyst on a number of national sports radio shows, such as Sirius XM's "Fantasy Drive." Doug is also a member of the Fantasy Sports Writers Association.