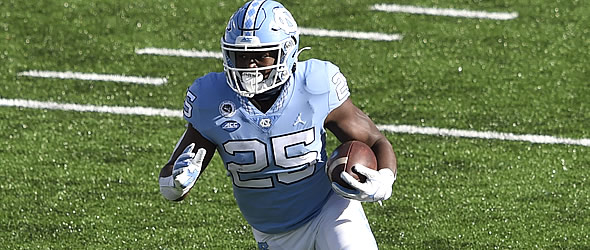 Vitals

College: North Carolina
Height/Weight: 5' 10"/212
Hands: 9 3/8"
Age: 21



Important NFL Combine Numbers



40-Yard Dash: 4.55 (pro day)
Vertical Jump: 36" (pro day)
Broad Jump: 10' 3" (pro day)
20-Yard Shuttle: 4.09 (pro day)
3-Cone: 6.97 (pro day)



College Production

(Stats)


High-end NFL Player Comp(s): Ronald Jones
Low-end NFL Player Comp(s): A more physical Carlos Hyde

Best Scheme Fit: Man (gap)-blocking scheme. Although he executed a healthy mix of zone- and man-blocking runs, his best fit is an offense that will allow him to run between the tackles and accentuate his power.

Non-bolded times - Good examples of attribute
Bolded times - Average/poor examples of attribute
Position-Specific Attributes and Grades
Attribute
Att Grade
Scale
Examples
Burst/Explosiveness
9.0
10.0
0:38, 1:46, 3:06, 4:18, 5:26, 1:53
Contact Balance
10.0
10.0
0:11, 0:28, 0:46, 1:20, 1:34, 3:58, 4:18, 5:04, 0:30, 1:53
Instincts/Vision
8.5
10.0
1:04, 1:56, 3:53, 4:33, 5:12, 5:13, 3:21
Power/Tackle-Breaking Ability
10.0
10.0
0:38, 0:46, 1:14, 1:20, 1:21, 4:18, 4:33, 4:36, 0:30, 1:53
Quickness/Elusiveness
8.5
10.0
2:04, 2:31, 3:53, 4:29
Route-Running/Hands
7.0
10.0
0:58, 1:03, 1:06, 3:58, 4:18, 5:27
Ball Security
4.0
6.0
1:27, 4:13
Pass Protection
4.5
6.0
0:44, 1:03, 3:03, 4:34, 4:55, 5:01, 1:07
Durability
3.0
4.0
Long Speed
3.0
4.0
1:46, 2:14, 3:06
Film Grade
67.5
80.0
Pre-Draft Fantasy Prospect Grade* (out of 50): 43.0
* - How well does his skill set carry over to the fantasy game? For running backs, a player needs to be a three-down option as well as a realistic threat for 1,000 rushing yards and 500 receiving yards to be a candidate for a perfect grade. Positional scarcity at the pro level is also a part of the equation.
Positives
Here is Williams in a nutshell: Pro Football Focus credited him with an FBS-best 75 missed tackles forced on 157 carries and he gained 831 yards after contact (fourth) in 2020. Chris Carson may be the most physical back in the league right now, but he may end up taking a back seat to this kid. As far as power and tackle-breaking ability are concerned, he compares favorably to Marshawn Lynch. His contact balance is among the best in recent memory, meaning he is nearly impossible to bring down with an arm or shoulder tackle. As if his balance and power aren't enough, he also possesses a stiff-arm that will embarrass an unsuspecting defender. Williams is a capable receiver; he finished his college career with multiple catches in nine of his last 10 games. North Carolina didn't just limit him to a check-down duty either, instead entrusting him to run wheel, circle and option routes on occasion. And while there is still work to be done on his timing and technique in pass protection, Williams appears to take great pride in keeping the quarterback clean.
Negatives
It's fair to wonder if Williams' violent running style will allow him to remain healthy for 17 games or be anything more than a leader of a committee backfield. Williams didn't have too many bad games in 2020, but his worst one came against North Carolina's most difficult opponent in Notre Dame. He looked slower than usual, indecisive at times and his almost-superhuman ability to shed tacklers disappeared. Was he trying to do too much, was it just an off-day for him (or the Tar Heels) or a sign of things to come when he faces a defense with other future NFL players? While 366 career carries is a good thing for his pro longevity, it's at least a bit concerning - even sharing the backfield with a dynamic playmaker like fellow draft classmate Michael Carter - that the North Carolina coaching staff did not give him more than 166 carries (or 183 touches) in any season. Like many power backs, he is not a natural hands-catcher and was charged with three drops on 27 catchable targets (PFF). Williams has exceptional burst for a back of his size (as evidenced by his 27 carries of 15 yards last season), but he only broke three runs of 40-plus runs in his career (two of which came in his final game).
Bottom Line
Longtime fans of the NFL will almost certainly fall in love with Williams, who will cause more than a few defenders to make business decisions over the next few years. His contact balance and tackle-breaking ability are elite, and that alone figures to put him in a position to handle goal-line and four-minute work immediately. Williams is also an attractive prospect with theoretical upside from the standpoint that he won't turn 21 years old until the week of the draft, making him over a year younger than Travis Etienne and two years younger than Najee Harris. It seems more likely than not that "Pookie" (his nickname) will begin his career in a committee for three reasons: 1) he never consistently handled a heavy load in college, 2) he isn't the most natural receiver and 3) his running style increases the likelihood he'll get injured at some point. While Williams' career could easily mirror Carson's in that it might take him a bit to become the starter with his new team, it's also not difficult to see him becoming the featured back in his second year. It's also possible his hands could force him to accept a Jones-like role as well.

---
Doug Orth has written for FF Today since 2006 and been featured in USA TODAY's Fantasy Football Preview magazine since 2010. He is also a high-stakes player who often appears as a guest analyst on a number of national sports radio shows, such as Sirius XM's "Fantasy Drive." Doug is also a member of the Fantasy Sports Writers Association.