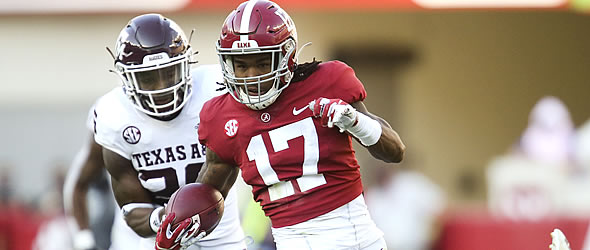 Vitals

College: Alabama
Height/Weight: 5'10"/180
Hands: 9 1/8"
Age: 22



Important NFL Combine Numbers



40-Yard Dash: N/A
Vertical Jump: N/A
Broad Jump: N/A
20-Yard Shuttle: N/A
3-Cone: N/A



College Production

(Stats)


High-end NFL Player Comp(s): Brandin Cooks
Low-end NFL Player Comp(s): Darnell Mooney

Best Scheme Fit: His relative lack of reps in college mixed with his game-changing speed should make his best initial fit as the Z in a spread/RPO attack.

Non-bolded times - Good examples of attribute
Bolded times - Average/poor examples of attribute
Position-Specific Attributes and Grades
Attribute
Att Grade
Scale
Examples
Ball Tracking
9.5
10.0
1:16, 1:40, 3:02, 3:14, 5:30
Contested Catch/Body Control
9.5
10.0
0:33, 1:16, 2:42, 4:16, 5:30
Hands
9.0
10.0
0:50, 1:05, 2:01, 5:30, 0:02, 1:20
Release
9.5
10.0
1:40, 3:02, 5:30
Route-Running
8.5
10.0
1:05, 1:14, 3:04, 3:12, 5:37
Run After Catch
9.5
10.0
0:16, 2:24, 2:37, 2:56, 0:20
Physicality/Competitiveness
4.5
8.0
1:16, 1:29, 0:50
Separation
5.5
6.0
0:50, 1:39, 2:31, 3:04, 1:52
Speed
4.0
4.0
1:10, 1:39, 1:40, 2:24, 2:31, 3:33
Blocking
0.5
2.0
1:29, 4:25, 2:42, 4:02, 5:00
Film Grade
70.0
80.0
Pre-Draft Fantasy Prospect Grade* (out of 50): 44.0
* - How well does his skill set carry over to the fantasy game? For receivers, a player needs to be a realistic threat for 70 catches and 1,000 receiving yards at some point early in their career to be a candidate for a perfect grade. Positional scarcity at the pro level is also a part of the equation.
Positives
Speed. Game-breaking speed and ability. No receiver from a Power Five conference with 100-plus career receptions since 2014 has averaged more yards after the catch per reception than Waddle (9.8). Waddle claims he routinely ran in the high-4.2 and low-4.3 range before breaking his ankle on the opening kickoff of the fifth game of the 2020 season. But make no mistake about it, he's more than just another fast guy. He is just as likely to turn a screen or quick slant into a touchdown as he is a deep post. It was always going to be hard for Waddle to truly stand out on the depth chart that included Jerry Jeudy, Henry Ruggs III and DeVonta Smith for much of his career, but he generally thrived in situations in which he was asked to find the ball in the air, exhibit body control and make a contested catch. While his overall route-running is still a work in progress, his ability to execute and sell a double move is already NFL-quality. Waddle projects to be his new team's best deep threat on the first day he steps onto the field. He should also be able to contribute to (and likely significantly upgrade) the return game for his new team as well after averaging 19.3 yards per punt return and 23.8 yards per kick return with three special teams touchdowns for the Crimson Tide. Last but not least, HC Nick Saban was effusive in his praise for Waddle's competitive spirit shortly after losing him to injury.
Negatives
College production can be a double-edged sword. Inflated numbers can often be a product of schemed touches. Unimpressive overall statistics for a receiver can be a product of a run-heavy offense or poor quarterbacking. While there is no question Waddle appeared to be on his way to a huge season in 2020 (25-557-4 through four games) and was forced to share time with some high-end talent throughout his time in Tuscaloosa, his best season came as a freshman (45-848-7). Whatever the circumstances, it's fair to question why Waddle couldn't do more (similar to the same question many had about Ruggs last year). Waddle doesn't seem to lack for desire (and Saban's praise backs that up), but it is at least somewhat telling the 170-pound Smith was consistently more physical - as a blocker and after the catch. The Houston native wasn't asked (or required) to block much, but he appeared to be satisfied with merely getting in the way of his man as opposed to redirecting him most of the time.
Bottom Line
Waddle's evaluation is a tough one in some ways because he was healthy for only four games in 2020 and logged a mere 971 snaps over the course of his college career. Making matters worse for evaluation purposes, Alabama's passing game schemed elite athletes like Waddle and Smith touches so often and did so against defenses that played into the Crimson Tide's hands by rarely challenging them off the line of scrimmage. While he has similar speed to Tyreek Hill, Waddle doesn't deserve the comps he has received to the "Cheetah" this spring (at least not yet) if only because he rarely faced physical coverage. Thus, it's difficult to project him as anything more than a player capable of being a premier deep threat with the upside to be something more down the road. There is no question he can eventually become his new team's featured receiver one day, but it might come a bit later in his career that most coaches and/or general managers will want to wait.

---
Doug Orth has written for FF Today since 2006 and been featured in USA TODAY's Fantasy Football Preview magazine since 2010. He is also a high-stakes player who often appears as a guest analyst on a number of national sports radio shows, such as Sirius XM's "Fantasy Drive." Doug is also a member of the Fantasy Sports Writers Association.