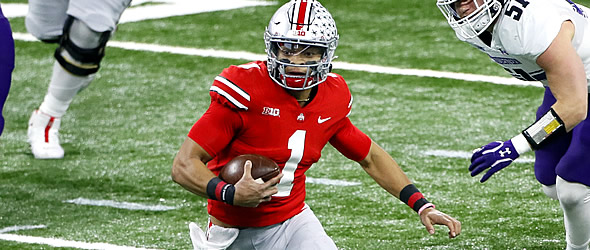 Vitals

College: Ohio State
Height/Weight: 6'3"/227
Hands: 9 1/8"



Important NFL Combine Numbers



40-Yard Dash: 4.44 (pro day)
Vertical Jump: N/A
Broad Jump: N/A
20-Yard Shuttle: N/A
3-Cone: N/A



College Production

(Stats)


High-end NFL Player Comp(s): Russell Wilson
Low-end NFL Player Comp(s): Marcus Mariota

Best Scheme Fit: The combination of his rushing ability, accuracy and arm strength would play particularly well in a Shanahan-Kubiak kind of offense and give him a chance to use his athleticism while minimizing his current shortcomings.

Non-bolded times - Good examples of attribute
Bolded times - Average/poor examples of attribute
Position-Specific Attributes and Grades
Attribute
Att Grade
Scale
Examples
Accuracy
9.0
10.0
0:15, 1:17, 5:20, 6:10, 11:42, 0:15, 1:00, 2:19, 3:27
Anticipation/Tight Window
8.0
10.0
1:17, 3:33, 3:38, 11:02, 13:21
Decision Making
8.5
10.0
2:22, 6:49, 16:10, 17:40, 1:05, 2:17, 2:25, 5:46, 8:36, 15:02
Durability
9.5
10.0
9:35
Improvisation/Throw On Run
8.5
10.0
3:44, 4:41, 4:45, 9:53, 6:20
Poise/Awareness
9.5
10.0
1:05, 5:13, 6:27, 9:58, 13:00, 17:40
Vision/Read Progression
9.0
10.0
1:29, 2:22, 5:10, 8:18, 17:40, 1:05, 7:24, 13:43
Athleticism/Mobility
5.0
5.0
2:13, 3;41, 5:13, 6:41, 11:42
Arm Strength
4.5
5.0
2:23, 8:22, 8:30, 17:40, 20:18
Film Grade
71.5
80
Pre-Draft Fantasy Prospect Grade* (out of 50): 41.5
* - How well does his skill set carry over to the fantasy game? For quarterbacks, a player needs to be a realistic threat for 4,000 passing yards and 500 rushing yards to be a candidate for a perfect grade. Positional scarcity at the pro level is also a part of the equation.
Positives
Fields' unofficial 40 time at his pro day suggests he could be Lamar Jackson or Robert Griffin III clone, but the tape tells a different story. While he made plenty of plays with his legs and has a big arm like they do, he was much more of a pocket passer with dual-threat capabilities in college than a one-read-and-go quarterback. He has immense game-breaking ability, but Ohio State didnít need him to show it every week for a multitude of reasons. Even though the Buckeyes did take their fair share of deep shots and used Fields on designed runs, the offense as a whole was more conservative than not a lot of times (only 32 pass attempts of more than 20 yards in 2020, per Pro Football Focus) - a big reason for his 68.4 completion percentage over two years in Columbus - and mostly quarterback-friendly. But while the scheme and his supporting cast made things easy for him on several occasions, there are also plenty of times he showed impressive poise and/or patience to work his way through a progression. What's more is that ability comes in the same package as a quarterback who is a threat for a big run on any play. Furthermore, he values the football: PFF charted with only 18 turnover-worthy plays in his college career.
Negatives
Fields' reaction against the blitz and internal clock aren't as finely tuned as they should be or at least more inconsistent than a talent evaluator would prefer. They are several examples of him either not seeing or bypassing a high percentage throw for a much riskier one downfield. It partially explains why he threw six of his nine interceptions came in the five conference championship or College Football Playoff games he played in (more talented defenses, less ability to tip off defenders). There are also several examples of him identifying a blitzer and/or not feeling a defender come free until it was too late. It helps to explain why he took 52 sacks in 22 games with the Buckeyes. In his defense, the OSU offense relied heavily on option routes, which means Fields was often waiting for his receiver to decide how he was going to attack the coverage (and therefore what route he would run) before Fields could make his decision to throw. It partially explains why there are also so many examples of him locking onto his primary target when there are just as many examples of him finding a second, third or even fourth receiver in his progression. Ball security was a problem in 2019 (nine fumbles, five lost) but not in 2018 or 2020 (three combined, none lost). And while he showed incredible toughness with the way he played after the hit he took in the CFP semifinal game against Clemson this season, it serves as proof that he needs to do a better job of preserving himself.
Bottom Line
Is the idea of a prospect slightly less athletic but more developed as a passer than Jackson or Griffin intriguing? It should be. While Fields isnít the most accurate, doesn't possess the most upside or best arm in this draft class, he doesn't lack in any of those areas either. What he may be is the best combination of the next four highest-rated quarterbacks (Zach Wilson, Trey Lance and Mac Jones being the others) after Trevor Lawrence have to offer. Evaluating Fields is difficult because it is hard to distinguish how often his hesitation was a product of the aforementioned option routes or how often it was a matter of slow processing. (That's the kind of thing coaches and scouts may be able to figure out when they meet with Fields individually, and rarely the kind of thing outsiders can say with confidence - no matter what they say.) If it's more of the latter, the Mariota comp may prove to be very appropriate. If it's more of the former (I think it is), it's a great sign he'll be able to hit the ground running in the pros and contribute almost immediately. Assuming it is the former, the concerns about his decision-making and/or processing will fade quickly, and he will emerge as one of the most dangerous dual-threat weapons in the NFL.

---
Doug Orth has written for FF Today since 2006 and been featured in USA TODAY's Fantasy Football Preview magazine since 2010. He is also a high-stakes player who often appears as a guest analyst on a number of national sports radio shows, such as Sirius XM's "Fantasy Drive." Doug is also a member of the Fantasy Sports Writers Association.