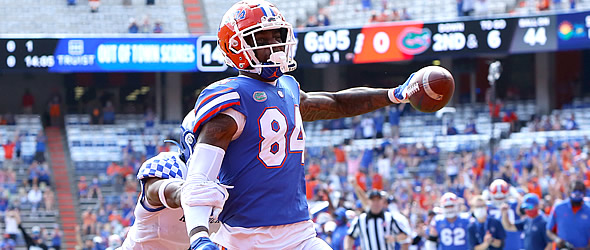 Vitals

College: Florida
Height/Weight: 6'6"/245
Hands: 10 5/8"
Age: 20



Important NFL Combine Numbers



40-Yard Dash: 4.44
Vertical Jump: 34"
Broad Jump: 10'9"
20-Yard Shuttle: 4.30
3-Cone: 7.12



College Production

(Stats)


High-end NFL Player Comp(s): Tony Gonzalez
Low-end NFL Player Comp(s): Darren Waller

Best Scheme Fit: Any offensive scheme that keeps his in-line reps limited and is creative enough to utilize him in mismatch situations all over the field.

Non-bolded times - Good examples of attribute
Bolded times - Average/poor examples of attribute
Position-Specific Attributes and Grades
Attribute
Att Grade
Scale
Examples
Ball Tracking
9.0
10.0
4:58, 7:47, 8:45, 14:39, 16:26, 0:30
Contested Catch/Body Control
10.0
10.0
4:58, 6:46, 7:23, 8:34, 16:26
Hands
10.0
10.0
1:39, 6:38, 8:34, 8:45, 10:53, 14:39, 5:49
Release
9.5
10.0
4:58, 7:34, 8:45, 13:05, 3:10
Route-Running
10.0
10.0
4:13, 9:39, 10:53, 11:43, 13:21, 15:56
Run After Catch
9.0
10.0
4:58, 9:23, 13:39, 16:08
Physicality/Competitiveness
7.0
8.0
0:34, 1:39, 2:14, 7:23
Blocking
4.0
6.0
0:10, 0:11, 1:14, 3:44, 6:48, 1:35, 2:05, 3:55, 4:00
Separation
2.5
3.0
0:20, 4:13, 4:58, 11:43, 15:56, 4:58
Speed
3.0
3.0
5:24, 9:23
Film Grade
74.0
80.0
Pre-Draft Fantasy Prospect Grade* (out of 50): 47.0
* - How well does his skill set carry over to the fantasy game? For tight ends, a player needs to be a realistic threat for 60 catches and 800 rushing yards at some point of their career to be a candidate for a perfect grade. Positional scarcity at the pro level is also a part of the equation.
Positives
Pitts may have as well been created in a lab by a mad scientist or blessed by the football gods. It would be nearly impossible to create a tight end more suited for today's NFL than he is. He possesses ideal tight end size, 4.4 speed, the ability to run routes like a receiver as well as the savvy to defeat cornerback coverage (4:02, 15:12), a massive catch radius (83-plus inch wingspan) and the hands to catch just about everything in that range. As one might expect, this kind of skill-set lends itself well to winning in contested catch situations and inside the red zone. Although it may be a stretch to call Pitts' blocking a strength, he showed vast improvement from 2019 to 2020; there's reason to believe he will continue to grow in this area and turn it into a strength down the road. There is no hint of Pitts believes his own hype and/or is content with what he has turned himself into either; his work ethic and football IQ show up on the film on a regular basis.
Negatives
Perhaps the most disappointing part of Pitts' tape - considering all of his physical tools - was the relative lack of production after contact. It's up for debate whether he is to blame for that, however. He had relatively few opportunities in the open field despite drawing 66 targets; so many of his targets were either in or near the end zone (obviously no chance for yards after the catch) or on plays such as slants where he was defended by the cornerback (making it difficult to create separation). Either way, he didn't break as many tackles as one might expect. Pitts is an able and willing blocker, but his frame doesn't give him much of a chance to redirect or anchor against bigger defensive ends. He will seal the edge at times and look overmatched other times. In short, he may need to come off the field on certain run downs outside of the red zone early in his career.
Bottom Line
A player with the ability to force defensive coordinators to dramatically alter a game plan due to his presence on the field or his particular set of skills is what makes a skill-position player worthy of a high first-round pick. An elite talent belongs in the top half of the first round because of the attention he attracts from defenses and draws away from others. Such is the case for Pitts, who doesn't play a high-value position but will probably dictate terms to the defense as early as this season. Unlike an elite speed receiver that defenses can mostly erase with safety help or a highly athletic tight end that can get jammed at the line of scrimmage by a linebacker because he lacks the strength to disengage, no defense can honestly claim it has the personnel to match up to Pitts. Not only is he the proverbial "too big for safeties and too fast for linebackers" tight end, he is also a 6-6, 245-pounder with a massive wingspan that can run receiver routes against NFL-caliber cornerbacks and win those matchups. Simply put, the Philadelphia native is the most unique tight end prospect in at least 15 years, especially for being only 20 years old. Assuming he lands with a team with a creative play-caller who prioritizes making him a featured part of the offense, Pitts should be considered a regular threat to score 10-plus touchdowns. He could easily emerge as a top-five tight end as early as 2022 and become the most dangerous tight end in the NFL in three to four years.

---
Doug Orth has written for FF Today since 2006 and been featured in USA TODAY's Fantasy Football Preview magazine since 2010. He is also a high-stakes player who often appears as a guest analyst on a number of national sports radio shows, such as Sirius XM's "Fantasy Drive." Doug is also a member of the Fantasy Sports Writers Association.