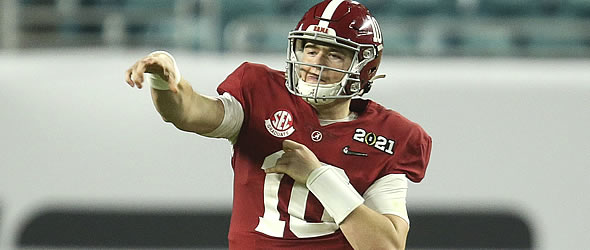 Vitals

College: Alabama
Height/Weight: 6'3"/217
Hands: 9 3/4"



Important NFL Combine Numbers



40-Yard Dash: 4.68
Vertical Jump: 32"
Broad Jump: 9' 8
20-Yard Shuttle: N/A
3-Cone: 7.04



College Production

(Stats)


High-end NFL Player Comp(s): Derek Carr
Low-end NFL Player Comp(s): Jimmy Garoppolo

Best Scheme Fit: West Coast-style offense that takes advantage of his play-action ability and short/intermediate accuracy.

Non-bolded times - Good examples of attribute
Bolded times - Average/poor examples of attribute
Position-Specific Attributes and Grades
Attribute
Att Grade
Scale
Examples
Accuracy
9.5
10.0
0:09, 1:06, 3:00, 3:48, 4:06, 5:47, 9:25, 9:46, 2:34, 6:32, 7:03, 7:50, 9:28
Anticipation/Tight Window
9.0
10.0
1:19, 1:41, 10:14, 11:14, 12:10, 2:25, 6:53
Decision Making
9.5
10.0
1:19, 7:15, 7:25, 9:58, 12:10, 2:25, 3:18, 4:10, 6:53
Durability
10.0
10.0
Improvisation/Throw On Run
7.0
10.0
0:36, 1:21, 2:49, 6:46, 9:39, 3:55, 9:15, 9:21, 11:36
Poise/Awareness
9.0
10.0
2:24, 2:49, 4:19, 5:56, 7:35, 10:05, 3:18, 5:00, 7:32
Vision/Read Progression
8.5
10.0
0:09, 0:45, 0:50, 6:45, 9:02, 2:25, 6:08, 11:27
Athleticism/Mobility
2.5
5.0
4:55, 7:35
Arm Strength
3.0
5.0
0:09, 3:00, 9:46, 7:05, 9:22
Film Grade
68.0
80
Pre-Draft Fantasy Prospect Grade* (out of 50): 36.0
* - How well does his skill set carry over to the fantasy game? For quarterbacks, a player needs to be a realistic threat for 4,000 passing yards and 500 rushing yards to be a candidate for a perfect grade. Positional scarcity at the pro level is also a part of the equation.
Positives
Jones has at least four attributes very much working in his favor: 1) anticipation, 2) processing speed, 3) short and intermediate accuracy and 4) a work ethic and level of intelligence that is becoming somewhat legendary among talent evaluators. (Here are two examples of his processing speed: 1:19, 12:10. The ball leaves his hand with the safety about two yards in front of his receiver in the first clip, while the second clip shows Jones getting rid of the ball a split second after the safety breaks on the short route.) More often than not, Jones hit his receiver in stride and put the ball in a place where his receiver didn't need to break stride. As for work ethic and football intelligence, check what Senior Bowl executive director (and former scout) Jim Nagy had to say about both. (Start listening around 13:40.) Such traits tend to drive people crazy in the weeks leading up to the draft because they are nearly impossible to quantify. (Let's face it in today's analytics-driven world, a lot of people don't like it if a stat hasn't been created to measure it.) Be that as it may, being able to think the game is sometimes more than half the battle at quarterback. Despite his relative inexperience (17 career starts and 556 career pass attempts), there's no question about his football IQ.
Negatives
As noted, Jones' ability to throw the ball on target inside of about 20 yards and play chess with defenses is not in question. The problem is the lack of other elite traits (or at least some that can be developed). For example, there is an alarming number of underthrown deep balls that ended up being completions cited above, thanks to the awareness and ability of his receivers. While part of that is arm strength (his is good but not great), it means his deep accuracy - and therefore, his overall accuracy - isn't at the level to which it is being hyped - at least not yet. Making Jones an even tougher evaluation is the NFL-caliber supporting cast (high-end pro talent at receiver, running back and the offensive line) he had in 2020. PFF produced a couple of insightful stats as it relates to how much "easier" Jones had it in 2020 than Joe Burrow did in 2019: 1) the former threw 44 passes into tight windows all of last season (versus 124 for Burrow) and 2) he passed for 600 more yards to "open" receivers than any other quarterback in the country. Is it a crime that OC Steve Sarkisian's scheme and his top receivers (DeVonta Smith and Jaylen Waddle) made things easy for him? Of course not, but it calls into some question just how important he was to the overall success of one of the most productive offenses in college football history.
Bottom Line
Senior Bowl practices provided talent evaluators with the first opportunity to see what Jones could do with lesser talent around him. (Yes, Alabama's skill-position talent was on par with - if not better than - a cast of handpicked all-star talent from across the country.) It was in Mobile (Ala.) that it became clear he is an exceptionally accurate passer with a sharp mind whose passing ability should play in just about any offense. Unfortunately, many NFL teams are placing a higher value on quarterbacks capable of breaking games open with their legs. Jones is not a statue by any means, but he isn't going to keep defensive coordinators awake at night in the same way most of the other projected first-round quarterbacks in this class will. The lack of special physical attributes should not keep him from being a productive NFL starter, but he would be a poor fit in an offense where he is required to throw on the move or create for himself. Jones has the feel of a player who can (and probably will) maximize his tools and be a solid long-term starter in the league, but there are reasons to have some doubt about his ability to put a team on his back and be the driving force in his team's quest to win a Lombardi Trophy. In short, it is highly likely he will consistently need a top-notch supporting cast if he has any hopes of playing at the same level as the top quarterback prospects in this draft class.

---
Doug Orth has written for FF Today since 2006 and been featured in USA TODAY's Fantasy Football Preview magazine since 2010. He is also a high-stakes player who often appears as a guest analyst on a number of national sports radio shows, such as Sirius XM's "Fantasy Drive." Doug is also a member of the Fantasy Sports Writers Association.