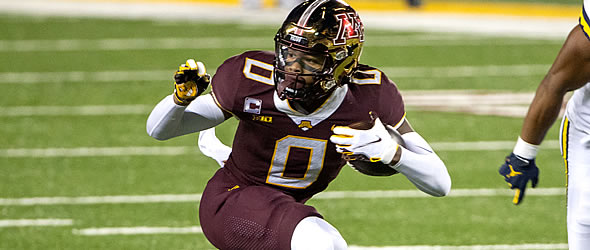 Vitals

College: Minnesota
Height/Weight: 6'0"/190
Hands: 9 1/2"
Age: 21



Important NFL Combine Numbers



40-Yard Dash: 4.39 (pro day)
Vertical Jump: 36" (pro day)
Broad Jump: 10'3" (pro day)
20-Yard Shuttle: 4.39 (pro day)
3-Cone: 6.95 (pro day)



College Production

(Stats)


High-end NFL Player Comp(s): Keenan Allen
Low-end NFL Player Comp(s): Corey Davis

Best Scheme Fit: West Coast offense. Bateman is a strong short and intermediate receiver who wins with savvy route-running.

Non-bolded times - Good examples of attribute
Bolded times - Average/poor examples of attribute
Position-Specific Attributes and Grades
Attribute
Att Grade
Scale
Examples
Ball Tracking
9.0
10.0
1:06, 1:16, 1:45, 6:57
Contested Catch/Body Control
9.0
10.0
0:00, 1:06, 3:41, 6:26, 6:53, 6:54, 6:57
Hands
8.5
10.0
0:00, 1:06, 1:16, 1:45, 3:41, 6:26, 6:54, 3:16, 5:31
Release
9.0
10.0
0:00, 8:34, 1:55
Route-Running
9.5
10.0
1:06, 1:16, 1:30, 3:49, 5:40, 6:14, 6:54, 7:34
Run After Catch
8.5
10.0
0:34, 0:56, 2:25, 2:28, 3:00, 6:14, 4:00, 4:51
Physicality/Competitiveness
6.5
8.0
0:00, 1:51, 3:41, 6:53
Separation
4.5
6.0
1:45, 6:14, 7:34
Speed
3.5
4.0
0:10, 1:27, 1:45, 2:28, 3:00, 7:34
Blocking
0.5
2.0
1:28, 2:48, 8:28
Film Grade
68.5
80.0
Pre-Draft Fantasy Prospect Grade* (out of 50): 40.0
* - How well does his skill set carry over to the fantasy game? For receivers, a player needs to be a realistic threat for 70 catches and 1,000 receiving yards at some point early in their career to be a candidate for a perfect grade. Positional scarcity at the pro level is also a part of the equation.
Positives
The speed that Bateman showed on his pro day reflected what most observers saw in 2018 and 2019 and helped erase the vision of the sluggish player that he appeared to be for most of 2020. Minnesota did him no favors by listing him at 6-2 and 210 pounds throughout his college career, but his freshman and sophomore tape shows a player who plays more like a receiver that size as opposed to a typical 6-0, 190-pound wideout. What does that mean? Most of his best work came in 2019 in contested catch situations (see above) and after the catch. Regarding how dynamic he is the ball in his hands, Pro Football Focus credited Bateman with 36 broken tackles on 147 career catches. However, at his best, Bateman is a refined route-runner who varies his release off the line of scrimmage as well as the tempo of his routes to keep the cornerback guessing. The 2019 Big Ten Receiver of the Year has no issue working over the middle, displays a great field presence (knowing where he is on the field at all times) and possesses plenty of experience at all three receiver spots (X, Y and Z).
Negatives
In addition to the surprise Bateman provided with his pro day height and weight, his athletic testing scores were equally surprising for a much different reason: receivers with high-4.3 or low-4.4 speed typically don't need to rely on exquisite route-running so often to get open in college. When he got behind his defender on vertical routes, it was often a product of footwork and his ability to sell a shorter route. In short, he timed much faster than he plays and has "buildup speed" as opposed to being naturally explosive. He's competitive enough to win more than his fair share of contested catches, but he doesn't exhibit nearly as much of a "my ball" mentality as evaluators would like. That level of competitiveness seems to carry over to his blocking. He wasn't asked to do it much or overly effective when he tried to do it. His 8.7 percent career drop rate on catchable targets (19 of 166, per PFF) is not ideal for a player who may serve as a possession receiver in the NFL. Teams also must decide how they view Bateman's decision to opt-out with four games left on the schedule after he jumped through some notable hoops to restore his eligibility.
Bottom Line
The first question evaluators must ask is whether they will be getting the pre-2020 version of Bateman or the one they saw in five games before opting out late last season. It's a reasonable assumption he looked slow in 2020 because he battled COVID-19 for almost two weeks over the summer - an issue that was particularly troubling for him considering he deals with asthma as well. Assuming his recovery from COVID-19 was the root of his problems and 2019 was a better indication of what he is as a player, he should be able to meet the Davis comp and enjoy similar success to another player he compares favorably to in Jerricho Cotchery. For now, the expectation for Bateman needs to be set around the Davis and Cotchery career arc. Bateman is a savvy enough route-runner to make good on the Allen comparison down the road, but Allen is a bit of a pie-in-the-sky - albeit attainable with the right quarterback - comp. After all, several of the same "weaknesses" Bateman has in his game were considered some of the same shortcomings that knocked Allen into the third round of the 2013 draft.

---
Doug Orth has written for FF Today since 2006 and been featured in USA TODAY's Fantasy Football Preview magazine since 2010. He is also a high-stakes player who often appears as a guest analyst on a number of national sports radio shows, such as Sirius XM's "Fantasy Drive." Doug is also a member of the Fantasy Sports Writers Association.