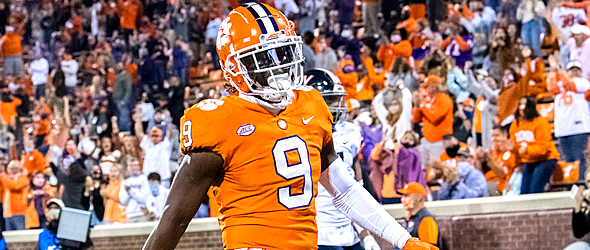 Vitals

College: Clemson
Height/Weight: 5'10"/215
Hands: 9 3/8"
Age: 22



Important NFL Combine Numbers



40-Yard Dash: 4.41 (pro day)
Vertical Jump: 33.5" (pro day)
Broad Jump: 10'8" (pro day)
20-Yard Shuttle: N/A
3-Cone: N/A



College Production

(Stats)


High-end NFL Player Comp(s): Tiki Barber
Low-end NFL Player Comp(s): Raheem Mostert

Best Scheme Fit: Zone-running scheme, preferably outside zone to take advantage of his speed and one-cut running style.

Non-bolded times - Good examples of attribute
Bolded times - Average/poor examples of attribute
Position-Specific Attributes and Grades
Attribute
Att Grade
Scale
Examples
Burst/Explosiveness
10.0
10.0
1:31, 2:57, 3:55, 5:02, 6:49
Contact Balance
9.0
10.0
0:28, 1:11, 1:27, 1:32, 2:07, 3:23, 1:00, 1:04
Instincts/Vision
8.5
10.0
0:57, 1:21, 3:23, 4:19, 5:57
Power/Tackle-Breaking Ability
9.0
10.0
0:18, 1:15, 2:07, 2:08, 5:47
Quickness/Elusiveness
8.5
10.0
0:28, 3:55, 6:16
Route-Running/Hands
8.5
10.0
0:29, 0:47, 2:13, 5:04, 3:05, 3:37, 4:00
Ball Security
3.0
6.0
1:29, 0:38, 2:03
Pass Protection
4.0
6.0
0:05, 0:37, 4:22, 4:42, 1:40, 2:27
Durability
3.5
4.0
Long Speed
4.0
4.0
0:47, 1:07, 1:31, 3:55, 4:20, 5:02
Film Grade
68.0
80.0
Pre-Draft Fantasy Prospect Grade* (out of 50): 45.0
* - How well does his skill set carry over to the fantasy game? For running backs, a player needs to be a three-down option as well as a realistic threat for 1,000 rushing yards and 500 receiving yards to be a candidate for a perfect grade. Positional scarcity at the pro level is also a part of the equation.
Positives
Etienne is lauded for his big-play ability for good reason (47 runs of 20 or more yards, 16 career touchdowns of 44-plus yards). He plays to his timed speed (4.41 at his pro day) and possesses the extra gear that separates great backs from most good backs. It also doesn't take him very long to hit top speed, even after absorbing contact. But with all due respect to his speed and explosiveness, there have been plenty of 205-pound backs (which is what he is believed to have played at in college) with 4.4 speed throughout draft history and the history of those backs - at least those invited to the NFL Combine - is not overwhelmingly good. Why is Etienne different? He fearlessly runs inside with more power than most would expect from someone of his size. He has also worked tirelessly to improve himself as a receiver, as evidenced by his school-record (for a running back) 48 catches in 2020 and 102 over his four-year career. Although Clemson rarely asked him to handle 20 carries, he's not the kind of back who needs a lot of touches to do a lot of damage. In today's NFL where teams seem to do everything in their power to either minimize the position or share the wealth at running back, that's not a bad thing.
Negatives
Etienne checked in at 215 pounds at his pro day. Is it realistic to believe he will maintain that weight? If so, he may have the necessary strength - his upper half isn't quite on par with his lower half in that regard - to serve as his team's primary back and not just as the leader of a committee. There has been the occasional comparison made with Alvin Kamara, which isn't crazy considering how similarly both were/are used. The problem with the comp is that the ACC's all-time leading rusher is much more of a straight-line, get-it-and-go back than the Saints' stud, who absorbs less contact and is much more patient and elusive. That's not to say Etienne completely lacks in those areas, but he appears much more interested in hitting the accelerator as quickly as possible after contact rather than avoid the next defender. While Etienne made himself into a very good receiver and proven he is capable of being a hands-catcher when necessary, he relies on body catching far too often. Ball security is an issue as well with eight career fumbles, including four in 2020. The latter number is unforgivable given his 168 carries last year. The combination of those issues and being an average pass-blocker at the moment are two big reasons why he isn't the No. 1 back in this class.
Bottom Line
Most big-play running backs with 4.4-type speed tend to lean toward being "finesse" players, but such is not the case with Etienne. He's not a powerhouse by any means, but he is a fearless runner with a strong base that gets his fair share of yards after contact. The strides he has made as a receiver over the last two seasons make him a candidate to become a team's primary back right away, although his size and running style may make him more suited to a Kamara-like lead back role. Fit will be critical to Etienne, as his running style would seem to fit very well in any one-cut zone-running scheme - like the ones from the Mike Shanahan-Gary Kubiak coaching tree (new Jets OC Mike LaFleur is a fine example). In that kind of offense, he could easily emerge as the best running back from this class. He thrives in space, so his new team would be wise to make that a regular part of the offense. His receiving skills should make him a plus-version of Mostert (or even Kenyan Drake) in short order. IF Etienne can slow his mind down even a little bit (and not be so anxious to show off his speed) and get a handle on his fumble issues, he may have a chance to reach the Barber comp and could easily emerge as the best back in this class.

---
Doug Orth has written for FF Today since 2006 and been featured in USA TODAY's Fantasy Football Preview magazine since 2010. He is also a high-stakes player who often appears as a guest analyst on a number of national sports radio shows, such as Sirius XM's "Fantasy Drive." Doug is also a member of the Fantasy Sports Writers Association.