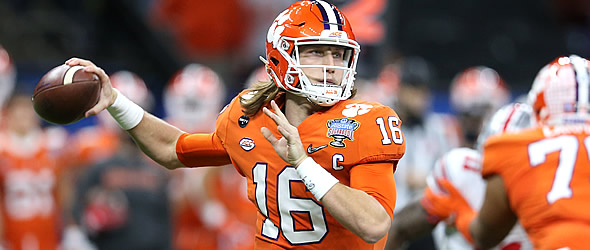 Vitals

College: Clemson
Height/Weight: 6'6"/221
Hands: 10"



Important NFL Combine Numbers



40-Yard Dash: N/A
Vertical Jump: N/A
Broad Jump: N/A
20-Yard Shuttle: N/A
3-Cone: N/A



College Production

(Stats)


High-end NFL Player Comp(s): Andrew Luck
Low-end NFL Player Comp(s): Ryan Tannehill

Best Scheme Fit: Universal. Worked primarily out of a shotgun spread offense that utilized a lot of play-action and RPOs in college, but his combination of accuracy, intelligence and athleticism figures to play well in just about any NFL offense.

Non-bolded times - Good examples of attribute
Bolded times - Average/poor examples of attribute
Position-Specific Attributes and Grades
Attribute
Att Grade
Scale
Examples
Accuracy
8.5
10
0:32, 1:15, 3:38, 5:17, 13:15, 0:23, 4:26, 6:23, 6:32, 6:46
Anticipation/Tight Window
9.5
10
2:54, 3:05, 3:55, 7:32
Decision Making
9.5
10
3:24, 8:15, 5:04/9:30, 1:03, 1:22, 5:03, 6:03
Durability
10
10
Improvisation/Throw On Run
9
10
2:05, 2:12, 4:18, 5:05, 11:30, 12:20
Poise/Awareness
9.5
10
1:15, 4:03, 7:48, 8:15, 11:48, 12:20
Vision/Read Progression
9
10
0:52, 5:04/9:30, 8:34, 10:06
Athleticism/Mobility
4.5
5
4:03, 6:44
Arm Strength
4.5
5
1:15, 5:15, 5:38, 6:35
Film Grade
74.0
80
Pre-Draft Fantasy Prospect Grade* (out of 50): 42.0
* - How well does his skill set carry over to the fantasy game? For quarterbacks, a player needs to be a realistic threat for 4,000 passing yards and 500 rushing yards to be a candidate for a perfect grade. Positional scarcity at the pro level is also a part of the equation.
Positives
Lawrence may have led an offense at Clemson that relied more heavily on RPOs than any team in the NFL, but his film is littered with quality pro throws. He is a prospect on the level of Luck and exceptional - or at least very good - in just about every area that is meaningful to the quarterback position. Considering all the other qualities he brings to the table, Lawrence's best attributes may be his fearlessness and toughness. It's relatively rare for a quarterback who has long been considered a future No. 1 overall draft pick to not be at least a little timid when he keeps the ball on zone-read type of plays. That's not to say he's careless as a runner - he picks his spots well - but he did take a few more shots from defenders than evaluators typically like to see (in part because he had 231 carries in three years). Such a quality is more of a positive than a negative, however, as coaches would rather have the option of picking their spots with a quarterback capable of breaking off chunk runs as opposed to the alternative.
Negatives
Lawrence's film isn't perfect by any stretch - his accuracy in 2020 was a bit more scattershot than one would expect, for example. His basic efficiency stats such as completion percentage (from 65.2 to 65.8 to 69.2) and yards per completion (8.3 to 9.0 to 9.4) may have improved in each of his three college seasons, but there's a strong case to be made that he was his best as a freshman and regressed a bit from there. Clemson appeared to rely more heavily on throws at or behind the line of scrimmage each season under Lawrence. (Per Pro Football Focus, 27 percent of his passing yards in 2020 came via RPOs and screens.) While such a shift could have easily been made in response to the Tigers' personnel, it cannot be taken for granted. He also did not react or play particularly well early against the blitz or Virginia Tech's coverage schemes early in the 2020 meeting with the Hokies. With that said, let's not get crazy. Lawrence set such an incredibly high standard as a freshman that it was going to be nearly impossible for him to keep raising the bar, especially as key members of his supporting cast moved onto the NFL (Hunter Renfrow after the 2018 season and Tee Higgins after the 2019 campaign).
Bottom Line
No prospect has ever entered the league having shown evaluators everything they need to see to prove his readiness to play the position at an All-Pro level and no prospect ever will. Clemson's 2020 offense did little to answer what few questions evaluators had about Lawrence in that regard, but it would still be a shock if he doesn't hit the ground running in 2021 and one of the bigger upsets in recent draft history prove if he isn't a top 12 NFL quarterback in relatively short order. For all the talk of his athleticism to this point - his rushing floor should be in the 300-yard range for his first few NFL seasons - Lawrence will do the bulk of his damage from the pocket as a pro. So while he may not be the dynamic rushing threat in the Lamar Jackson mold or have the ridiculous arm strength of a Josh Allen, the Georgia native checks about every box one could hope for in terms of solving a team's quarterback problem for the next 10-15 years.

---
Doug Orth has written for FF Today since 2006 and been featured in USA TODAY's Fantasy Football Preview magazine since 2010. He is also a high-stakes player who often appears as a guest analyst on a number of national sports radio shows, such as Sirius XM's "Fantasy Drive." Doug is also a member of the Fantasy Sports Writers Association.