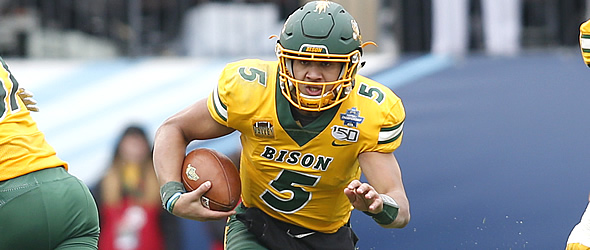 Vitals

College: North Dakota State
Height/Weight: 6'4"/224
Hands: 9 1/8"



Important NFL Combine Numbers



40-Yard Dash: N/A
Vertical Jump: N/A
Broad Jump: N/A
20-Yard Shuttle: N/A
3-Cone: N/A



College Production

(Stats)


High-end NFL Player Comp(s): Steve McNair
Low-end NFL Player Comp(s): Jalen Hurts

Best Scheme Fit: Lance is skilled at carrying out play-action, so that needs to a priority for whatever team drafts him. Much like Hurts, using him out of shotgun and implementing RPO elements should highlight his strengths as he adjusts to the pro game.

Non-bolded times - Good examples of attribute
Bolded times - Average/poor examples of attribute
Position-Specific Attributes and Grades
Attribute
Att Grade
Scale
Examples
Accuracy
7.0
10.0
1:09, 2:14, 2:53, 3:29, 4:53, 1:23, 3:42, 4:31, 9:04, 9:35
Anticipation/Tight Window
7.5
10.0
2:16, 6:13, 7:07, 5:56
Decision Making
8.0
10.0
1:52, 3:13, 6:06, 8:57, 3:46, 4:24, 7:26, 9:48
Durability
9.0
10.0
Improvisation/Throw On Run
9.5
10.0
3:10, 3:29, 3:41, 6:37, 7:07, 1:42, 5:46
Poise/Awareness
9.5
10.0
1:13, 3:18, 6:37, 9:08, 8:13
Vision/Read Progression
9.0
10.0
1:27, 1:52, 3:56, 6:10, 8:57, 3:46, 5:56
Athleticism/Mobility
5.0
5.0
0:40, 0:53, 4:08, 4:46, 6:12, 10:50
Arm Strength
5.0
5.0
1:09, 1:52, 2:14, 2:24, 3:29
Film Grade
69.5
80
Pre-Draft Fantasy Prospect Grade* (out of 50): 41.0
* - How well does his skill set carry over to the fantasy game? For quarterbacks, a player needs to be a realistic threat for 4,000 passing yards and 500 rushing yards to be a candidate for a perfect grade. Positional scarcity at the pro level is also a part of the equation.
Positives
The company line among talent evaluators is that if a player from a non-FBS program is going to be considered a high-end draft prospect, he had better dominate at his level (FCS, Division II, Division III). As a redshirt freshman in 2019, Lance completed 66.9 percent of his passes, accounted for 42 touchdowns (28 passing, 14 rushing), did not throw an interception and led his team to an FCS championship. It doesn't (and can't) get much better than that. He only played one game as a sophomore in 2020 before declaring for the draft, likely leaving scouts with as many questions as answers. Fortunately, there are several important questions he has already answered. He is a powerful runner with an NFL-ready body, has incredible arm strength and possesses a high football IQ (made his own line calls and obviously valued the football, etc.), especially given how little actual football he has played. (He only played two years of varsity football in high school and didn't start until he was a senior before redshirting at NDSU in 2018.)
Negatives
The first two things that jump out about Lance on tape are how much contact he absorbs when he runs and how often the Bison asked him to do it. The latter is understandable considering he was the team's most dynamic rushing threat, but the former is going to need to change quickly if he hopes to enjoy any kind of longevity. It is at least mildly concerning that NDSU had him run a total of 48 times and asked him to throw a total of 24 times in their two closest games in 2019. All told, he averaged only 18 pass attempts in his lone season as a starter. His accuracy tends to come and go and is his biggest issue at the moment, as Pro Football Focus deemed only 44 percent of the passes he threw beyond the line to be accurate over the course of his career. Of the few tight-window throws he had, too many were thrown in a spot where it was difficult for the receiver to protect himself. While he deserves a ton of credit for how he valued the ball (one career interception, which came in his only 2020 game), there were too many forced throws. Only one opponent saw him more than once (Illinois State), and that team shut him and the Bison down in the second meeting.
Bottom Line
Lance is a 20-year-old (turns 21 in May) with 17 career starts and 318 pass attempts on his resume at a lower level of football. He is unquestionably a work in progress. Lance will ideally be drafted by a team that can "redshirt" him for at least one year because, quite frankly, he needs it with only about 30 combined high school and college games under his belt. While accuracy is a problem for him, there are plenty of examples above of him making "bucket throws" from 50 yards out. In other words, the ability to be consistently accurate is there. It's up to his next position coach to drill him hard on his footwork and throwing mechanics. This makes him a projection pick for an NFL team willing to bet on his skill-set - and those are gambles not every executive is willing to take. It increases the importance of his new team's coaching staff to be good teachers and have some degree of job stability. While any quarterback would struggle with consistent change on the coaching staff, Lance's inexperience makes him a particularly poor candidate to thrive on a team lacking coaching stability - regardless of his football IQ. Give him some stability and time to develop, and the odds that he blossoms into the second-best quarterback in the draft increase exponentially.

---
Doug Orth has written for FF Today since 2006 and been featured in USA TODAY's Fantasy Football Preview magazine since 2010. He is also a high-stakes player who often appears as a guest analyst on a number of national sports radio shows, such as Sirius XM's "Fantasy Drive." Doug is also a member of the Fantasy Sports Writers Association.