A few years ago, I decided to use the final Blitz of the season to give fantasy managers a sounding board for their toughest lineup decisions entering their league's fantasy championship game. Given how well that idea has been received, it only makes sense to apply the same logic to all three fantasy playoff weeks.

Below are five reader questions (submitted via Twitter or the FFT forum) and my answers. PPR scoring should be assumed unless otherwise noted. Any other special scoring rules will also appear in the question or immediately thereafter.
gcmmidwest: Nick Chubb or J.K. Dobbins?
The classic talent versus matchup question. Chubb has not produced at nearly the same level in two games with Deshaun Watson starting as he did in 11 games with Jacoby Brissett. That much is not in question. A Week 13 matchup against the Texans - the team giving up the most points to the running back position in 2022 - should have led to a feeding frenzy for Chubb & Co. It did not.
The fact of the matter is Chubb's recent struggles predate Watson's return. Chubb has posted three of his four worst fantasy performances over the last four weeks. Through Week 10, the 26-year-old was averaging his usual 5.7 yards per carry. In the four games since, that number is 3.5. So what has changed?
C Ethan Pocic owns the best run-blocking grade on the team (84.3), per Pro Football Focus. He injured his knee on the team's first drive in Week 11 and has not played since. (He is not eligible to return from IR until after Week 15.) Hjalte Froholdt (67.2), who had never played a regular-season snap at center before taking over for Pocic, replaced him in the pivot in Week 11. He has predictably not fared as well. TE David Njoku has made strides as a blocker in the last year or so but is only now getting back into the swing of things after dealing with ankle and knee injuries. While losing a tight end and center does not seem like it should have much of an impact on a runner like Chubb - especially when compared to losing a guard or a tackle - it certainly matters if both players are doing their job (blocking) well.
Regarding Dobbins, his on-paper matchup is much better than Chubb's (Cleveland allows the third-most points to running backs versus Baltimore's rank of 26th). A closer analysis reveals the Browns are tied for second in the league with 14 rushing touchdowns allowed to the position. That is a good thing in most cases, but the problem for the Ravens is that the offense already was not clicking on all cylinders with Lamar Jackson in the lineup. It looks like Tyler Huntley (concussion) is trending toward playing on Saturday. If not, UDFA Anthony Brown will lead the offense.
One look at Dobbins' 44-yard gallop last week reveals that while he is capable of breaking a big play, he is not close to being where he was before last summer's knee injury. (He even said as much.) Vintage Dobbins would have pulled away and cruised into the end zone. Further consider that Baltimore running backs see very little usage in the passing game and we have one avenue left for them to hit for fantasy purposes: volume. Unfortunately, Dobbins will almost certainly share the backfield with Gus Edwards again.
The general perception among most casual observers is that there is a large disparity between the best and worst defenses. That is typically not the case. It helps most people to think there is a large disparity so that it is easier to decide whom to start for fantasy purposes. If things play out the way the matchup says it should and a defense that typically gets destroyed on the ground actually gets destroyed on the ground, then we look good. If they don't, well, who could have seen it coming? Personnel matters. The Ravens were already a very limited offense with Jackson, leaning heavily on a running game that plays off his dynamic athleticism. Huntley and Brown are both athletic in their own right, but neither can be expected to rescue an offense that has scored no more than one touchdown in three of its last four.
Verdict: Despite his recent struggles, Chubb is the better play. Yes, Kareem Hunt remains a bit of a drain on production, but Chubb is the healthier runner and has the most volume upside. Even better for his prospects, he has seen around half of the team's two-minute snaps over the last four games. With the Ravens unlikely to put much distance between themselves and the Browns, Chubb could push for 25 touches. It would be shocking if Dobbins handles 18. Chubb may not be a huge factor in the passing game, but he should be more involved than Dobbins there as well.
Nomad99: Christian Kirk, D.J. Moore, Nico Collins, Jamaal Williams, Raheem Mostert and Gus Edwards? (WR/TE & WR/RB)
Scoring format: Half-point PPR, two-point bonus for 40+yd rush, 40+yd rush TD, 40+yd reception, 40+yd rec TD.
Collins is dealing with a foot issue and did not practice Wednesday (12/14) after missing practice all of last week. Even if he plays, it is fair to wonder what his upside is in an offense that might split snaps at quarterback between Davis Mills and Jeff Driskel. Edwards has a great on-paper matchup against the Browns, but he now has Dobbins to compete with for touches in what has been a struggling offense for weeks. The big-play bonuses - all of which Edwards is unlikely to hit - and the fact he does not contribute very often in the passing game make him a low-upside pick as well.
One of the feathers in Mostert's hat this week is that Jeff Wilson (hip) has yet to practice and may not go against Buffalo on Saturday. However, it used to be we could count on Mostert popping off a big play as long as he saw about 10-12 carries. If not for a 24-yard TD run against Cleveland in Week 10, his fantasy managers would be looking at nearly two months' worth of single-digit fantasy performance in half-point PPR scoring. Stud LT Terron Armstead (toe, pectoral, knee) appears to be in doubt to go against the Bills, which only makes Mostert's situation more depressing when we consider how inconsistent his usage in the passing game has been in recent weeks.
Carolina has established what it wants to do this season: ride the running game as long as possible and minimize the impact (and/or mistakes) of its quarterbacks. It is great in theory, but it sucks for fantasy receivers attached to the Panthers. In three of the last four games, Carolina has attempted 24 or fewer passes. The Panthers probably will not need to change their recipe for success much in Week 15 either, as the Steelers pay a visit and will likely do so without Kenny Pickett (concussion) under center. Even though Pittsburgh represents the sixth-best matchup for receivers on paper for the season, it is hard to be overly optimistic about Moore this week. The Steelers have been the third-stingiest defense for receivers over the last five weeks, giving up only two touchdowns to the position in that span. Moore has managed to overcome shaky quarterbacking at various times throughout his career, but it is a lot to ask for him to do so with depressed volume and on a bum ankle.
Kirk's volume has stayed very consistent throughout the season. The only thing that has changed much in recent weeks is that Zay Jones and Evan Engram have stolen some of the touchdowns he was scoring earlier in the season, allowing them to pop off for some big game (and/or target totals) over the last three games. The Cowboys (Jacksonville's Week 15 opponent) ranks as a middle-of-the-pack defense versus receivers for the season. Although Trevon Diggs has been a more consistent cornerback for Dallas in 2022, he does not move off his right cornerback spot very often. Even if he did, Kirk is more than capable of beating him for a big play or two. Kirk works mostly out of the slot, which is where he will find DaRon Bland. The Cowboys' fifth-round pick this spring picked off a pair of passes in Week 13 against the Colts but has not offered much resistance to receivers, allowing 31 of 38 passes in his coverage to be completed this season.
Season-long managers of Williams know the deal by now. If Detroit finds its way near the goal line, Williams is probably worth starting that week. If the Lions don't, he probably isn't. The former Packer has not been an efficient runner since Week 8 (six straight games of averaging 3.8 yards per carry or worse). Williams is not getting used much as a receiver (nine catches on 13 targets in 13 games), so he has proven to be the very definition of touchdown-or-bust. The problem with discounting his role is that Detroit has scored at least 25 points in five straight and topped 30 points in four of those games. There is a decent chance he gets at least one of the three touchdowns the Lions should score. Minnesota proved in Week 13 that the Jets (the Lions' Week 15 opponent) can be had on the ground, but the touchdowns New York allowed to Dalvin Cook and Alexander Mattison in that game were the first by running backs against Gang Green since Week 7.
Verdict: Kirk is an obvious start from this group, so the question becomes if Nomad should opt for Williams' theoretical touchdown upside, Moore's talent or Mostert's probable workload. Mostert also has the downside (at least in this case) of playing on what should be a cold winter night in Buffalo. Moore's ankle is just enough of a concern to make it not worth the time to trust him in what should be another low-volume passing game for Sam Darnold. Williams has handled at least 10 carries in every game this season and is averaging 17 during the Lions' 5-1 stretch. Even though I expect D'Andre Swift to get 15 touches in this one since he is not on the injury report this week, Williams' bankable volume is enough for me to ride with him and Kirk.
Ben: Jordan Mason or Zonovan Knight (half-point PPR)?
The answer to this question seems relatively obvious at first, but I do not think it is. The obvious answer would seem to be Knight if only because he is not stuck behind a guy named Christian McCaffrey like Mason is. Let us dig deeper.
Starting with Mason, who faces Seattle on Thursday, the undrafted rookie out of Georgia Tech is the very definition of a bowling ball in a china shop. He runs through contact as if he gets paid for every hit he takes. Outside of running behind McCaffrey on the depth chart, some of the areas we consider the most when making lineup choices for our fantasy teams favor him this week. Soft matchup? Check. The likelihood of positive game script and likely volume? Check. In three of the last four games, the Bucs (38 rush attempts), Raiders (38) and Panthers (39) have all reached the same conclusion: ground-and-pound the Seahawks into oblivion. Given HC Kyle Shanahan's history, it seems like he will fall right in line with that approach. Furthermore, it seems unlikely he will give more than half of those carries to McCaffrey. It is also somewhat notable that 49ers' backs amassed 34 rush attempts in their Week 2 meeting with the Seahawks.
Detroit (the Jets' Week 15 opponent) has been the stingiest defense against fantasy running backs since Week 10. Somewhat amazingly, the Lions have not given up double-digit fantasy points to an individual running back since Week 7. Detroit has bottled up the likes of Raheem Mostert, Aaron Jones, David Montgomery, Saquon Barkley, Travis Etienne and Dalvin Cook over that time. Regardless of the extenuating circumstances for each back when they played the Lions, that is still an impressive feat. Knight does not seem like a player that should buck that trend, but he might be. Per PFF, Knight is avoiding more tackles per game (6.3) than any other player in the league. That includes Josh Jacobs (6.1) and Chubb (5.2), who rank as the next two players on that list. Be it fresh legs or something else, Knight has already avoided 19 tackles through three games. That is more than Breece Hall had in six-plus outings (16) and right behind how many Joe Mixon has recorded in 11 games (20). For the sake of reference, Jones (47), Etienne (43) and Cook (43) all rank inside the top six in missed tackles forced.
Verdict: The half-point PPR scoring aspect makes the prospect of starting Mason better than if this was a PPR question. Mason has the highest upside of the two. However, game script will need to play out almost as well as possible for it to be realized. Mason has yet to catch a pass (or even see a target), so things could go south for him in a hurry if San Francisco does not jump ahead early and is forced into a prolonged negative game script. Unless I know for a fact I need a ton of upside out of my RB2 spot, I would opt for the much safer floor Knight possesses and hope his involvement in the passing game - not to mention his expanding volume in the running game - makes up for the nightmare matchup Detroit has become against running backs.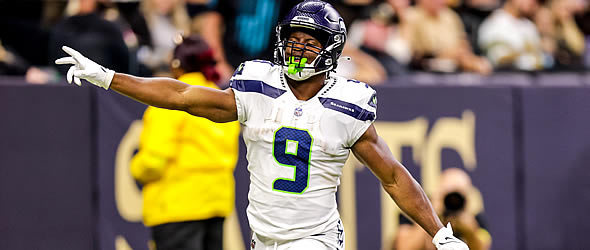 Joey: Start two … Saquon Barkley, Kenneth Walker, Jerick McKinnon and Antonio Gibson (standard scoring)?
Life has not been easy for Barkley's managers over the last month, during which time he has yet to average more than 3.5 yards per carry. Even with a touchdown in two of his four games over that stretch, his fantasy ceiling has been 14.1 points in standard scoring. I believe his workload last week was compromised by how quickly the game got out of hand. It could have also been a judgment call by HC Brian Daboll to not tempt fate and make Barkley's neck issue worse by leaving him in the game. LG Ben Bredeson (knee) has not played since Week 7. RT Evan Neal only recently returned from a long injury absence. Those may not have even the biggest issues, however. Barkley's two poor games this season have come in predictable spots (now that we have the benefit of hindsight). His 3.5 fantasy points in Week 11 against Detroit make more sense now that we know how stout the Lions have been against running backs. His 4.8 fantasy points in Week 14 versus the Eagles came against a run defense that is so much better when rookie Jordan Davis is plugging up the middle. Barkley's other two efforts over the last four games (11.2 on Thanksgiving at Dallas and 14.1 in Week 13 versus Washington) weren't great, but they were in line with what he has done since the beginning of October. In other words, the sky is not falling on Barkley. His talent cannot always be expected to compensate for his weakened supporting cast (and/or a difficult matchup).
I realize the thought of sitting Walker (ankle) is not a popular one when most managers are already short on alternatives at his position, but the 49ers are one of the few teams that have just not surrendered much to running backs this season. No individual running back has topped 59 yards on the ground against them. They have given up only five rushing scores to the position - including only one since Week 7. Rachaad White 77 total yards versus San Francisco last week was the second-highest total of the season by an individual running back. The best mark was in Week 5 by McCaffrey, who now plays for the 49ers. McCaffrey is also the only back to top 11.4 fantasy points (standard) against San Fran. Long story short, if Walker loses any reps to Travis Homer or another back in the passing game, he may struggle to return flex value.
Coming off back-to-back great fantasy performances and facing a bad Texans team in Week 15, I get the temptation of using McKinnon. Regardless, he is predominantly a passing-down player playing against an opponent Kansas City should control. Will the Chiefs still throw a lot? Of course, they usually do under HC Andy Reid. The problem is his recent fantasy efforts have been boosted by three receiving touchdowns. He had one through 12 weeks and his previous career high for a season is two.
Beginning with Washington's upset victory over the Eagles in Week 10, Brian Robinson Jr. has exerted control over the Commanders' backfield - at least from a workload standpoint. With that said, there has been enough volume - and positive game script - with J.D. McKissic gone to keep both players involved in the ways they should be involved. It is at least somewhat notable that Gibson has logged 13 red zone touches to Robinson's six over the last four games. Assuming Washington's defense keeps this game close - and there is no reason to believe it won't with the Giants struggling to score and the Commanders holding all of their opponents to 21 points or fewer since Week 4 - then Gibson's floor should be about 12 touches.
Verdict:
Picking between these four running backs is not ideal for the first round of the fantasy playoffs, if only because none of their situations is great this weekend. With that said, I believe Barkley and Gibson have somewhat decent floors. Meanwhile, Walker has almost no shot to be a ceiling play and that assumes he goes right back into a featured role. McKinnon theoretically has the highest ceiling of the bunch based on his on-paper matchup, but his role - mostly a back who sees the bulk of his time in long down-and-distance and two-minute situations - is too dependent on his team doing the unexpected and falling into the same trap Dallas did last week.
Rallo: Travis Etienne, JuJu Smith-Schuster or Mike Williams (Half-point PPR; two-point bonus for eclipsing 100 yards rushing or receiving)
First, a breakdown of Etienne's season:
Travis Etienne
Weeks
RuAtt
RuYd
YPA
RuTD
Tgt
Rec
ReYd
YPC
ReTD
FPts
FP/G
1-6
54
301
5.6
0
18
13
146
11.2
0
51.2
8.5
7-9
74
458
6.2
0
25
18
211
11.7
0
67.7
22.6
10-14
43
134
3.1
0
6
6
40
6.7
0
20.4
5.1
The reason for this breakdown is simple. Etienne was sharing the backfield with James Robinson for the first six weeks before the latter was traded to the Jets. The next three weeks saw Etienne in a featured role. He has remained in a featured role over the last four weeks, but his workload has taken a hit in deference to the passing game. The big runs - which happened with regularity throughout October - have also disappeared. What happened? While Etienne may have been overused during the middle stretch, his recent lack of production can mostly be chalked up to a string of bad matchups and unfortunate scheduling working in tandem. In Week 10, Kansas City pulled ahead by 14 early in the second quarter and never saw its lead fall below 10 points. That is not an optimal game script for a big-play runner. Over the last three weeks, Etienne has faced Detroit, Baltimore and Tennessee - all of which rank inside the top quarter of the stingiest defenses for running backs. This week's opponent (Dallas) also falls within that same range as the fourth-stingiest defense for running backs. Seeing as how the Jaguars are not utilizing their running backs much in the passing game (46 catches ranks 26th in the league), it will be hard for Etienne to overcome any stout run defense unless he breaks a long run, which has not happened recently.
Smith-Schuster snapped out of a three-game "slump" last week with nine catches, doing so while in the coverage of six different Broncos. The former Steeler is generally considered the Chiefs' primary slot receiver, although it should be noted he ranks third on the team with 179 snaps from that position and fifth on the team in slot percentage (41.5). All of this is to say that Kansas City has no problem putting anyone and everyone in the slot - eight Chiefs have a slot percentage of at least 34.1. While JuJu did get one catch (for 12 yards) in Patrick Surtain II's coverage last week, Patrick Mahomes only prioritized Smith-Schuster when he moved away from the stud corner. (His touchdown came in LB Alex Singleton's coverage.) This is pertinent information. Even though Smith-Schuster leads his position group with 61 receptions, he is not a player that HC Andy Reid and OC Eric Bieniemy are prioritizing. This has been the case in Kansas City for most of the season except for a three-week run against three of the best teams on the Chiefs' schedule. Houston is not such a team.
Starting Williams last week was a dice roll. Fortunately, the managers that did were rewarded with a full game from the Clemson product for the first time since Week 7. There was no setback with his ankle, as was the case in Week 11. Therefore, it would appear as if he can be trusted again, although one can never be too sure with his injury history. As luck would have it, his fantasy managers get the best matchup for wide receivers in Week 15. In Tennessee's last four games, Christian Watson (19.1), Tee Higgins (20.9), A.J. Brown (27.9), DeVonta Smith (18.7) and Zay Jones (17.7) have all gone to town on the Titans. Tennessee's pass rush could be an issue in Week 15, which would make me lean slightly toward Keenan Allen over Williams if I had to choose between the two. For the sake of Rallo's question, it is possible - and maybe even likely - that both Allen and Williams feast this weekend.
Verdict: As long as Williams does not succumb to another injury Saturday, he would be an easy start for me over Etienne (matchup) and Smith-Schuster (non-featured receiver in what should be a more run-heavy game plan than usual for Kansas City). There is no reason for the Chargers to establish the run against the Titans and little reason to believe Tennessee would be able to hold up against Los Angeles' receiving corps for 40-plus pass plays.

---
Doug Orth has written for FF Today since 2006 and been featured in USA Today's Fantasy Football Preview magazine since 2010. He hosted USA Today's hour-long, pre-kickoff fantasy football internet chat every Sunday in 2012-13 and appears as a guest analyst on a number of national sports radio shows, including Sirius XM's "Fantasy Drive". Doug is also a member of the Fantasy Sports Writers Association.