Several years ago, I decided to use the final Blitz of the season to give fantasy managers a sounding board for their toughest lineup decisions entering their league's fantasy championship game. It is a great way to wrap up a season, if only because there are no more long-term roster decisions to be made or "what impact will this have on my team for the rest of the season" questions. The only thing we need to concern ourselves with is what helps us win THIS WEEK.

Below are several reader questions (submitted via Twitter or the FFT forum) and my answers. PPR scoring should be assumed unless otherwise noted. Any other special scoring rules will also appear in the question or immediately thereafter.

Once I've talked about a player, I will not continue to break him down further, so make sure to search for his name if want to know my thoughts about him.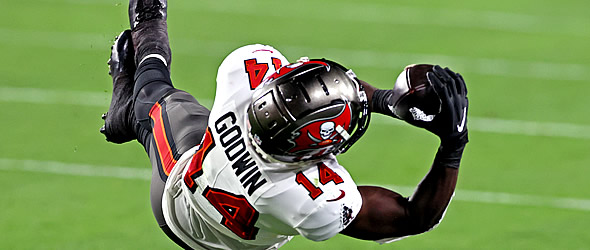 weepaws: (Half PPR) Need one RB2, WR2 and flex from Jerick McKinnon (vs. DEN), Ezekiel Elliott (@ TEN), A.J. Dillon (vs. MIN), Cam Akers (@ LAC), Terry McLaurin (vs. CLE), Chris Godwin (vs. CAR).
Let us revisit the distances of McKinnon's touchdowns since December started: 2, 56, 10, 20, 26, 9. Of the six TDs he has scored over the last four games, four of them have come inside the 20 and three of them have been from 10 yards or less. What it means is that he is seeing a fair amount of work as the Chiefs get into the red zone. I am not going to pretend as though McKinnon is Kansas City's goal-line back, but the Chiefs are not exactly a conventional offense. I will also not pretend as if the 30-year-old is a dominant player either; his 56-yard TD catch in Week 14 was the result of an underhand flip that maybe only Patrick Mahomes makes and his 26-yard scoring run in overtime one week later was a play in which he was barely touched. Outside of those two plays, his longest play from scrimmage is 21 yards (on his 47 "other" touches). Working in his favor is his usage in the passing game. He has been targeted on at least 15 percent of his routes run over the last four weeks and on at least 26 percent of his routes in two of the last three. Since the team's Week 8 bye, McKinnon has attracted at least eight targets four times in eight contests and at least six targets in five of them.
Speaking of scoring streaks, Elliott is on an extended one himself with at least one rushing touchdown in eight straight. Unfortunately, scoring touchdowns has been responsible for 45.8 percent of his fantasy production over that stretch - an abnormally high number. Elliott remains somewhat involved in the passing game with 12 targets during the streak, but he has not topped 20 yards receiving in any of those contests. While Tennessee is not doing much right over the last month, the Titans remain one of the toughest run defenses. (Only San Francisco has allowed fewer rushing yards to the position.) Tennessee is, however, one of five teams to allow at least 87 receptions to running backs. Maybe Elliott's fantasy managers catch a break and see his usage in the passing game spike Thursday if Tony Pollard (thigh) does not play. (Pollard, who did not practice at all during the short week, is listed as questionable.) However, Zeke's ceiling is not very high even if Pollard sits - especially if OC Kellen Moore takes the path of least resistance and relies heavily on the passing game to exploit Tennessee's weak secondary.
Dillon is riding a four-game scoring streak of his own. For fantasy purposes, Dillon is a lot like Elliott with slightly less work in the running game and slightly more work in the passing game. Minnesota has been more vulnerable to running backs on the ground than Tennessee, but there remains an air of uneasiness when it comes to plugging Dillon into lineups with 40.7 percent of his fantasy production over the last four games tied to him scoring touchdowns. Aaron Jones remains the more efficient back of the two and the better fantasy option should the Vikings play with a lead for most of the game.
Akers is yet another back enjoying a December to remember. The third-year back has been a stud this month, rushing for 285 yards and six touchdowns on 64 carries after totaling 274 yards and one TD on 84 attempts in September, October and November. Akers has undeniably benefited from a string of beatable run defenses (Seattle, Las Vegas, Green Bay and Denver) and a whopping 47.4 percent of his fantasy production over the last four weeks has come from scoring touchdowns against those opponents. The Chargers have played too many one-score games for a team with the talent they have, so there is no reason to believe they will force the Rams to abandon the running game in this one. Working against Akers is the fact the Chargers have done a reasonable job against running backs over the last three weeks, albeit against three offenses that aren't playing great football right now in the Dolphins, Titans and Colts.
Over the last two months, Godwin (29 fantasy points) and Ja'Marr Chase (20.5) are the only receivers to have a field day against the Browns. Some poor weather and bad quarterback play over that stretch has contributed to the Browns holding up well against receivers, but it is still notable that Cleveland has limited four of its last five opponents to 17 points or fewer. The return of Carson Wentz to the starting lineup casts further doubt on McLaurin's ceiling this week. Wentz targeted McLaurin only once in 16 throws last week and did not show much of a tendency to lean on him earlier in the season, targeting him on only 37 of his 232 passes (15.9 percent) through the first six weeks of the season.
Even as the Tampa Bay offense continues to shoot itself in the foot and fails to meet expectations, Godwin delivers. Week 16 marked the 12th straight game he managed at least five catches and the 10th consecutive contest he earned at least eight targets. While his 9.5 yards per reception and 5.7 average depth of target are far from ideal, Godwin's sustained volume will always play in fantasy. Further helping his cause is that stud CB Jaycee Horn (wrist) will not play in Week 17. Tampa Bay's offense is unlikely to change its approach regardless, as the bulk of its passing game seems to revolve around dumping the ball off to running backs and quick screens. While there is some question about how high his ceiling is from week to week, Godwin's steady floor makes him a very good option.
Verdict: McKinnon has scored at least one receiving touchdown in four straight. I will leave it up to the audience to determine if that seems like a streak that is likely to continue. What is not in question is that his upside is the highest of the group, especially against a Denver defense that may have packed it in last week. Also working in McKinnon's favor is a very good Broncos' secondary, which should be enough to force Mahomes to rely more heavily on Travis Kelce and McKinnon. Elliott projects to have the most volume of the aforementioned backs this week, but how much does that mean against a stout Tennessee run defense? As noted earlier, Dillon is a bit of a knockoff of Zeke right now from a fantasy perspective. Akers has been running hot for a while now, but he too is a back who does not create a lot of confidence for managers trying to secure a fantasy title.
Godwin is an easy start over McLaurin for me for the reasons mentioned above, so he gets my WR2 vote here. I am not a big fan of Elliott's matchup this week, but the likely absence of Pollard leads me to believe he has 20-touch upside. The odds of Dallas getting close enough for Zeke to score a short touchdown are good enough in that scenario to start him. McKinnon's usage in an elite offense is enough to convince me he can keep his run going one more week, especially since Isiah Pacheco continues to struggle with ball security, so he would be my flex.
makindollaz: Zack Moss (@ NYG), Pat Freiermuth (@ BAL), Drake London (vs. ARI) or D'Onta Foreman (@ TB)?
The Giants may rank in the middle of the pack on the season against running backs, but I cannot fathom the possibility of counting on Moss to help carry me to a fantasy championship. Not only that, New York has seen plenty of more capable backs on much better offenses since its Week 9 bye and held them in check (Brian Robinson Jr. and Dalvin Cook most recently). Moss is mostly an early-down pounder on an offense that struggles to score and figures to play from behind the rest of the way.
In games that Kenny Pickett and Freiermuth have played together this season, the latter has posted the following fantasy-point totals: 15.5, 3.2, 15.5, 9.7, 7.6, 15.9, 6.9, 10.6, 12.3, 13.6. Freiermuth has not delivered many awe-inspiring performances, but fantasy managers can take some solace in the fact he has posted those numbers despite scoring only one touchdown in 10 games with his rookie quarterback. When we consider that fact, it is an impressive feat that Freiermuth has been such a consistent producer. Let us also remember Diontae Johnson has yet to score a touchdown, which indicates the offense stinks as a whole. It is that last bit that makes it hard to give Freiermuth any strong consideration in a flex spot this week. Making matters worse is that Baltimore has yielded a single touchdown to the tight end position since its Week 10 bye.
Get ready for an offseason full of puff pieces on London. After nearly two months of falling victim to the Marcus Mariota experience and HC Arthur Smith's dogged determination to establish the run, London is starting to see the consistent volume most expected from him this summer. While he earned a season-high tying 12 targets in Mariota's last start of the season (Week 13), rookie Desmond Ridder's insertion into the starting lineup appears to agree with him - if only because he is seeing a higher percentage of catchable passes. With Mariota, London caught 58 percent of his targets (47 of 81). With Ridder through two games, that number is 70 percent (14 of 20). Injuries to CB Byron Murphy and S Budda Baker significantly weaken Arizona's secondary and could set up a smash spot for London if the Falcons are willing to exploit it, which is in question given how run-heavy Atlanta has been this year. There is also the small matter of how high London's ceiling can be since Ridder has yet to throw for a touchdown in either of his first two starts.
Good luck trying to figure out Foreman, especially lately. Here is what we can say with some certainty: if Carolina can keep a game close or play with the lead, Foreman will probably get the necessary volume to return RB2 - if not RB1 - production. If not, he may not even be flex-worthy. The good news for this week is that the Bucs have consistently been unable to find enough offense to force opponents into negative game script. That is what happened in the first meeting between the teams (in Week 7). The problem with Foreman is that the Panthers do not use him in the passing game (five catches on nine targets since the Christian McCaffrey trade), so starting him is largely an all-or-nothing proposition. The Buccaneers are still very good against running backs, but we have seen physical runners like Nick Chubb (20.2 fantasy points) and James Conner (25) fare quite well against them since the team's Week 11 bye.
Verdict: The answer to this question comes down to how much makindollaz is willing to trust a rookie quarterback in a run-heavy offense to feature his top receiver in a game they should control versus a running back who does nothing in the passing game in a game that will likely decide the NFC South champion. It is not an easy decision to make, but I find myself leaning toward trusting London - especially with the volume he has seen lately. Unlike Foreman, who needs positive game script to reach his upside, London should produce in a favorable matchup on paper whether the Falcons are trying to build a lead or playing in negative game script against the Cardinals.
jrokh: (Half PPR) Jerry Jeudy (@ KC), Najee Harris (@ BAL), Chris Godwin (vs. CAR), James Cook (@ CIN)?
Jeudy was on the receiving end of a 36-yard grab in the fourth quarter in a game the Broncos were trailing 41-6. While a 5-81-0 line is nothing to sneeze at, there is little question that meaningless catch made him appear to be a much better play than he actually was on Christmas Day. Jeudy and Courtland Sutton are high-end talents stuck in a very bad offense right now, which will consistently make one or both very difficult to start each week when both are healthy. With that said, Jeudy will get his second crack at a Kansas City defense he tore apart for three touchdowns in Week 14. Jeudy only had one reception for a measly three yards in that game while the Chiefs raced out to a 27-0 lead. It was not until after Kansas City relaxed a bit (and started turning the ball over) that Jeudy started posting his numbers. It is also worth noting that Sutton was out with an injury in that game. The point to be made here is that Jeudy is a good play here more because he is great at creating separation and less because he finished with an 8-73-3 line in the first matchup.
Ask any devout Steelers fan about the offense over the last two years and they will likely say the offensive line has been poor and the play-calling has been questionable at best. Yet, it seems as though Harris gets an abnormal amount of blame, which has left many to believe he is a compiler who is at best a durable pounder. To me, there is a clear difference between the first half of this season - when he was still likely dealing with his preseason foot injury - and the second half. Take a look for yourself:
Najee Harris
Weeks
RuAtt
RuYd
RuAvg
RuTD
Tgt
Rec
ReYd
ReTD
FPts
1-8
108
361
3.3
1
28
24
112
2
87.3
10-16
118
482
4.1
5
12
14
95
0
86.2
Weeks 10-16 are not eye-popping, but they are probably more of a true representation of what Harris can do when healthy. I do not think they represent his ceiling, however. That will take another offseason of smart drafting and savvy evaluation of the talent available in free agency by the Steelers. Regarding this week's matchup, the combination of Harris' shortcomings (namely his offensive line and the play-calling) likely makes him a touchdown-or-bust option against a stout Baltimore defense. Harris found the end zone in the teams' Week 14 contest. It is one of only two touchdowns the Ravens have surrendered to a running back since Week 8. I would prefer not to bet on Harris beating the odds a second time.
Since Godwin was discussed earlier, I will move on to the last option. Cook has delivered at least 10.9 fantasy points in half-point PPR in three of the last four weeks. The one week he did not hit that benchmark was against a team that is playing the best defense of the bunch: the Jets in Week 14. Excluding DT D.J. Reader's first game back from a long injury absence in Week 11, the Bengals have been a brutal matchup for running backs over the last five weeks. The most rushing yards any running back combination posted against Cincinnati over that time was 117 by the Chiefs in Week 13. Outside of Isiah Pacheco (66) and Jerick McKinnon (51), no running back has topped 44 rushing yards. While Cook does a lot of his damage in the passing game, the Bengals have not conceded much there either. Capable receiving backs such as Leonard Fournette and Rhamondre Stevenson were unable to exceed 30 yards.
Verdict: As if it was not clear already, I am not very keen on the running back choices this week, which leaves jrokh to choose between Jeudy and Godwin. We already know from the previous meeting with Kansas City that Jeudy has a high ceiling, but how much of that was a product of Sutton being out in that game? Godwin has scored only three TDs this season, but it is hard to ignore that his worst game since Week 6 is 7.2 fantasy points in half-point PPR. Over the last six contests, he has scored at least 10 points five times. Assuming I do not need massive upside out of the flex spot, I would rather take my chances with Godwin's high floor for a second straight week over Jeudy.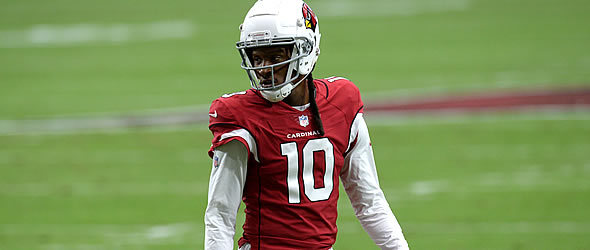 easilyscan: Assuming Christian Watson is out, who would you start instead? DeAndre Hopkins (@ ATL), Diontae Johnson (@ BAL), Curtis Samuel (vs. CLE)?
I believe Watson (hip) ends up playing, but allow me to walk readers through this decision-making process for anyone that doesn't have Watson and who may be struggling with a similar quandary.
About two months ago when Hopkins was coming off his suspension and putting together 10-catch days like they were going out of style, it would have been hard to imagine a game in which he would have to settle for one reception. This is what can happen when a team is down to its third-string quarterback. While it is true that Hopkins was the only Cardinal pass-catcher to bottom out in Week 16, Greg Dortch (10 catches for 98 yards) benefited from Tampa Bay's usual slot cornerback (Sean Murphy-Bunting) spending most of his evening lining up on the outside and the likelihood he had the most chemistry with Trace McSorley. Marquise Brown did not exactly tear things up, generating 47 of his 57 receiving yards on one catch late in the third quarter. James Conner needed seven catches to produce 41 yards. In other words, I think we can attribute Hopkins' Week 16 effort to his quarterback.
To say that a receiver with 130 targets and 82 scoreless catches is a candidate for positive touchdown regression is a huge understatement. However, I am not sure his scoreless streak ends this week versus a Baltimore defense that has surrendered a measly six touchdown catches to receivers outside of the Week 2 collapse against Miami. On the plus side, Johnson has steadied the ship of his disappointing season over the last month with four straight double-digit fantasy performances, averaging nine targets and 6.5 receptions over that span. Included in that stretch is a 6-82-0 showing versus the Ravens in Week 14.
Samuel may not belong in the same discussion as Hopkins or Johnson when it comes to playing receiver at the highest level, but he is a strong candidate to finish with more fantasy points this weekend. The Ohio State product played at a WR1 level with Carson Wentz as his quarterback before the latter was injured. With Taylor Heinicke under center, Samuel occasionally flashed some upside, but the downside reared its ugly head far too often. Unsurprisingly, Samuel's touchdown last week came from Wentz, meaning three of his four receiving touchdowns for the season have come from the former Eagle and Colt.
Verdict: As long as Colt McCoy (concussion) starts this week as expected, I have no problem giving Hopkins the nod over the other two. If he does not, I would likely pivot to Johnson, who has established a solid WR2 floor. Samuel possesses more upside, but I find myself believing Washington will rely heavily on a Brian Robinson Jr.-led rushing attack against a soft Cleveland run defense. While Samuel will probably handle a few carries in the likely event Antonio Gibson (knee, foot) is sidelined, I would rather not put myself in a position where I am hoping for a touchdown from him when I feel as though I have a good chance to get at least 12-13 fantasy points from Johnson.
---
Doug Orth has written for FF Today since 2006 and been featured in USA Today's Fantasy Football Preview magazine since 2010. He hosted USA Today's hour-long, pre-kickoff fantasy football internet chat every Sunday in 2012-13 and appears as a guest analyst on a number of national sports radio shows, including Sirius XM's "Fantasy Drive". Doug is also a member of the Fantasy Sports Writers Association.