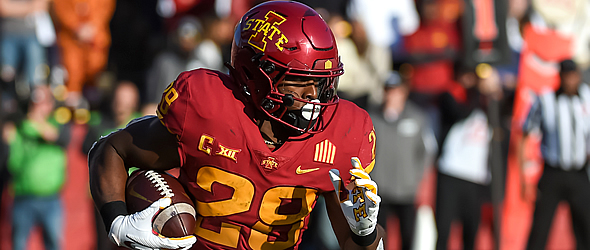 Vitals

College: Iowa State
Height/Weight: 5'11"/217
Hands: 9 3/4"
Age: 21 (at the time of the 2022 season opener)



Important NFL Combine Numbers



40-Yard Dash: 4.39
Vertical Jump: 40"
Broad Jump: 10'6"
20-Yard Shuttle: N/A
3-Cone: N/A



College Production

(Stats)


High-end NFL Player Comp(s): Arian Foster
Low-end NFL Player Comp(s): Cam Akers

Best Team Fit(s): Bills, Bucs, Chargers, Falcons, Jets, Lions, Texans

Best Scheme Fit: Universal.

Non-bolded times - Good examples of attribute
Bolded times - Average/poor examples of attribute
Position-Specific Attributes and Grades
Attribute
Att Grade
Scale
Examples
Burst/Explosiveness
8.5
10.0
0:25, 0:36, 3:22, 4:37, 5:02, 5:13, 6:14, 8:50, 10:53
Contact Balance
9.5
10.0
0:56, 1:09, 2:29, 3:40, 3:52, 5:45, 7:42
2:05
Instincts/Patience/Vision
10.0
10.0
0:25, 1:09, 3:40, 4:42, 6:14, 6:19, 6:30, 8:50
0:49, 1:13, 4:20
Power/Tackle-Breaking Ability
8.5
10.0
0:56, 2:29, 3:40, 3:52, 4:37, 5:45, 8:36
1:45, 5:20, 8:25
Quickness/Elusiveness
9.0
10.0
0:25, 0:37, 2:01, 3:40, 4:23, 5:15, 6:14, 6:30, 10:33
Route-Running/Hands
8.5
10.0
3:14, 4:06, 4:16, 5:49, 7:09, 7:52, 10:33
2:13
Ball Security
5.5
6.0
Pass Protection
3.0
6.0
1:34, 4:55, 5:40
3:02, 5:40
Durability
3.5
4.0
Long Speed
4.0
4.0
0:29, 0:36, 3:22, 4:37, 5:02, 5:13, 6:14, 8:50
Film Grade
70.0
80.0
Pre-Draft Fantasy Prospect Grade* (out of 50): 45.5
* - How well does his skill set carry over to the fantasy game? For running backs, a player needs to be a three-down option as well as a realistic threat for 1,000 rushing yards and 500 receiving yards to be a candidate for a perfect grade. Positional scarcity at the pro level is also a part of the equation.
Positives
There are elements of Le'Veon Bell and DeMarco Murray in Hall's game. He is as patient as they come and a plus in the passing game (even though Iowa State did not give him many opportunities to run routes). Yet, for as patient as he is as a runner, he seems to find a way out of messes created by backfield penetration on a regular basis. Hall is able to accomplish that in part because he is unusually quick for a man of his size (217 pounds). It is rare that his vision and/or instincts betray him, which should make him a great fit regardless of whether he is asked to run behind a zone-blocking line or in a power-based scheme. His excellent vision also shows up on the number of times he is able to gash the defense on cutback runs. No FBS running back broke more tackles over the last three seasons (194, per Pro Football Focus) or had more 15-yard runs over the last two seasons (74) than the Wichita Northwest High School product. Hall was the most heavily used running back in the country over the last two seasons, amassing 590 touches while proving he can handle a massive workload. The cousin of former NFL star Roger Craig also valued the ball throughout his college career, losing only three fumbles on 800 touches.
Negatives
The bulk of Hall's shortcomings stem more from what he was not asked to do as opposed to what he didn't or couldn't do. For example, the Cyclones used him primarily as an outlet receiver or in the screen game. As a result, Hall rarely was allowed to display any level of route-running skill. The same can be said about his pass-blocking. When he did stay in to block, he did not show great technique and usually resorted to cutting his defender. Only HC Matt Campbell and his staff know whether or not that was by design or not, but it is something that Hall needs to prove he can handle if he wants to be a three-down back right away in the NFL. Despite boasting solid yard-after-contact and missed tackles forced numbers in 2021, his averages (per attempt) in both areas (2.8 and .29, respectively) are not overly inspiring. Some of that inefficiency is the product of losing the leverage battle more often than he should. It is not always going to be easy for a running back with his size (6-1) to get lower than the defender, but he will occasionally run too upright between the tackles. While durability was not a problem for him in college, he runs the risk of getting hurt more often in the pros if he fails to lower his shoulder more often. The last one is a minor complaint: his timed speed doesn't always show up on film despite the number of explosive runs he had throughout his career.
Bottom Line
It is relatively rare for the same prospect to be among the most patient and fastest running backs in his draft class, but such is the case with Hall. There is more to him than that, however, as his combination of vision and quickness often leaves linebackers and safeties grasping at air once he gets to the second level. Even though pad level can be an issue at times, he boasts impressive balance and will not go down on first contact very often. While he did not get to show his route-running prowess off very often in Ames, there is enough film of him looking comfortable as a pass-catcher to believe he can do it at a high level and will eventually be a mismatch for most linebackers. Hall will probably need a fair amount of work in pass pro, but it seems like that will only take a matter of time considering how well-rounded the rest of his game is at this point. Hall profiles as a player who should be his team's featured back in relatively short order.

---



Predict the top ten picks of the NFL Draft for a chance to win FFToday prizes. Enter our NFL Draft Contest now.
---
Doug Orth has written for FF Today since 2006 and been featured in USA TODAY's Fantasy Football Preview magazine since 2010. He is also a high-stakes player who often appears as a guest analyst on a number of national sports radio shows, such as Sirius XM's "Fantasy Drive." Doug is also a member of the Fantasy Sports Writers Association.