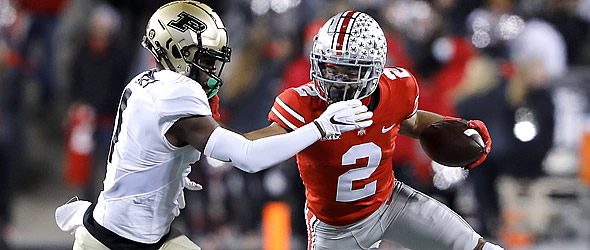 Vitals

College: Ohio State
Height/Weight: 6'0"/187
Hands: 9 1/2"
Age: 22 (at the time of the 2022 season opener)



Important NFL Combine Numbers



40-Yard Dash: 4.39
Vertical Jump: 32"
Broad Jump: 10'4"
20-Yard Shuttle: N/A
3-Cone: N/A



College Production

(Stats)


High-end NFL Player Comp(s): Calvin Ridley
Low-end NFL Player Comp(s): Christian Kirk

Best Scheme Fit: Speedy No. 2 who can play off the line (Z or slot) initially in the majority of high-volume NFL passing attacks. He could emerge as a Ridley-like lead receiver in time.

Best Team Fit(s): Cardinals, Chargers, Chiefs, Colts, Cowboys, Giants, Packers, Saints

Non-bolded times - Good examples of attribute
Bolded times - Average/poor examples of attribute
Position-Specific Attributes and Grades
Attribute
Att Grade
Scale
Examples
Ball Tracking
9.0
10.0
1:44 , 1:49, 4:26, 14:29
Contested Catch/Body Control
8.5
10.0
1:44, 4:16, 4:57, 8:08, 10:01, 14:29
Hands
9.0
10.0
0:22, 1:39, 1:44, 1:49, 7:51, 10:01
3:58, 4:26
Release
9.0
10.0
1:29, 2:36, 9:51
Route-Running
9.0
10.0
2:36, 3:09, 4:16, 4:16, 4:57, 7:39
0:56, 1:35, 4:42
Run After Catch
7.0
10.0
4:00, 6:48, 9:14, 10:07
2:27, 11:25
Physicality/Competitiveness
5.0
8.0
2:58, 9:14
Separation
5.0
6.0
0:59, 2:36, 3:09, 4:16
0:56, 9:39, 10:01
Speed
4.0
4.0
0:59, 1:49, 6:48
Blocking
1.0
2.0
1:31
3:03
Film Grade
66.5
80.0
Pre-Draft Fantasy Prospect Grade* (out of 50): 40.0
* - How well does his skill set carry over to the fantasy game? For receivers, a player needs to be a realistic threat for 70 catches and 1,000 receiving yards at some point early in their career to be a candidate for a perfect grade. Positional scarcity at the pro level is also a part of the equation.
Positives
The NFL Combine verified what most evaluators already knew: Olave is fast. He is also a high-level route-runner who understands how to tempo and sell his routes to get open in the short and intermediate areas of the field. While Ohio State's offensive scheme tends to allow its receivers to operate in space, there is enough evidence of him making his own breaks on non-bubble screen throws or straight go routes to suggest he is not a scheme-dependent receiver. (Only 19 of his 65 catches in 2021 came on screens and deep throws, per Pro Football Focus.) Once we get past his speed, the next thing that jumps out most on his 2021 film is his body control and awareness along the sideline. Most receivers who excel in those two areas also tend to have very good hands and that is the case here as well. Per PFF, Olave recorded a career drop rate of 4.9 percent. While he is not going to create much after contact, he is nevertheless a handful after the catch if he has some space in which to operate (such as on a drag route against zone coverage). The California native also offers value on special teams (two career punt blocks).
Negatives
For what it is worth, there are not a lot of wide receiver prospects who stood at least 6-0 and weighed less than 190 pounds at the Combine who have enjoyed long-term success in the NFL. One area where his lack of strength shows up repeatedly is once the ball is in his hands. While he is often masterful in getting open, he only forced two missed tackles in 2021 and 10 throughout his four-year college career (across 176 catches and three rushing attempts). At least early on in his pro career, it would seem to make him the rare prospect who has exceptional speed but may have to settle for more of a possession receiver role since he doesn't offer one obvious matchup advantage (exceptional size, strength, leaping ability, etc.). Adding functional lower-body strength (while not losing his speed) will likely be the major determining factor in whether he becomes a featured receiver at some point. Although his effort is usually solid when he blocks, his lack of strength also shows up when he attempts to do it. In a league that seems to be focusing more on a receiver's ability to win in contested-catch situations, Olave has stunningly little film where he is asked to high-point the ball. Is this a product of his somewhat average vertical jump (especially for a receiver of his size)?
Bottom Line
On one hand, there is no screaming weakness in Olave's game, outside of maybe his run-after-catch ability, which could easily be something he can improve after making football his full-time job and working with an NFL strength coach. On the other hand, it is hard to say any part of his game is truly elite, although his route-running and body control on sideline throws are very good. College receivers who enter the pro game with a solid grasp of how to run good routes typically enjoy solid NFL careers, so it would seem Olave is a high-floor prospect at worst with the potential to be something approaching Calvin Ridley in a few years if he finds a good home later this month. At the beginning of his pro career, his NFL team will likely need to line him at Z or in the slot to maximize his effectiveness since he figures to struggle against press coverage until he adds some more muscle. For the foreseeable future, Olave will likely be much more useful in between the 20s than near the end zone simply because his relative lack of athleticism is not going to make him an attractive target on back-shoulder or high-point throws. That is not necessarily a huge knock on him, but it probably makes him more of a solid complementary option as opposed to a No. 1 receiver.

---



Predict the top ten picks of the NFL Draft for a chance to win FFToday prizes. Enter our NFL Draft Contest now.
---
Doug Orth has written for FF Today since 2006 and been featured in USA TODAY's Fantasy Football Preview magazine since 2010. He is also a high-stakes player who often appears as a guest analyst on a number of national sports radio shows, such as Sirius XM's "Fantasy Drive." Doug is also a member of the Fantasy Sports Writers Association.