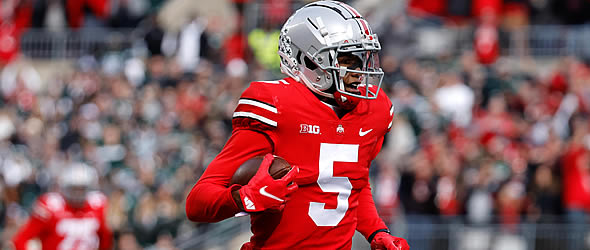 Vitals

College: Ohio State
Height/Weight: 6'0"/183
Hands: 9 7/8"
Age: 22 (at the time of the 2022 season opener)



Important NFL Combine Numbers



40-Yard Dash: 4.38
Vertical Jump: 36"
Broad Jump: 10'3"
20-Yard Shuttle: 4.36
3-Cone: N/A



College Production

(Stats)


High-end NFL Player Comp(s): Stefon Diggs
Low-end NFL Player Comp(s): Russell Gage

Best Team Fit(s): Bears, Browns, Commanders, Colts, Falcons, Lions, Packers, Saints

Best Scheme Fit: Flanker (Z) or slot receiver in most of today's NFL offenses.

Non-bolded times - Good examples of attribute
Bolded times - Average/poor examples of attribute
Position-Specific Attributes and Grades
Attribute
Att Grade
Scale
Examples
Ball Tracking
9.0
10.0
1:01, 1:31, 6:22, 8:20
Contested Catch/Body Control
9.5
10.0
0:01, 0:30, 0:59, 1:01, 1:31, 3:54, 4:23
4:51
Hands
8.5
10.0
0:14, 2:59, 3:54, 4:07, 4:18
Release
8.5
10.0
2:28, 2:49, 3:11, 7:10
4:51, 11:32
Route-Running
9.0
10.0
2:32, 3:08, 4:30, 6:26, 10:25
Run After Catch
9.0
10.0
0:00, 0:27, 1:15, 1:54, 2:08, 3:08
Physicality/Competitiveness
6.0
8.0
0:46, 1:01, 8:45
Separation
5.0
6.0
1:56, 2:32, 3:49, 4:46, 12:00
4:51
Speed
3.5
4.0
1:56, 2:31, 4:46
5:02
Blocking
1.0
2.0
1:21, 5:05
Film Grade
69.0
80.0
Pre-Draft Fantasy Prospect Grade* (out of 50): 42.5
* - How well does his skill set carry over to the fantasy game? For receivers, a player needs to be a realistic threat for 70 catches and 1,000 receiving yards at some point early in their career to be a candidate for a perfect grade. Positional scarcity at the pro level is also a part of the equation.
Positives
For a college receiver who has yet to receive pro coaching, Wilson is ahead of the curve when it comes to running routes - particularly when it comes to using leverage. For example, he routinely gets into his defender's blind spot as quickly as possible on deeper routes and sells his routes on the short and intermediate stuff. He also has the speed to be a dynamic weapon in the vertical passing game AND the change-of-direction skills to create separation on quick-hitters. In other words, he can open and do damage at all three levels of the defense. Wilson is almost a lock to catch the ball if he can get his hands on it down the field and/or in contested-catch situations. Perhaps the most surprising part of Wilson's toolbox is his ability to play "above the rim" for a shorter receiver. While he didn't get as much of a chance to show it off in 2021, his ability to contort his body in mid-air is special. Further adding to his appeal is his awareness and body control when he ventures near the sideline or at the back of the end zone. Wilson is surprisingly good after the catch AND after contact for a receiver of his size. (Per Pro Football Focus, he forced 19 missed tackles in 2021.)
Negatives
Most of the concerns about Wilson's pro readiness are areas he has minimal control over, such as his 6-0 and 183-pound frame. While he plays physically, he is far from powerful and needs more functional strength. While adding 5-10 pounds of muscle over the next year or two is entirely doable, there is a distinct possibility it could take away from his speed. Speaking of his speed, Wilson is fast but doesn't always play to his NFL Combine speed (4.36). His hands in the short passing game (and along the sideline) will betray him from time to time, suggesting he may not be all that comfortable living over the middle of the field (or focusing too much on his body position near the sideline in the latter case). The interesting part about the former possibility is that Wilson is actually very good after the catch AND after contact, so there is a chance his inconsistent hands in the short passing game have been more about him rushing the process (focus drops) than fear of hanging out too long inside the hashes. Despite the earlier praise about his route-running, he still could add some polish to that area in his game - particularly his footwork - which leads to him rounding off routes on occasion and taking too many steps to make his move.
Bottom Line
Wilson is a relatively easy evaluation when compared to most blue-chip receiver prospects in recent years. On one hand, his route-running is sharper than most and his route tree is more varied than many of his predecessors. His combination of speed, shiftiness and body control bodes well for his NFL future as well. On the other hand, his ability to deal with physicality is what one would expect from a wideout with a 183-pound frame. In other words, Wilson is highly unlikely to ever become a featured X receiver and may be destined for a career as a Z or slot, which would minimize the impact of his lighter frame and consistently give him a free release off the line of scrimmage. The inability to play full-time at split end (X) is not a bad thing by any stretch of the imagination, but the bulk of teams looking for receivers in the first round want players who fit the "X mold" at the position. While his speed and quickness should make him a viable Day 1 starter at Z or in the slot, Wilson's best feature at the pro level right away may be his ability to win in contested-catch situations. In short, he has a high floor but a potentially moderate ceiling - at least until he can consistently prove he can handle the physical coverage he will see at the line of scrimmage and on his routes than he did in college.

---



Predict the top ten picks of the NFL Draft for a chance to win FFToday prizes. Enter our NFL Draft Contest now.
---
Doug Orth has written for FF Today since 2006 and been featured in USA TODAY's Fantasy Football Preview magazine since 2010. He is also a high-stakes player who often appears as a guest analyst on a number of national sports radio shows, such as Sirius XM's "Fantasy Drive." Doug is also a member of the Fantasy Sports Writers Association.