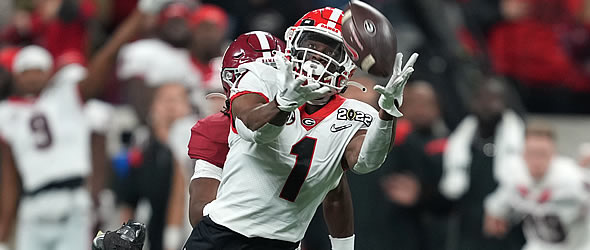 Vitals

College: Georgia
Height/Weight: 6'3"/195
Hands: 8 3/4"
Age: 21 (at the time of the 2022 season opener)



Important NFL Combine Numbers



40-Yard Dash: 4.47
Vertical Jump: 34.5" (pro day)
Broad Jump: 10'5"
20-Yard Shuttle: N/A
3-Cone: N/A



College Production

(Stats)


High-end NFL Player Comp(s): DeVante Parker
Low-end NFL Player Comp(s): Josh Reynolds

Best Scheme Fit: Complementary receiver in a downfield passing attack with the potential to emerge as a lead receiver if he can get stronger and stay healthy.

Best Team Fit(s): Bears, Browns, Chiefs, Commanders, Eagles, Falcons, Jets, Packers, Saints

Non-bolded times - Good examples of attribute
Bolded times - Average/poor examples of attribute
Position-Specific Attributes and Grades
Attribute
Att Grade
Scale
Examples
Ball Tracking
9.5
0:16 , 2:07, 7:13, 7:34, 9:56, 11:30
Contested Catch/Body Control
9.0
4:50, 7:13, 8:11, 8:19, 9:00, 9:56, 10:54
6:24, 6:59
Hands
9.0
4:50, 5:24, 7:13, 11:30, 12:13
7:40, 8:43, 11:10
Release
9.0
0:00, 2:07, 3:49, 4:45, 7:58
Route-Running
8.0
0:16, 1:13, 2:32, 3:30, 3:48
4:48, 6:59, 7:35, 10:06
Run After Catch
6.0
1:15, 3:49, 5:06, 7:34
3:18, 4:08, 8:43, 13:50
Physicality/Competitiveness
6.0
0:48, 5:49, 8:11, 9:56, 11:46
3:14, 11:46
Separation
3.5
2:32, 7:34, 11:30
0:00, 3:18, 6:57
Speed
3.5
7:34, 10:34, 11:30
Blocking
1.5
0:32, 1:31, 4:11, 6:34
Film Grade
65.0
80.0
Pre-Draft Fantasy Prospect Grade* (out of 50): 41.0
* - How well does his skill set carry over to the fantasy game? For receivers, a player needs to be a realistic threat for 70 catches and 1,000 receiving yards at some point early in their career to be a candidate for a perfect grade. Positional scarcity at the pro level is also a part of the equation.
Positives
Although Pickens did not play much college football (24 games), there are a few areas in which his game is NFL-ready. The Alabama native plays to his timed speed and projects to be a very good field-stretcher because he tracks the ball well. He displays a high level of athleticism and consistently gives exceptional effort to bring in the deep ball. That effort carries over to his blocking, where he flashes the ability to get physical with his man even if his technique could use some work. Pickens also routinely wins at the catch point on back-shoulder throws and in 50-50 situations, using his length and strong hands to make the play even if he isn't quite able to shake his defender beforehand. It is also rare for a college receiver with his dimensions to consistently get off the line of scrimmage as well as he does as often as he does. Pickens also has a great feel for when to sit in a soft spot against zone coverage. While adding strength without sacrificing athleticism is always a bit of a projection, Pickens appears to have the build to do so. Adding even 10 pounds of muscle would go a long way in helping him hold up better against defenders who try to bump him off his route.
Negatives
Pickens consistently gets a good release off the line of scrimmage and possesses track speed, yet he consistently struggles to separate and finds himself in contested-catch situations. This suggests he did not learn or was not taught the finer points of route-running at Georgia. Moreover, for as good as he is in contested-catch situations, there were too many times in which he didn't stack his defender or allowed the defender to get into his body at the catch point. As one would expect from a receiver with his physical dimensions (6-3, 195), Pickens needs to add muscle if he hopes to be anything more than a field-stretcher/contested-catch downfield receiver in the NFL. To that end, Pickens disappoints after the catch - despite his obvious athleticism - more often than not because he lacks the kind of strength necessary to drive through the tackle attempt by cornerbacks. It also seems unlikely he will be anything more than a perimeter receiver in the NFL, as he lacks the quickness usually desired from today's slot receivers to take advantage of the two-way go they typically get. It is also worth noting he was suspended for violating team rules and kicked out of a game for fighting in 2019.
Bottom Line
Pickens is a difficult evaluation, to say the least. He led the Bulldogs in all the major receiving categories as a true freshman (49-727-6), although nearly a quarter of that production came in a Sugar Bowl win over Baylor. He appeared much more confident in his role as an alpha (and in his ability) as a sophomore but was limited to what he could contribute because of the COVID-shortened season of 2020. He then tore his ACL during spring practice in 2021, which limited him to Georgia's final four games during its national championship run. Between the Bulldogs' heavy reliance on the run throughout his college career, COVID and bad injury luck, Pickens is a wild-card. There are times he looks like a young A.J. Green and other times he disappears for multiple series at a time. While Pickens certainly has more upside than Reynolds, it is troubling that someone with his athletic ability struggles to separate consistently against college cornerbacks. (The problem with that statement is there are times he does it exceptionally well.) His relative lack of experience makes him even more of a projection than the typical early entrant. As if it was not already obvious, the potential range of outcomes for his pro career is almost infinite. He needs time to develop, first and foremost. A very good receivers coach could help him enjoy the kind of career Parker should have had if his 2020 film was any indication. If Pickens lands on a team with an average (or worse) position coach, he could become an afterthought very quickly.

---



Predict the top ten picks of the NFL Draft for a chance to win FFToday prizes. Enter our NFL Draft Contest now.
---
Doug Orth has written for FF Today since 2006 and been featured in USA TODAY's Fantasy Football Preview magazine since 2010. He is also a high-stakes player who often appears as a guest analyst on a number of national sports radio shows, such as Sirius XM's "Fantasy Drive." Doug is also a member of the Fantasy Sports Writers Association.