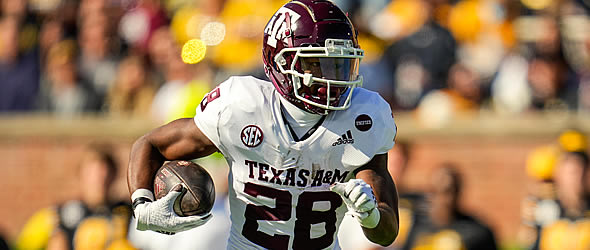 Vitals

College: Texas A&M
Height/Weight: 6'0"/217
Hands: 8 5/8"
Age: 21 (at the time of the 2022 season opener)



Important NFL Combine Numbers



40-Yard Dash: 4.63 (pro day)
Vertical Jump: 33" (pro day)
Broad Jump: 9'6"
20-Yard Shuttle: 4.27 (pro day)
3-Cone: N/A



College Production

(Stats)


High-end NFL Player Comp(s): DeAngelo Williams
Low-end NFL Player Comp(s): Mark Ingram

Best Scheme Fit: Should fit well in either man- or zone-blocking scheme, with a slight lean toward the former based on his 2021 film.

Best Team Fit(s): Bills, Chargers, Falcons, Jets, Texans

Non-bolded times - Good examples of attribute
Bolded times - Average/poor examples of attribute
Position-Specific Attributes and Grades
Attribute
Att Grade
Scale
Examples
Burst/Explosiveness
8.0
10.0
0:37, 1:32, 3:15, 5:23, 6:21
Contact Balance
9.0
10.0
1:23, 1:40, 2:46, 3:29, 3:56, 6:06, 6:21
4:34, 4:54
Instincts/Patience/Vision
9.0
10.0
0:19, 0:37, 2:00, 2:30, 2:34, 4:29, 6:21
2:41, 3:34, 5:03
Power/Tackle-Breaking Ability
8.5
10.0
1:23, 1:35, 1:40, 2:46, 3:15, 3:29, 6:06
0:17, 3:44
Quickness/Elusiveness
8.0
10.0
0:19, 0:30, 2:23, 3:13, 3:36, 4:29, 6:21
Route-Running/Hands
8.5
10.0
0:23, 0:34, 1:32, 1:35, 4:12, 4:45
Ball Security
4.0
6.0
0:29
Pass Protection
5.0
6.0
0:40, 1:06, 1:10, 1:12, 3:19, 3:37
4:27, 5:17
Durability
3.5
4.0
Long Speed
3.0
4.0
0:37, 5:23, 6:21
Film Grade
66.5
80.0
Pre-Draft Fantasy Prospect Grade* (out of 50): 41.5
* - How well does his skill set carry over to the fantasy game? For running backs, a player needs to be a three-down option as well as a realistic threat for 1,000 rushing yards and 500 receiving yards to be a candidate for a perfect grade. Positional scarcity at the pro level is also a part of the equation.
Positives
What Spiller lacks in jaw-dropping ability, he makes up for in being very balanced in many important areas for a running back. He boasts near-ideal size for the position (6-0, 217) and proved more than capable of handling a lead-back role over his three seasons in College Station. He also has very good hands (zero drops in 2021) and was trusted to pick up rushers/blitzers on a much more regular basis than many of today's college backs. Spiller was often utilized as something more than a dump-off/screen option, occasionally beating defenders on arrow and/or wheel routes. While patience can be a double-edged sword for running back at times, Spiller often makes the right call in letting things play out in front of him before accelerating through the hole. While his film does not contain a plethora of bone-jarring runs, he generally plays with a good pad level and falls forward. Spiller also flashes the occasional jump-cut to make a tackler look foolish in space. To that end, Pro Football Focus charted him with 56 missed tackles forced last season. Although Spiller doesn't possess game-breaking speed and will not outrun many back-seven defenders with pursuit angles, his 18 explosive runs (carries of at least 15 yards) ranked 16th in the country last season, per PFF.
Negatives
Spiller's biggest shortcoming at the moment might be his slightly above-average athleticism for his position (as his Combine numbers would indicate), which leads to him being more of a doubles hitter instead of a home run hitter. Because he doesn't boast elite acceleration, his aforementioned patience works against him when he is even a split-second slow in processing and the offensive line springs a leak; it is a flaw he will need to correct because he will see penetration on a somewhat regular basis in the NFL. While Spiller recorded only three lost fumbles during his college career (all of which happened as a freshman), he was charged with eight fumbles on 615 career touches. Despite his aforementioned awareness in pass pro, he does not always execute well enough to keep the defender from hurrying the quarterback. (To his credit, he improved in this area as the 2021 season progressed.) Although his statistics do not necessarily reflect it, Spiller looked significantly more explosive and confident in his running ability in 2020 than he did last season. (Check out his work against Florida in 2020 and compare it to any of his games in 2021.)
Bottom Line
Perhaps one of the best attributes Spiller possesses is his youth: he is the youngest running back prospect in this draft and will not turn 21 until August. As for his overall game, he does a lot well but nothing at an elite level. His vision and contributions as a receiver and blocker in the passing game may be his best traits, which bodes well for his long-term future given how pass-oriented the NFL has become. While he is very much a north-south back, Spiller runs with power but is hardly a bulldozer. He possesses some wiggle and enough fluidity to his game to make defenders miss at the second level, but it is not something he is going to rely on heavily. The argument could be made he was better as a freshman and sophomore than he was as a junior, and that is a question that evaluators will need an answer to by the time draft day rolls around. If they get the pre-2021 version for the bulk of his pro career, a Joe Mixon comp may be more accurate. If they get the 2021 version, then Spiller will probably settle into a lead-back role but one that loses touches to a more dynamic satellite back.

---



Predict the top ten picks of the NFL Draft for a chance to win FFToday prizes. Enter our NFL Draft Contest now.
---
Doug Orth has written for FF Today since 2006 and been featured in USA TODAY's Fantasy Football Preview magazine since 2010. He is also a high-stakes player who often appears as a guest analyst on a number of national sports radio shows, such as Sirius XM's "Fantasy Drive." Doug is also a member of the Fantasy Sports Writers Association.