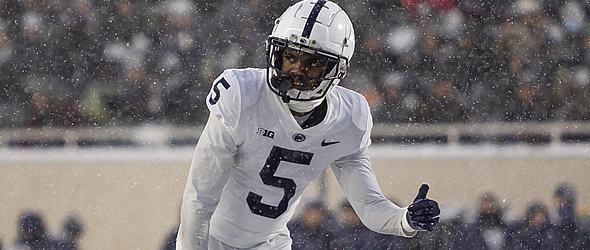 Vitals

College: Penn State
Height/Weight: 5'11"/184
Hands: 9 1/2"
Age: 22 (at the time of the 2022 season opener)



Important NFL Combine Numbers



40-Yard Dash: 4.43
Vertical Jump: 36"
Broad Jump: 10'1"
20-Yard Shuttle: N/A
3-Cone: 7.28



College Production

(Stats)


High-end NFL Player Comp(s): A more sure-handed Diontae Johnson
Low-end NFL Player Comp(s): Emmanuel Sanders

Best Scheme Fit: Flanker (Z) receiver in a vertical-based or spread offense who will double as his team's primary slot option.

Best Team Fit(s): Bills, Browns, Cardinals, Chiefs, Commanders, Colts, Giants, Packers, Saints

Non-bolded times - Good examples of attribute
Bolded times - Average/poor examples of attribute
Position-Specific Attributes and Grades
Attribute
Att Grade
Scale
Examples
Ball Tracking
9.0
10.0
0:00, 0:00, 0:25, 4:38
Contested Catch/Body Control
9.0
10.0
0:11, 0:25, 0:49, 1:26, 1:37, 1:56, 8:03
2:37
Hands
10.0
10.0
0:08, 0:11, 0:25, 0:49, 1:37, 1:56, 3:13
2:11
Release
7.5
10.0
0:00, 0:00, 2:40, 6:54, 7:11, 7:31
1:31, 1:56
Route-Running
9.5
10.0
0:00, 0:31, 1:05, 1:35, 2:40, 6:07, 7:31
4:31
Run After Catch
8.0
10.0
0:00, 0:29, 0:44, 1:35, 2:10, 2:30
3:34, 4:22, 5:09
Physicality/Competitiveness
6.0
8.0
0:00
2:08, 2:37
Separation
5.5
6.0
0:00, 1:05, 2:40, 2:55, 7:11, 8:03
Speed
3.5
4.0
0:00, 1:35, 7:11
Blocking
1.0
2.0
3:32, 5:26
1:42, 3:53
Film Grade
69.0
80.0
Pre-Draft Fantasy Prospect Grade* (out of 50): 41.0
* - How well does his skill set carry over to the fantasy game? For receivers, a player needs to be a realistic threat for 70 catches and 1,000 receiving yards at some point early in their career to be a candidate for a perfect grade. Positional scarcity at the pro level is also a part of the equation.
Positives
Dotson may have the best hands of any receiver prospect in this draft class (only two drops on 138 targets last season and a 5.2 percent drop rate for his career). The former track star is also a silky smooth route-runner, regularly changing up his release and the tempo of his route to keep his defender off-balance. There is little wasted motion or footwork in his game, which only accentuates his quickness and change-of-direction skills. He also sells his routes with multiple head/body fakes if/when necessary to keep his man honest. For a smaller receiver (5-11, 184), Dotson is very adept in contested-catch situations and boasts a surprisingly large catch radius for someone with his dimensions. He does this in part because he times his jump so well on inaccurate/high throws and finds a second gear to create late separation. Considering his strong and reliable hands, speed and ability to play the ball in the air, it should come as no surprise Dotson busted loose for nine 40-yard receptions over his final two seasons. His combination of speed and quickness makes him a nightmare in space, which accounts for the bulk of his run-after-catch grade above. He also offers value on special teams, having served as the Nittany Lions' primary punt returner in 2020 and 2021 (14.3 yards/return and one touchdown on 22 attempts).
Negatives
Dotson is yet another prospect in this draft class who checks in the low-to-mid 180-pound range with questionable strength. His lack of functional strength tends to show up in two key areas, forcing missed tackles and creating more yards after the catch on shorter passes. Per Pro Football Focus, the 22-year-old averaged a mere 5.3 yards after the catch in 2021 and forced nine missed tackles - both of which rank on the low end in this draft class. He accumulated only 132 yards on screen plays (36th) despite racking up 26 catches on screen plays (15th). Dotson's quickness usually helps him get a clean release, but he has to do a better job of winning the hand-fighting battle off the line of scrimmage and avoid focusing solely on coming out of the blocks. While there is no question he is one of this draft class' most savvy route-runners, there were multiple times where he allowed a defender to break on the ball because his break was not as crisp as it should have been. The willingness to block is there, but this is another area where his relative lack of functional strength shows up.
Bottom Line
Folks who point to size and/or analytics such as breakout age will be quick to dismiss Dotson, but there is a good chance those folks will end up being wrong about him. The ability to create space and change directions effortlessly tends to carry over well from the college to the pro game. Those are two areas in which Dotson excels. While he needs to add some strength, it is rare to find a receiver with the intelligence, quickness and ability to high-point the ball he possesses. His limitations (or concerns) right now are mostly fixable (or at least can be greatly minimized), so it would be something of a surprise if he does not become his team's primary slot option right away. Much like Sanders or even Tyler Lockett, Dotson would probably fit in best as a team's complementary option for the first year or two of his career. However, it also would not come as a surprise if Dotson's career begins in much the same way Johnson's has. That is not to say he will be a 100-catch wideout by his third year (Johnson benefited from late-career Ben Roethlisberger's desire to get rid of the ball as quickly as possible), but Dotson should not struggle to be a high-volume option. While players such as Garrett Wilson or Jameson Williams will likely generate more buzz in 2022, Dotson could easily enjoy more success than both and end up being the best wideout from this class in the right scheme.

---



Predict the top ten picks of the NFL Draft for a chance to win FFToday prizes. Enter our NFL Draft Contest now.
---
Doug Orth has written for FF Today since 2006 and been featured in USA TODAY's Fantasy Football Preview magazine since 2010. He is also a high-stakes player who often appears as a guest analyst on a number of national sports radio shows, such as Sirius XM's "Fantasy Drive." Doug is also a member of the Fantasy Sports Writers Association.