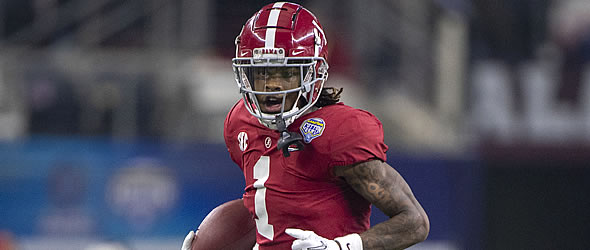 Vitals

College: Alabama
Height/Weight: 6'2"/179
Hands: 9 1/4"
Age: 21 (at the time of the 2022 season opener)



Important NFL Combine Numbers



40-Yard Dash: N/A
Vertical Jump: N/A
Broad Jump: N/A
20-Yard Shuttle: N/A
3-Cone: N/A



College Production

(Stats)


High-end NFL Player Comp(s): DeSean Jackson
Low-end NFL Player Comp(s): Ted Ginn, Jr.

Best Scheme Fit: Flanker (Z) or slot receiver in a vertical-based passing attack.

Best Team Fit(s): Bears, Browns, Commanders, Chiefs, Colts, Cowboys, Falcons, Giants, Lions, Saints

Non-bolded times - Good examples of attribute
Bolded times - Average/poor examples of attribute
Position-Specific Attributes and Grades
Attribute
Att Grade
Scale
Examples
Ball Tracking
9.0
10.0
2:13, 4:15, 4:58, 7:18
Contested Catch/Body Control
8.0
10.0
3:54, 4:13, 4:58, 7:18
Hands
8.0
10.0
1:30, 1:51, 3:54, 7:18, 8:31
0:17
Release
8.5
10.0
0:47, 1:28, 7:18
Route-Running
9.0
10.0
2:04, 2:36, 3:25, 4:56, 6:29
0:34, 0:57, 2:33, 4:52
Run After Catch
9.0
10.0
1:31, 2:22, 2:58, 4:13, 5:16, 6:42, 8:31
Physicality/Competitiveness
5.0
8.0
3:54, 4:13
1:15, 3:10
Separation
6.0
6.0
0:44, 1:00, 1:30, 2:04, 2:36, 4:15, 4:56
2:33
Speed
4.0
4.0
0:00, 0:44, 1:00, 1:31, 1:45, 2:13, 2:22
Blocking
0.5
2.0
2:02, 2:11
0:39, 1:33, 1:50, 3:10, 3:11
Film Grade
67.0
80.0
Pre-Draft Fantasy Prospect Grade* (out of 50): 41.0
* - How well does his skill set carry over to the fantasy game? For receivers, a player needs to be a realistic threat for 70 catches and 1,000 receiving yards at some point early in their career to be a candidate for a perfect grade. Positional scarcity at the pro level is also a part of the equation.
Positives
Speed, speed, speed. Even though he led FBS in 50-yard (nine), 60-yard (six) and 70-yard catches (four) in 2021, Williams destroys pursuit angles. He is more than fast, however. He is quick - especially for a player who stands 6-2 - and understands how to tempo his routes to keep the secondary on their toes. He consistently threatens cornerbacks with his speed before either snapping off his route to settle for an intermediate catch or shifting into second gear. Williams also appears to understand what defenders/defenses are trying to do to him and making them do what he wants them to do. He also understands how to sit down against zone coverage - a quality that can sometimes elude many vertical wideouts. As one might expect from a player who is both fast and quick, he is a problem for defenses after the catch. Although he was charged with six drops in 2021, Williams' hands rarely seem to betray him on downfield throws. The Crimson Tide smartly used him mostly as a Z and slot receiver to get him away from physical coverage off the line of scrimmage, often ensuring Williams could get a free release.
Negatives
While he is reportedly very much ahead of schedule roughly three months post-surgery, will Williams be ready to play in September after tearing his ACL in the national title game? Beyond that, how is it possible that Williams could not crack the receiver rotation at Ohio State (15 receptions in two seasons) before transferring to Alabama in 2021? While Jaxon Smith-Njigba, Chris Olave and Garrett Wilson (Ohio State's top receivers last year) will all likely go in the first round in 2022 or 2023, future first-round players such as Williams typically force their way into the lineup regardless, so why did that not happen in Columbus? Regarding his actual game and/or physical limitations, Williams could add about 15 pounds of muscle to his frame and still be considered undersized. He is not nearly strong enough at this point to consistently handle physical coverage from NFL cornerbacks. Williams has a lot of a young DeSean Jackson in his game (positive and negative), including being loose with the ball and catching too often with his body. The St. Louis native is not afraid to run across the middle of the field, but he can be a bit timid when he senses traffic or finds himself in contested-catch situations. Perhaps the most glaring weakness in Williams' game is blocking. While his overall indifference in this area of the game is concerning, OC Bill O'Brien spoke highly of his competitiveness - as does his ability/willingness to cover punts as a gunner.
Bottom Line
Like Jackson, Williams is incredibly fast but possesses the ability to make sharp cuts. Both receivers also lack the kind of muscle necessary for most receivers to hold up game after game and year after year in the NFL. While Jackson's lack of muscle did not stop him from becoming an alpha receiver in the pros (albeit for a very short time), it could very well prove to be Williams' kryptonite. Pushing his current injury situation aside for a moment, it is at least slightly concerning that most of the pre-injury qualities associated with effort or teamwork were his biggest issues. While he isn't allergic to working inside the hashes, he occasionally hears footsteps when he does. He is inconsistent working back to underthrown balls. However, his biggest effort/teamwork problem is blocking. It is OK if a slightly built receiver is unable to drive his man into the sideline, but it is a problem when there is more film of him watching his running back run than there is film of the receiver trying to help his teammate. Williams will stretch defenses from the moment he steps onto the field, but it would be a tall order to expect him to become a team's X receiver. He is not strong enough to consistently beat physical coverage right now, nor has he shown any indication he wants to get his hands dirty on non-passing downs.

---



Predict the top ten picks of the NFL Draft for a chance to win FFToday prizes. Enter our NFL Draft Contest now.
---
Doug Orth has written for FF Today since 2006 and been featured in USA TODAY's Fantasy Football Preview magazine since 2010. He is also a high-stakes player who often appears as a guest analyst on a number of national sports radio shows, such as Sirius XM's "Fantasy Drive." Doug is also a member of the Fantasy Sports Writers Association.