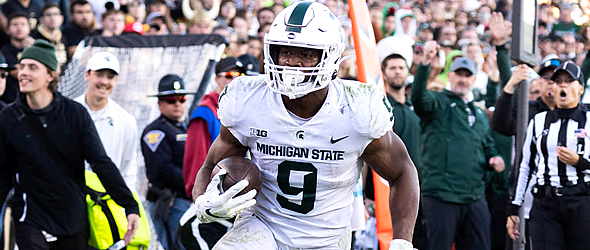 Vitals

College: Michigan State
Height/Weight: 5'9"/211
Hands: 9 1/2"
Age: 21 (at the time of the 2022 season opener)



Important NFL Combine Numbers



40-Yard Dash: 4.38
Vertical Jump: 34"
Broad Jump: 10'2"
20-Yard Shuttle: N/A
3-Cone: N/A



College Production

(Stats)


High-end NFL Player Comp(s): J.K. Dobbins
Low-end NFL Player Comp(s): Raheem Mostert

Best Scheme Fit: While he could play well in man- or zone-blocking schemes, his combination of high-level vision and acceleration through the hole makes him a natural fit for the outside zone scheme run by most of the coaches from the Mike/Kyle Shanahan coaching tree.

Best Team Fit(s): Chargers, Dolphins, Falcons, 49ers, Jets, Texans

Non-bolded times - Good examples of attribute
Bolded times - Average/poor examples of attribute
Position-Specific Attributes and Grades
Attribute
Att Grade
Scale
Examples
Burst/Explosiveness
9.5
10.0
1:14, 1:28, 2:01, 2:19, 2:34, 7:32, 9:45
Contact Balance
9.0
10.0
1:18, 2:14, 2:25, 2:34, 3:20, 3:37
0:34, 1:39
Instincts/Patience/Vision
9.5
10.0
0:31, 0:41, 1:00, 2:44, 9:45
4:05
Power/Tackle-Breaking Ability
8.0
10.0
0:50, 1:43, 1:45, 2:25, 3:12, 6:21 0:48, 1:06, 5:55, 16:55
Quickness/Elusiveness
9.5
10.0
0:00, 1:07, 1:49, 2:32, 3:07, 3:25
Route-Running/Hands
6.0
10.0
1:33, 5:14
Ball Security
5.5
6.0
0:32, 2:34
Pass Protection
2.0
6.0
3:43
0:17, 2:48, 6:13
Durability
4.0
4.0
Long Speed
4.0
4.0
0:00, 1:14, 2:19, 2:34, 7:32
Film Grade
67.0
80.0
Pre-Draft Fantasy Prospect Grade* (out of 50): 42.5
* - How well does his skill set carry over to the fantasy game? For running backs, a player needs to be a three-down option as well as a realistic threat for 1,000 rushing yards and 500 receiving yards to be a candidate for a perfect grade. Positional scarcity at the pro level is also a part of the equation.
Positives
It takes patience and excellent vision for a running back to be a good cutback runner, which is what Walker is. He routinely punished college defenses that did not maintain good gap integrity. What makes him different from most is his ability to anticipate the hole correctly just about every time and accelerate through it, quickly shifting into second gear while also usually gouging the defense for one of his many explosive runs. (Walker led FBS with 30 runs of at least 15 yards in 2021, per Pro Football Focus). Not all contact is created equal and Walker does a fine job of making sure defenders do not get a chance to square him up in the open field. It is the main reason why he led in college football with 1,168 yards after contact and 89 missed tackles forced last season, per PFF. Walker also runs efficiently (very little in the way of unnecessary steps) and protects himself when he expects contact inside (drops his shoulder and squares up his defender), which helps to explain how he handled his first year as a workhorse back without showing signs of wearing down and valued the ball last season (one fumble on 276 touches).
Negatives
Being a powerful runner and running with power are not always synonymous. Walker runs with power, but there are just too many examples of him failing to churn out extra yards on hard inside runs despite his gaudy yard-after-contact numbers. It suggests he lacks the lower body strength to move the pile on inside runs consistently at this point of his career. While his 211-pound frame should theoretically help him hold up to the punishment he should expect to receive in the NFL, his tendency to run angry may make him a bit of an injury risk at his size. His ability to contribute as anything more than a safety valve in the passing game is a mystery in large part because he was rarely used as a receiver by either program he played for (Wake Forest and Michigan State), although he did accumulate 64 catches during his high school career. There is reason to believe he is at least adequate as a receiver, but the point to be made is that it is an unknown now. His pass-blocking is below-average and borders on awful (or indifferent) at times.
Bottom Line
Walker will be a scary proposition for defenses regardless of where he lands, but his skill set is perfectly suited for a team that relies on outside zone as a staple of its run game. Much like Mostert, the Wake Forest transfer has a good chance to pay a visit to the end zone any time defense fails to set the edge. It is my opinion that his run-after-contact production last year is a bit inflated due to his heavy usage (eighth in FBS with 263 carries) but also indicative of the type of contact he draws (rarely ever squared up) and his explosiveness (again, 30 runs of at least 15 yards in 2021.) For all of the credit he gets as a physical runner, Walker gets stood up too often in between the tackles to consider him a power runner. He also suffered a bit from the traditional college thinking that running backs are often afterthoughts as options in the passing game. He seems to be a capable receiver at the very least, but it seems very likely the combination of his inexperience in the passing game and inability/unwillingness to stick his nose into a defensive lineman or linebacker as a blocker means he will begin his pro career as a two-down back. There is potential for much more, but he is probably at least a year or two away from being a true three-down back.

---



Predict the top ten picks of the NFL Draft for a chance to win FFToday prizes. Enter our NFL Draft Contest now.
---
Doug Orth has written for FF Today since 2006 and been featured in USA TODAY's Fantasy Football Preview magazine since 2010. He is also a high-stakes player who often appears as a guest analyst on a number of national sports radio shows, such as Sirius XM's "Fantasy Drive." Doug is also a member of the Fantasy Sports Writers Association.