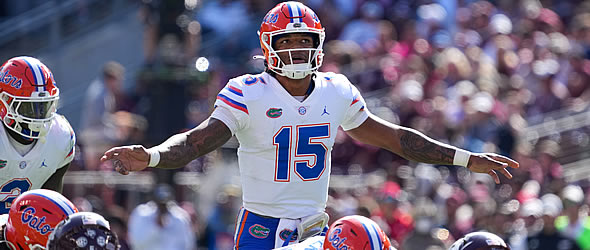 Vitals

College: Florida
Height/Weight: 6' 4''/244
Hands: 10 1/2"
Age: 21 (at the time of the 2023 season opener)



Important NFL Combine Numbers



40-Yard Dash: 4.43
Vertical Jump: 40.5''
Broad Jump: 10' 9''
20-Yard Shuttle: N/A
3-Cone: N/A



College Production

(Stats)


High-end NFL Player Comp(s): Steve McNair
Low-end NFL Player Comp(s): Vince Young

Best Scheme Fit: Shotgun-heavy (or pistol) spread that is not shy about utilizing the quarterback as a runner.

Best Team Fit(s): Colts, Falcons, Raiders, Ravens, Titans

Non-bolded times - Good examples of attribute
Bolded times - Average/poor examples of attribute
Position-Specific Attributes and Grades (2022)
Attribute
Att Grade
Scale
Examples
Accuracy
6.5
10.0

0:00, 1:12, 1:37, 1:50, 2:08, 2:11, 10:31
0:19, 0:26, 0:54, 1:24, 1:25, 4:06, 13:02

Anticipation/Tight Window
8.0
10.0

0:00, 0:50, 1:12, 1:38, 1:50, 4:50, 11:58
1:17, 2:52, 3:42, 5:59

Decision Making
6.0
10.0
Durability
7.5
10.0
3:25
Improvisation/Throw On Run
9.0
10.0
Poise/Awareness
7.5
10.0

0:01, 1:12, 1:38, 1:58, 4:12, 4:15, 8:31
1:16, 3:09, 4:24, 4:49, 5:07, 6:27

Vision/Read Progression
8.0
10.0
Athleticism/Mobility
5.0
5.0
Arm Strength
5.0
5.0
Film Grade
62.5
80
| | |
| --- | --- |
| Pre-Draft Fantasy Prospect Grade* (out of 50): | 45.0 |
* - How well does his skill set carry over to the fantasy game? For quarterbacks, a player needs to be a realistic threat for 4,000 passing yards and 500 rushing yards to be a candidate for a perfect grade. Positional scarcity at the pro level is also a part of the equation.
Positives
Richardson may have the perfect build to play his position in today's game. His height (6-4) is almost ideal for his position, while the combination of his 244-pound frame and rare elusiveness makes him an absolute nightmare to defend in short yardage or the open field. How much of a nightmare? He broke 39 tackles on 97 rush attempts this season, per Pro Football Focus. He boasts elite arm strength and speed (ran for touchdowns of 45, 60, 73, 80 and 81 yards over the past two seasons). Richardson loses almost no power or accuracy on his throws on the move; he may actually be more accurate on the move than in the pocket. Florida did him a favor in 2022 by opting against a RPO-heavy offensive attack and allowing him to run more of a pro-style offense, which gives evaluators a better idea of his ability to go through a progression and show off how accurate he can be. While he is occasionally guilty of throwing too many fastballs, he also made more than enough bucket throws to give evaluators hope. He should get a better feel of when to take something off his throws as he gets more reps. Richardson displayed the ability to learn from his mistakes by beating a coverage that fooled him early in games and played some of his best ball over his final six games in Gainesville, posting a 12:2 touchdown-to-interception ratio.
Negatives
For as many raw physical traits as Richardson brings to the table, he has a lot of work ahead of him to pick up the kind of nuance necessary that comes with playing quarterback at a high level consistently - which is not a shock for a player with 13 career starts and a mere 455 drop-backs in his college career (per PFF). One expected byproduct of a relative lack of playing time is how he occasionally handles himself in the pocket. For every time it appears he is showing poise and awareness of his place inside the pocket, there is another play where he runs into pressure by drifting outside the pocket or stepping up into the pocket when he does not have a clear passing or running lane. His inexperience also rears its ugly head whenever defenses either muddy the initial defensive look or give him something different post-snap than he read before the snap. This is another common issue for an inexperienced signal-caller, especially one playing in the SEC with talent not on par with the rest of the conference (and what the Gators had for years). While Richardson displayed the ability to make bucket throws several times throughout 2022, his accuracy often runs hot and cold - usually a product of inconsistent footwork. There were several times last year when he missed a wide-open teammate down the seam by 3-5 yards.
Bottom Line
Richardson might as well be a real-life create-a-player from the Madden video game series. As the NFL Scouting Combine showed, he is among the best athletes at his position in the history of the draft. The beauty of his game is that he is part bulldozer, part Lamborghini and part long-range bomber. Richardson can truly threaten any and every part of the field, which should allow his new team to open up the playbook in a way few prospects ever could. Thankfully, he is more than a great athlete; there is some unexpected nuance to his game.
At the moment, Richardson is essentially a teenage kid whose parents bought him the aforementioned Lamborghini as his first car. There will be moments of brilliance in which he drives the car like a pro and other times where he will hit the curb while making a turn on an empty street. His biggest problem right now may be his inexperience (393 pass attempts). It is not hard to attribute many of his current weaknesses or shortcomings to the limited reps. His footwork can and will most likely dramatically improve during offseason work and training camp, which should have a positive effect on his accuracy. (Shortening up last season's 11.5 average depth of target might help as well.)
Richardson is not close to being ready to be a regular NFL starter yet, but the sky is the limit for him. Landing with a team with a respectable quarterback coach and open-minded offensive coordinator will be essential; Richardson is an offensive weapon with a chance to be better than Cam Newton with the right coaching. A more rigid coaching staff that lacks creativity or tries to protect their investment will likely lead to him being a huge disappointment, if only because they would be taking away what makes him special. IF his new employer has the luxury of sitting him for a year and giving him a solid running game to support him early in his career, he can be special.

---



Predict the top ten picks of the NFL Draft for a chance to win $100 and FFToday prizes. Enter our NFL Draft Contest now.

---
Doug Orth has written for FF Today since 2006 and been featured in USA TODAY's Fantasy Football Preview magazine since 2010. He is also a high-stakes player who often appears as a guest analyst on a number of national sports radio shows, such as Sirius XM's "Fantasy Drive." Doug is also a member of the Fantasy Sports Writers Association.