It is easy to forget that each NFL week accounts for 7.1 percent of the fantasy regular season (assuming a Week 15 start to the fantasy postseason). It is also easy to forget that the majority of players in today's NFL just played their third full game in about nine months. Did your no-brainer RB1 spend Weeks 1 and 2 getting into "football shape" and run into a tough matchup in Week 3? Is your hotshot rookie receiver struggling or just not seeing the field enough? You get the idea.

Fantasy football is the only fantasy sport I play nowadays, but I am not too far removed from the days of playing fantasy basketball or baseball. Perhaps the biggest difference between the sports - from a fantasy perspective - is how important each game is for evaluation purposes. In basketball, a bad four-game stretch game to begin the season is a bad week. In baseball, it is a bad series in some cases. In football, it is almost a quarter of the season.

There is a certain amount of urgency that accompanies every week of the fantasy football season. We need answers sooner than later when some of our foundational pieces are struggling. If answers come quickly enough, we can stop the bleeding and get our team(s) on track before it is too late.

The goal of this week's column is just that: to identify the most pressing problem(s) for two quarterbacks and two running backs that fantasy managers believed were poised for big seasons less than a month ago. (We will tackle a handful of wide receivers and tight ends next week.)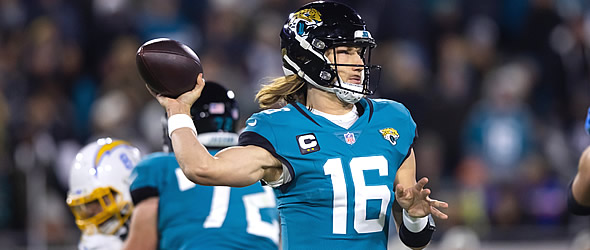 Quarterbacks
Trevor Lawrence, Jaguars
Oh, how quickly things change. After Week 1, managers saw all the proof they needed to believe that Lawrence was about to fulfill the prophecy and become the next elite quarterback. (Two passing touchdowns, a 75 percent completion rate, 241 yards passing and 21 yards rushing in a road win at the Colts.) Fast-forward two weeks later and the tide has changed. Not only did he fail to lead a touchdown drive in what was expected to be a Week 2 shootout with the Chiefs, but Jacksonville also struggled to get much going in a surprising blowout loss at home to the Texans in Week 3.
Some potential explanations for his slow start
A league-high nine drops by his pass-catchers and multiple other times where a receiver failed to get two feet inbounds in critical situations, including some in the end zone


Zay Jones missed Week 3


A mere two seconds in the pocket on average before he is throwing the ball or pressure collapses the pocket (down from 2.4 seconds as a rookie and 2.2 in 2022)


An average of five pressures per game (almost twice the average of last year)


Red zone struggles (4-for-11 passing inside the 20), including only three pass attempts inside the 10
Can he turn it around? Eight of the nine drops Lawrence has been victimized by have occurred over the last two weeks. While missed opportunities caused by drops rarely tell the whole story, quarterbacks such as Patrick Mahomes, Tua Tagovailoa and Josh Allen have only witnessed four apiece. Lawrence's bad throw percentage is an acceptable 17.3 (overall QB1 Kirk Cousins is at 17.6 for reference), while his on-target rate is a career-high 78.2 percent. These are indicators that Lawrence is actually playing at a relatively high level.
Somewhat surprisingly, fill-in LT Walker Little has been the Jags' top lineman to this point of the season. The rest of the group (RB Brandon Scherff, LG Ben Bartch, C Luke Fortner and rookie RT Anton Harrison) have struggled, to say the least. While Little has given up three quarterback pressures in 137 pass-block snaps, each of the other four has surrendered at least twice that many. The return of regular starting LT Cam Robinson from his four-game PED suspension to begin the season should help matters, if only because it should give Lawrence confidence that both of his tackles will hold up.
Fantasy managers should be able to take some comfort in the fact that Lawrence started slow last year as well with only one 20-point fantasy game through the first five weeks (and two in his first nine). The explanation for that slow start was getting Urban Meyer out of his system and embracing the tutelage of new HC Doug Pederson. It appears this year's slow start is the product of questionable line play and the correctable errors by his pass-catchers.
The good news here is that help is on the way with Robinson eligible to return in Week 5 and the proven quality of Lawrence's supporting cast. History also tells us that the drops will not continue to be a problem. For example, Ridley's four drops (per Pro Football Focus) on 25 targets are already half as many as he had during his career-best 2020 season (90-1,374-9) in which he was targeted 137 times.
Justin Fields, Bears
Where do we begin? A great place to start is this tweet from journeyman quarterback Kyle Sloter. Maybe take a minute or two to absorb this interview from former league MVP Matt Ryan.
Here is the harsh reality, in numerical form: Fields is completing just 58 percent of his passes for just 526 yards, three touchdowns and four interceptions. He has been sacked 13 times. He ranks 32nd in completion percentage, 32nd in sack percentage and 32nd in passer rating. In case you may have forgotten, there are only 32 teams in the league.
Some potential explanations for his slow start
12 designed runs through three games, including seven in Week 3 (he averaged 7.4 in 2022, but it took seven games before he hit that mark the first time)


He is getting blitzed an average of 11 times per game (up from 6.8 last year) and hurried more often (once every eight throws in 2023 as opposed to 9.6 in 2022)


D.J. Moore's aDOT (average depth of target) is a career-high 13.9 (more on that in a bit)


76 of his 88 pass attempts have come on NON-play action passes and 83 of his 88 throws have been of the non-RPO variety


58 of his 88 pass attempts have come on plays where Chicago needed to gain at least 10 yards for a first down
Can he turn it around? What was your opinion of Anthony Richardson this spring? Probably something along the lines of an inaccurate quarterback who processed his reads slowly but possesses a ton of athleticism, correct? Does that sound familiar? How did Richardson fare in his first game plus as a NFL starter? Coaching matters. Blame for anything in life is rarely 100 percent on one person or factor, but the bulk of it belongs on OC Luke Getsy. I believe in his quest to help Fields become more of a threat as a passer, he has forgotten to keep the game easy for Fields by allowing him to put the fear of God into defenses early and often as a runner. This has led to a boatload of obvious and desperate passing situations that make life difficult for any quarterback, much less one who is likely overthinking things as a passer.
The first, third and fourth explanations for Fields' struggles above are issues that fall at the feet of Getsy, while the second one is largely the product of the fifth one. The third explanation is another issue Getsy has to correct ASAP, if only because more short throws to a stud like Moore would allow Fields to build some rhythm and confidence. The fact that one of the game's best run-after-catch receivers isn't being put in a position to help his quarterback gain confidence by turning a five-yard target into a 15-yarder isn't helping the cause for Fields or the offense in general.
The one thing (and potential positive) to remember here is that Getsy unlocked Fields with the designed runs halfway through his first season as a play-caller, so there is reason for optimism despite how awful things look now. It is also important for fantasy managers to remember Fields was the QB30 after three weeks last season.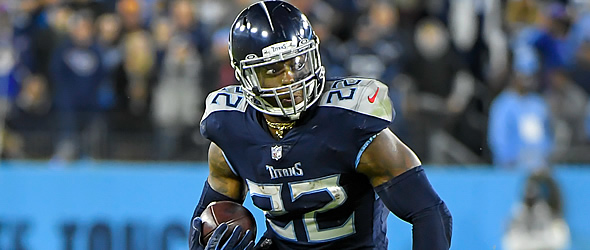 Running Backs
Derrick Henry, Titans
Henry is coming off his worst rushing performance in nearly six years after a 20-yard effort in Week 3. Is "The King" dead? Or is he slowly fading away, succumbing to the age cliff that robs all running backs of their superpowers at some point? Unlikely. Henry may no longer be in his prime, but he still has plenty left in the tank. He has had some duds throughout his reign of dominance over the last few seasons - including a couple of notable ones last year - but Week 3 felt different from the others for some reason.
Some potential explanations for his slow start
1.6 yards per carry before contact (has been no lower than 2.1 in any of the last three seasons)


One broken tackle per 17 attempts (that number has been no lower than 11.1 over his last three healthy seasons)


Henry has faced at least eight men in the box of a league-high 51 percent of his carries (up more than 10 percent from 2021 and 2022)


In the two games rookie LG Peter Skoronski has missed due to an appendectomy, Henry has rushed for 100 yards on 36 carries (2.7 average). In Skoronski's lone healthy game, Henry averaged 4.2 yards per carry


Henry has logged 93 snaps compared to Tyjae Spears' 85. Spears holds a 48-28 edge on passing-down snaps. (Of those 93 snaps for Henry, 46 of them came in the team's only win.)


DeAndre Hopkins' ankle injury over the last two weeks has removed virtually any threat of Tennessee hurting defenses via the air
Can he turn it around? Allow this to be a lesson to anyone quick to dismiss the importance of line play in fantasy, even if we are dealing with a certifiable freak like Henry. My eyes are telling me that Henry is not done, but rather a reminder of what can happen when a team is forced to transition from a left side of Taylor Lewan, Rodger Saffold and Ben Jones to Andre Dillard, Skoronski and Aaron Brewer in just over a year. There have already been many plays through three games where he does not have a chance to square his shoulders, which greatly reduces the benefit of having a 250-pound battering ram in the backfield. Additionally, maybe the plan throughout the bulk of the Mike Vrabel era was to keep Henry fresh once they found a competent complementary back, but that hope was never realized because Tennessee could not find a true partner in crime for Henry until Spears.
One of the primary reasons why I believe Spears has played such a heavy role early is because of the speed and quickness he brings to the passing game. This has led to Henry running a route on only 27 percent of the team's limited drop-backs, playing three percent of the team's long down-and-distance situations and logging 17 percent of the team's two-minute snaps. When we factor in fewer snaps, worse offensive line play (and the absence of Skoronski), more men in the box than ever and virtually no work in the passing game, Henry has virtually no avenue to meet our fantasy expectations once the Titans' leaky pass defense puts Tennessee in a hole. I highly doubt that fantasy managers will have to endure a repeat of Week 3 against (Cleveland's defense is REALLY good), but the combination of factors listed above may be the biggest test we have seen to King Henry's throne since his breakout season in 2018.
Josh Jacobs, Raiders
There is certainly a decent chance that Jacobs rounds into 2022 form within the next week or two, but a slow start for a back that missed all of training camp and reported two weeks before the start of the season should have always been the expectation. His longest run through three games (and 45 carries) is 10 yards.
Some potential explanations for his slow start
1.0 yards per carry before contact (was 2.4 last season) and 1.4 yards per carry after contact (2.4)


One broken tackle in 45 rush attempts (one broken tackle per 11 carries in 2022, when he ranked second only to Henry with 31 total broken tackles)


Seven red zone carries (for seven yards) and only three carries inside the 5 (for two yards)


The change at quarterback from Derek Carr to Jimmy Garoppolo has shrunk the field for the defense (hat tip to The Athletic's Ted Nguyen)
Can he turn it around? Week 4 (against the Chargers) should serve as the final test to see if Jacobs is suffering the effects of a long offseason or if the problem runs deeper than that. I tend to lean toward the latter. His supporters will say that Jacobs started slow last season as well and they would be right. There are notable differences between the first three weeks of 2022 and the first three weeks of 2023, however. First and foremost, Jacobs was sharing a few touches with Brandon Bolden and Ameer Abdullah last September. One of his first three games in 2022 came against the vaunted run defense of the Titans. He is facing only slightly more stacked boxes than last year (eight men in the box on 28.9 percent of his carries in 2023 versus 20.6 percent in 2022) and is unlikely to see that go up this season given how well Jakobi Meyers and Davante Adams are playing.
Jacobs has not exactly lined up against the best of the best either. This year, he has faced a Denver defense that gave up 184 total yards to Commanders' backs) and 441 total yards to Miami's backs in the last two weeks, a Buffalo defense that surrendered 206 total yards to Jets' backs and a Pittsburgh defense that coughed up two 100-yard rushing games in the first two weeks of the season. At the bare minimum against that schedule, Jacobs should have shown some hint of explosiveness by now. Instead, in 55 total touches, he has one run of exactly 10 yards and two receptions of at least 10 (12 and 19). Unfortunately, his problems run deeper than conditioning and timing (which I believe are also concerns).
His main issue is highlighted in the first explanation above: one yard per carry before contact (YBC/Att) is horrible. The only player to post such a mark (over a full season) since 2018 was Chris Ivory in his final NFL season. Other backs in the 1.0-1.5 range over five-plus years include Benny Snell (twice), the Jets' Le'Veon Bell and Peyton Barber. YBC/Att is not always the best indicator of good/bad offensive line play, but an outlier mark either way (three-plus on the high side and in the 1.0-1.5 range on the low end) is usually a good indicator of how well (or poorly) the line is doing its job.
Through three games, it is hard to evaluate Jacobs since he rarely has a chance to dictate terms to the defense. Instead, he is usually getting hit behind or at the line of scrimmage. That kind of thing does not typically change in a good way as the season progresses, and it is the primary reason why I would be more concerned about Jacobs than the first three players discussed in this article. Last but not least, he is coming off a high-usage season (393 touches), which also makes him a prime candidate to miss time due to injury at some point this year.
---
Doug Orth has written for FF Today since 2006 and been featured in USA Today's Fantasy Football Preview magazine since 2010. He hosted USA Today's hour-long, pre-kickoff fantasy football internet chat every Sunday in 2012-13 and appears as a guest analyst on a number of national sports radio shows, including Sirius XM's "Fantasy Drive". Doug is also a member of the Fantasy Sports Writers Association.