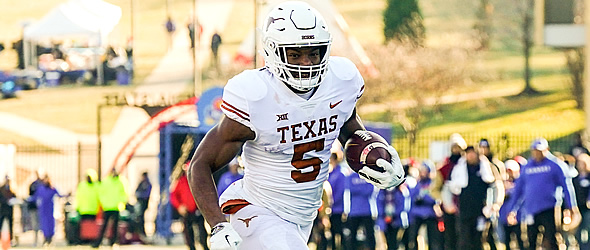 Vitals

College: Texas
Height/Weight: 5'11"/215
Hands: 9 3/4"
Age: 21 (at the time of the 2023 season opener



Important NFL Combine Numbers



40-Yard Dash: 4.46
Vertical Jump: 37''
Broad Jump: 10' 4''
20-Yard Shuttle: N/A
3-Cone: N/A



College Production

(Stats)


High-end NFL Player Comp(s): Edgerrin James
Low-end NFL Player Comp(s): Rhamondre Stevenson

Best Scheme Fit: Universal.

Best Team Fit(s): Bengals, Chargers, Falcons, Cowboys, Patriots

Non-bolded times - Good examples of attribute
Bolded times - Average/poor examples of attribute
Position-Specific Attributes and Grades (2022)
Attribute
Att Grade
Scale
Examples
Burst/Explosiveness
9.0
10.0
0:20, 3:06, 3:27, 3:35, 4:37, 4:49
Contact Balance
9.0
10.0
Instincts/Patience/Vision
9.5
10.0

0:20, 0:41, 1:05, 1:33, 2:07, 4:37, 4:44, 6:29
0:57, 0:24, 2:48

Power/Tackle-Breaking Ability
9.5
10.0
Quickness/Elusiveness
9.5
10.0
Route-Running/Hands
10.0
10.0
0:27, 0:43, 1:49, 2:33, 3:00, 3:05, 4:55
Ball Security
4.0
6.0
Pass Protection
4.5
6.0
Durability
2.5
4.0
Long Speed
3.0
4.0
Film Grade
70.5
80.0
| | |
| --- | --- |
| Pre-Draft Fantasy Prospect Grade* (out of 50): | 47.5 |
* - How well does his skill set carry over to the fantasy game? For running backs, a player needs to be a three-down option as well as a realistic threat for 1,000 rushing yards and 500 receiving yards to be a candidate for a perfect grade. Positional scarcity at the pro level is also a part of the equation.
Positives
Robinson is a willing inside runner who possesses great contact balance and shows no fear in lowering the boom to churn out yards after contact (1,071 YAC in 2022, per Pro Football Focus). The problem for defenders is that he is also very light on his feet for a bigger back, often stacking multiple moves to make something out of nothing. He consistently uses a jump-cut to throw off the timing of defenders and possesses a stiff arm that leaves defenders eating dirt; he is just as apt to run through a defender as he is to leave him grabbing air. (To that end, PFF credited him with forcing 104 missed tackles in 2022, breaking the site's previous record.) Robinson has a near-impeccable sense of when to be patient and when to be urgent; his eyes rarely lie and detect cutback lanes that most running backs never see. As much of a complete runner as the Doak Walker Award winner is, he is every bit the same as a receiver. Despite low reception totals for a player with his talent (19 in 2022 and 60 in his three college seasons), Texas occasionally lined him out wide. While he may not be the same kind of weapon in the passing game that Christian McCaffrey is, he is very confident in his hands and an above-average route-runner for a running back. He should be a mismatch for the vast majority of NFL linebackers and/or safeties right away.
Negatives
Ball security was a bit of an issue for Robinson at Texas, as he fumbled six times on 539 career rushing attempts. The Longhorns' loss to TCU late last season was the worst he looked all year. Most of that was a product of Texas' inability to threaten the Horned Frogs through the air (and thus allowing TCU's linebackers to play downhill), but some of it was the first bit of repeated indecision in Robinson's tape. There is a fine line between patience and dancing too much; Robinson almost always finds himself in the former group, but he will occasionally dabble in the latter group. While Robinson should be a quick study in his adjustment to the NFL, it could take him a bit of time to adjust to what patience means at the college level and what it means at the pro level. While his speed is actually on the high end for a back who plays in the 215-220 pound range, he does not always beat defenders to the edge or show a second gear to leave defenders in the dust very often. Robinson rarely goes down without a fight, which could explain why he dealt with back, elbow, shoulder and neck injuries over his three-year college career.
Bottom Line
There is little question Robinson is going to be a problem for NFL defenses right away. Today's NFL running back must know when to be physical, when to be elusive, when to be patient, when to be urgent, how to contribute in all facets of the passing game and somehow maintain his stamina and level of play in the fourth quarter - when everybody else is wearing down - if he hopes to be a workhorse. Robinson manages to do all of those things with aplomb.
The Arizona native's willingness to power through contact and reluctance to give up on runs may be his biggest downfall at this point. Even though he dishes out punishment and makes defenders miss regularly, he absorbs his fair share of body blows in doing so. Durability and ball security may be the biggest concerns for him early in his career. Because Robinson is so gifted as a receiver, it would make sense for the team that drafts him to take some inside runs off his plate each week and replace them with screen, wheel and arrow routes.
At the end of the day, Robinson is arguably the most complete running back prospect to enter the draft in at least five years. He plays the position with a level of calm and foresight that most runners never reach. Edgerrin James was an incredibly dynamic back before tearing his ACL in his third season. Robinson may not be quite as fast as a young James, but he boasts the same kind of power, contact balance, receiving ability and vision as the Hall of Famer. As long as Robinson stays relatively healthy and lands with a team willing to showcase his skills as the Colts did with James, it would not be overly surprising if the former also winds up wearing a gold jacket in Canton one day.

---



Predict the top ten picks of the NFL Draft for a chance to win $100 and FFToday prizes. Enter our NFL Draft Contest now.

---
Doug Orth has written for FF Today since 2006 and been featured in USA TODAY's Fantasy Football Preview magazine since 2010. He is also a high-stakes player who often appears as a guest analyst on a number of national sports radio shows, such as Sirius XM's "Fantasy Drive." Doug is also a member of the Fantasy Sports Writers Association.