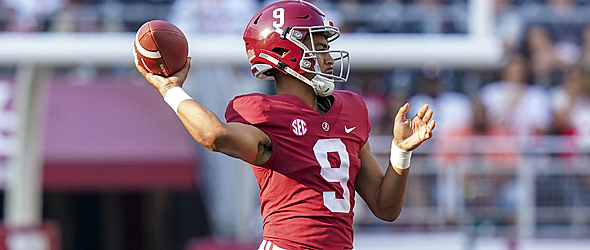 Vitals

College: Alabama
Height/Weight: 5' 10''/204
Hands: 9 3/4''
Age: 22 (at the time of the 2023 season opener)



Important NFL Combine Numbers



40-Yard Dash: N/A
Vertical Jump: N/A
Broad Jump: N/A
20-Yard Shuttle: N/A
3-Cone: N/A



College Production

(Stats)


High-end NFL Player Comp(s): A less athletic and dynamic Deshaun Watson
Low-end NFL Player Comp(s): The 2022 version of Russell Wilson

Best Scheme Fit: Run-based offense that relies heavily on play-action.

Best Team Fit(s): Texans, Falcons

Non-bolded times - Good examples of attribute
Bolded times - Average/poor examples of attribute
Position-Specific Attributes and Grades (2022)
Attribute
Att Grade
Scale
Examples
Accuracy
8.5
10.0

1:22, 3:28, 4:15, 5:21, 6:57, 7:04
1:09, 1:13, 5:03, 5:13, 6:24, 7:12, 10:02

Anticipation/Tight Window
9.0
10.0
4:15, 4:44, 7:04, 10:05
7:25
Decision Making
8.0
10.0
Durability
7.0
10.0
8:05
Improvisation/Throw On Run
9.5
10.0
Poise/Awareness
9.5
10.0
Vision/Read Progression
9.0
10.0
Athleticism/Mobility
4.0
5.0
Arm Strength
3.5
5.0
Film Grade
68.0
80
| | |
| --- | --- |
| Pre-Draft Fantasy Prospect Grade* (out of 50): | 41.5 |
* - How well does his skill set carry over to the fantasy game? For quarterbacks, a player needs to be a realistic threat for 4,000 passing yards and 500 rushing yards to be a candidate for a perfect grade. Positional scarcity at the pro level is also a part of the equation.
Positives
Young possesses unusual poise and calm for a college quarterback. One of his biggest strengths may be pocket presence, as he has a great feel for when to climb the pocket or move laterally to avoid inside pressure. While his football IQ repeatedly shows up in multiple areas of his game, his love for the game may be even more obvious. (Former OC Bill O'Brien has told the story of how he needed to have adjustments to his initial game plan and blocking assignments for the next opponent ready for his early-week meetings with Young because the quarterback already had his own prepared.) Young is mostly content to move around the pocket and typically avoids the "young quarterback mistake" of running into pressure by drifting outside the tackle box. At his best, Young can light up a defense downfield with precision throws that hit his receiver in stride. While not exactly a staple of his game, the California native also showed the ability to make improvisational plays and throw accurately on the run. Young does not run very often - one might call him apprehensive in this area - but that can likely be attributed to him keeping his eyes downfield. Alabama did not maximize his athleticism, however. Were the Crimson Tide protecting him for their own sake (because of a lack of trust in their other quarterback options) or out of fear that he might not be able to take much punishment?
Negatives
Young's throwing motion is not exactly typical. As he stands in the pocket, he often completes the arm motion before bringing his right leg through - instead of using it to power his throw - which can cause the ball to sail occasionally. While he does not exactly throw off his back foot, Young repeatedly did not step into his throws when he had the chance to do so. His feet will often not line up with his target. These observations largely explain the surprising number of inaccurate throws cited above, but it is a concern that this is even a problem after working with a coach with a pro background like O'Brien. Despite Young's gaudy college TD/INT ratio (32:5 in 2022, 80:12 for his career), his decision-making at times was befuddling. The 2021 Heisman Trophy winner deserves credit for his poise and willingness to take a hit for his team (often referred to as "looking down the gun barrel"), but there were also too many instances of him holding the ball too long. Young's slight frame - particularly his weight (204 pounds at the Combine, likely around 190-195 during the season) - is another cause for concern. Rich Gannon and Jake Plummer are probably the most successful quarterbacks in recent memory who enjoyed a hint of NFL success after entering the league with similar measurements.
Bottom Line
There is no question Young had more talent around him in 2021 (Jameson Williams, John Metchie III, etc.) than in 2022 (Jermaine Burton and Ja'Corey Brooks were his top two wideouts). His overall production dropped off significantly as a result. That is not the most concerning part, as he attempted 167 fewer passes last season. What is more concerning is potential future No. 1 overall picks should be capable of putting the offense on their back. Did Young do that? It is at least mildly disturbing that Young accounted for 21 touchdowns over the final eight games of his college career after totaling 15 in his first four outings of the season - against the likes of Utah State, Louisiana-Monroe and Vanderbilt.)

At the very least, an elite quarterback prospect should have one or two traits that separate him from the pack if he is to be drafted inside the top five or 10. What is Young's most discernible trait(s)? Poise? Perhaps, but there is also a fine line between not panicking in the pocket and holding the ball too long. Young walks that line too often. Football IQ? That is a good one to have, but it might not be enough. He will not strike fear into the minds of NFL defensive coordinators consistently as a runner, nor is he such a precise passer that he will threaten defensive backs in the intermediate and deep passing game. His size - specifically the likelihood that he will play at less than 200 pounds - means he may not have the necessary natural shock absorption to handle the rigors of playing quarterback in the NFL week after week and year after year.

Young's best fit could very well be in a run-based offense that relies heavily on play-action. This would make his height and weight less of an issue because it would afford him more protection and move his launch point further away from defensive linemen. He possesses many of the tangible and intangible qualities to play the position at the highest level, so it is not hard to imagine Young ending his career as the unquestioned top quarterback prospect in this draft class. Unfortunately, he also has the misfortune of being short AND slight (with little chance of being able to carry 15-20 more pounds) and lacks the insane athleticism of someone like Kyler Murray to overcome it. (Murray is roughly 207 pounds and has struggled to stay healthy himself.) The 2022 Sugar Bowl MVP will almost certainly need a strong offensive line and maybe even a dominant running game working in his favor if he hopes to remain healthy year after year. He is unlikely to get that anytime soon from a team picking at the top of this year's draft.

---



Predict the top ten picks of the NFL Draft for a chance to win $100 and FFToday prizes. Enter our NFL Draft Contest now.
---
Doug Orth has written for FF Today since 2006 and been featured in USA TODAY's Fantasy Football Preview magazine since 2010. He is also a high-stakes player who often appears as a guest analyst on a number of national sports radio shows, such as Sirius XM's "Fantasy Drive." Doug is also a member of the Fantasy Sports Writers Association.