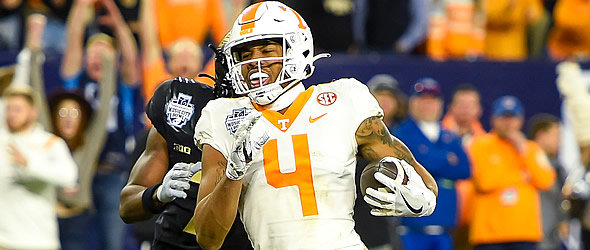 Vitals

College: Tennessee
Height/Weight: 6' 3"/213
Hands: 10''
Age: 23 (at the time of the 2023 season opener)



Important NFL Combine Numbers



40-Yard Dash: 4.54
Vertical Jump: 37''
Broad Jump: 10' 8''
20-Yard Shuttle: N/A
3-Cone: 7.32 (pro day)



College Production

(Stats)


High-end NFL Player Comp(s): Michael Thomas
Low-end NFL Player Comp(s): N'Keal Harry

Best Scheme Fit: Classic "X" receiver in a West Coast offense.

Best Team Fit(s): Giants, Ravens, Titans, Falcons, Panthers, Cardinals, Rams

Non-bolded times - Good examples of attribute
Bolded times - Average/poor examples of attribute
Position-Specific Attributes and Grades (2022)
Attribute
Att Grade
Scale
Examples
Ball Tracking
8.5
10.0
Contested Catch/Body Control
9.5
10.0
Hands
9.5
10.0
Release
9.0
10.0
Route-Running
8.0
10.0
Run After Catch
7.0
10.0
1:50, 2:14, 2:35, 2:59, 3:19, 4:01, 5:06
Physicality/Competitiveness
7.0
8.0
Separation
3.5
6.0
Speed
2.5
4.0
1:00, 2:35, 3:26, 5:24
Blocking
2.0
2.0
0:09, 0:25, 3:00, 5:12
Film Grade
66.5
80.0
| | |
| --- | --- |
| Pre-Draft Fantasy Prospect Grade* (out of 50): | 41.0 |
* - How well does his skill set carry over to the fantasy game? For receivers, a player needs to be a realistic threat for 70 catches and 1,000 receiving yards at some point early in their career to be a candidate for a perfect grade. Positional scarcity at the pro level is also a part of the equation.
Positives
While size at receiver has become less important than it has been throughout the recent history of football, coaches and GMs still want it at the position. At 6-3 and 213 pounds, Tillman is one of the biggest receiver prospects in this class and he uses it to his advantage - especially on slant routes. The former three-star recruit also has some of the biggest hands in the class, which is also apparent on tape given the ease with which he secures passes outside of his frame. Speaking of his strong hands, Tillman was only charged with five drops across his five-year college career. (He played very little before 2021, however, as Tennessee had future pros in Josh Palmer, Velus Jones Jr., Jauan Jennings and Marquez Callaway taking reps away from him.) Tillman typically defeats press coverage with relative ease using a lethal combination of enviable arm length (33") and pure physicality. The Las Vegas native is more of a deep threat than his 4.54 speed would indicate, as he uses his stride length and subtle tempo changes to chew up cushion quickly. From there, his ball skills, athleticism (37-inch vertical) and body control take over because he understands how to stack his defender and because cornerbacks so infrequently knocked him off his path along the way (16 receptions of 25-plus yards over the past two seasons). Tillman's physicality also shows up as a blocker on receiver screens, as he often moves his man off his spot with ease.
Negatives
A high-ankle sprain in the third game of 2022 that caused Tillman to miss four contests and undergo tightrope ankle surgery mostly ruined his final college season. (He returned for three games and missed the final two.) Regarding his pre-injury profile, he was surprisingly unproductive after the catch (averaged 4.1 yards after contact per reception and recorded only 13 missed tackles forced over his college career, per Pro Football Focus). Although his 4.54 speed is more than OK for a receiver of his size, his speed is more of the build-up kind, which means he could struggle at times to separate in the NFL. Probably the most concerning drawback at this point, however, may be the lack of urgency and efficiency he shows at the top of his routes, which might help explain his pedestrian yard-after-catch numbers. Interestingly, HC Josh Heupel's offense - not unlike many warp-speed spread offenses these days - did not move Tillman across the formation at all, as he logged 1,125 of his 1,127 snaps over his final two seasons on the right side of the formation.
Bottom Line
In a draft class loaded with "smurfs" at receiver, Tillman stands out in a major way. In fact, he gives off some Brandon Marshall and/or Michael Thomas vibes. Look no further than what he did against the best the SEC had to offer, posting a 7-152-1 line against Alabama in 2021 and 10-200-1 and 7-68-0 lines against Georgia in 2021 and 2022, respectively. If Tillman had simply stayed healthy this season, there is a very good chance he would be in consideration to go inside the top 20-30 picks. He still might.
The reason Tillman should be considered a high-end NFL prospect is not simply that he fared well statistically against two of the sharper defensive minds in college football. It is more because he did it in the way he will have to do it in the NFL. He managed to get open despite not having the luxury of getting free releases via working out of the slot, being sent into motion, lining up on the same side of the field repeatedly and working closer to the out-of-bounds marker than any receiver should have to because Heupel's offense tries to work from sideline to sideline. Furthermore, NFL corners will not be able to contact him as much down the field as college corners did. Tillman is unlikely to make near as much noise vertically at the next level as he did in college, but he could quickly emerge as a high-volume target in the short and intermediate passing attack - much like Thomas did in New Orleans. If Tillman can refine his route-running even just a little bit this summer, he could be an immediate impact player.

---



Predict the top ten picks of the NFL Draft for a chance to win $100 and FFToday prizes. Enter our NFL Draft Contest now.

---
Doug Orth has written for FF Today since 2006 and been featured in USA TODAY's Fantasy Football Preview magazine since 2010. He is also a high-stakes player who often appears as a guest analyst on a number of national sports radio shows, such as Sirius XM's "Fantasy Drive." Doug is also a member of the Fantasy Sports Writers Association.