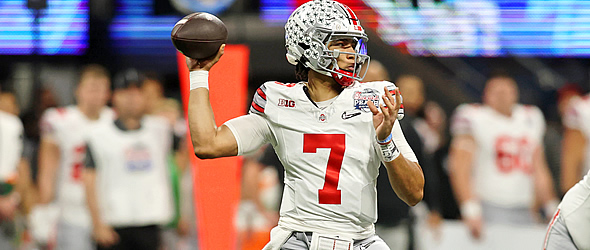 Vitals

College: Ohio State
Height/Weight: 6' 3''/214
Hands: 10''
Age: 21 (at the time of the 2023 season opener)



Important NFL Combine Numbers



40-Yard Dash: N/A
Vertical Jump: N/A
Broad Jump: N/A
20-Yard Shuttle: N/A
3-Cone: N/A



College Production

(Stats)


High-end NFL Player Comp(s): Geno Smith
Low-end NFL Player Comp(s): A rich man's Jared Goff

Best Scheme Fit: Because he worked almost exclusively out of shotgun in college and struggled so much when he felt pressure in the pocket, Stroud likely needs to begin his career in a spread offense that emphasizes play-action passing on a regular basis.

Best Team Fit(s): Panthers, Texans, Colts

Non-bolded times - Good examples of attribute
Bolded times - Average/poor examples of attribute
Position-Specific Attributes and Grades (2022)
Attribute
Att Grade
Scale
Examples
Accuracy
9.0
10.0

1:40, 2:30, 3:16, 3:58, 4:45, 5:55, 6:39, 6:48
0:37, 1:34, 3:08, 3:32, 5:31, 9:00

Anticipation/Tight Window
9.0
10.0
Decision Making
8.5
10.0
Durability
8.5
10.0
Improvisation/Throw On Run
8.0
10.0
Poise/Awareness
8.5
10.0
Vision/Read Progression
9.5
10.0
Athleticism/Mobility
4.0
5.0
2:16, 4:59, 6:50, 21:05, 24:43
Arm Strength
4.5
5.0
Film Grade
69.5
80
| | |
| --- | --- |
| Pre-Draft Fantasy Prospect Grade* (out of 50): | 42.0 |
* - How well does his skill set carry over to the fantasy game? For quarterbacks, a player needs to be a realistic threat for 4,000 passing yards and 500 rushing yards to be a candidate for a perfect grade. Positional scarcity at the pro level is also a part of the equation.
Positives
Few NFL quarterback prospects coming out of college appear more confident or can manipulate a defense as well as Stroud. From the way he moves inside the pocket to the comfort he shows working through his progressions to the speed with which he makes a decision and cuts it loose, Stroud is NFL-ready. He is well beyond his years from a mental standpoint, excelling at diagnosing coverages, anticipation and seeing the field. Another one of the two-time Heisman Trophy finalist's best features is his penchant for knowing when to take calculated risks and when to work within the framework of the play call. Better yet, he has the arm strength to make those calculated risks pay off and force defenses to cover every blade of grass. The first QB in Big Ten history to have back-to-back seasons with 30 or more touchdown passes may also possess the most touch on his passes and make "bucket throws" more often than any other quarterback in this draft class. Stroud did not show much as a runner in college (finishing with a mere 136 rushing yards on 80 career carries), but there is plenty of evidence to suggest he can do more with his legs at the next level. While size and weight do not mean as much as they used to at his position, Stroud fits the prototype in terms of the requisite size to play quarterback in the pros.
Negatives
One of the problems of scouting a quarterback at a loaded school like Ohio State is assigning credit. Was Stroud good because he had four (or maybe even five, depending on the development of Emeka Egbuka) current or soon-to-be first-round picks to throw to at receiver or did Stroud make his good receivers great? For as sharp and confident as he is in a clean pocket, Stroud experienced significant struggles in a less-than-ideal pocket for the bulk of his college career. (Per Pro Football Focus, he graded 97th out of 144 qualifying quarterbacks when under pressure in 2022.) The two-time Big Ten Offensive Player of the Year was also considered a top dual-threat high school quarterback, but he rarely flashed his legs in college. (Stroud was able to quiet the concerns regarding his ability to play well despite chaos in the pocket and his rushing ability by flashing both while playing arguably the best game of his college career in Ohio State's College Football Playoff semifinal loss to eventual champion Georgia.) While Stroud is very accurate with his throws most of the time (69.3 percent completion rate for his college career), there is still room for improvement. At times, he will dip his shoulder. Other times, his footwork or release point betray him.
Bottom Line
If the way Stroud played against Georgia (348 passing yards, 71 rushing yards before factoring in the four times he was sacked, four TDs and no interceptions) was a sign of things to come, then he could very well end up being the best quarterback prospect available in this draft - at least from a ready-to-play-now standpoint. While it may be a bit unfair to characterize him as a throwback pocket passer after what he did against the Bulldogs, a throwback pocket passer is what Stroud was for most of his two seasons as a starter in Columbus. So what gives? Was the CFP semifinal his coming-out party brought about by the knowledge he needed to carry the team in that game?
It probably helps to state the obvious: Stroud is undoubtedly what NFL teams want as a pocket passer. He has great vision, throws with accuracy and anticipation, possesses a strong arm and keeps the ball out of harm's way much more often than not. He routinely gives his receivers run-after-catch opportunities by hitting them in stride and the Georgia game showed he (or Ohio State) likely underutilized his athleticism in college. On the downside, he rarely displayed the willingness to create plays for himself and struggled routinely when he felt pressured in the pocket (again, outside of the Georgia game).
Working in Stroud's favor is that the NFL remains a league in which quarterbacks must still be able to win from the pocket. He should be able to do that right away in the pros and do so at a high level very early in his NFL career. The great mystery is if he can reproduce his performance against Georgia on a more regular basis. In a game against a team loaded with future NFL defenders, his star shined more brightly than anyone could have reasonably hoped. His perceived weaknesses were no longer weaknesses and his perceived strengths rose to another level. That version of Stroud would be the unquestioned top overall pick in most drafts. Almost regardless of his landing spot, Stroud should be a fine long-term signal-caller if he simply plays the same way he did for most of his time in college. His ability to find the level played at and consistently repeat what he did versus the Bulldogs will determine if he ends up being great.

---



Predict the top ten picks of the NFL Draft for a chance to win $100 and FFToday prizes. Enter our NFL Draft Contest now.

---
Doug Orth has written for FF Today since 2006 and been featured in USA TODAY's Fantasy Football Preview magazine since 2010. He is also a high-stakes player who often appears as a guest analyst on a number of national sports radio shows, such as Sirius XM's "Fantasy Drive." Doug is also a member of the Fantasy Sports Writers Association.