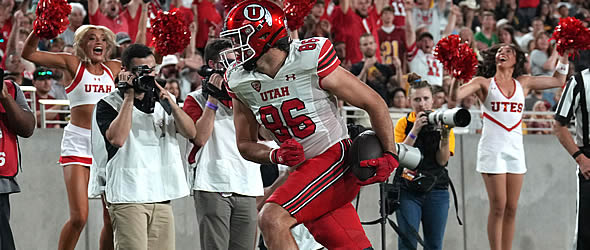 Vitals

College: Utah
Height/Weight: 6' 4"/246
Hands: 10 1/4"
Age: 23 (at the time of the 2023 season opener)



Important NFL Combine Numbers



40-Yard Dash: N/A
Vertical Jump: N/A
Broad Jump: N/A
20-Yard Shuttle: N/A
3-Cone: N/A



College Production

(Stats)


High-end NFL Player Comp(s): Greg Olsen
Low-end NFL Player Comp(s): Jordan Cameron

Best Scheme Fit: Any offense capable of utilizing him as more of a "move" tight end and willing to commit to using him as a matchup weapon out of the slot.

Best Team Fit(s): Packers, Lions, Cowboys, Bengals, Raiders, Broncos, Chargers

Non-bolded times - Good examples of attribute
Bolded times - Average/poor examples of attribute
Position-Specific Attributes and Grades (2022)
Attribute
Att Grade
Scale
Examples
Ball Tracking
9.0
10.0
1:01, 4:38
Contested Catch/Body Control
9.5
10.0
1:01, 1:20, 4:38, 6:34, 7:44
Hands
9.5
10.0
Release
8.0
10.0
1:41, 5:17, 10:11
Route-Running
8.5
10.0
Run After Catch
9.0
10.0
Physicality/Competitiveness
6.0
8.0
Blocking
3.5
6.0
Separation
2.5
4.0
Speed
2.5
2.0
0:12, 1:01
Film Grade
69.0
80.0
| | |
| --- | --- |
| Pre-Draft Fantasy Prospect Grade* (out of 50): | 41.0 |
* - How well does his skill set carry over to the fantasy game? For tight ends, a player needs to be a realistic threat for 60 catches and 800 receiving yards at some point in their career to be a candidate for a perfect grade. Positional scarcity at the pro level is also a part of the equation.
Positives
The first thing that stands out about Kincaid is how fluid and athletic he is for a player of his size. His fluidity and athleticism repeatedly show up on tape, perhaps most often when he is in contested-catch and high-point situations. The Las Vegas native lined up in the slot 55 percent of the time in 2022 and is very much at home doing so, running routes more crisply and intelligently than many college receivers. He appears to be in complete control of his movement on every snap but is still dynamic enough to make the first man miss and turn a short gain into a big one. (He was one of only three FBS tight ends with 16-plus forced missed tackles in 2022.) While Kincaid did not perform at the NFL Combine or his pro day due to a back injury he suffered late last season, he plays at the high 4.5, low-4.6 level and should be plenty fast enough to threaten the seam in the NFL - especially when the trust he has in his ball skills is taken into account. Kincaid is also about as sure-handed as they come; two drops on 138 targets over two years at Utah (35-to-4 touchdown-to-drop ratio over his college career). The first-team All-Pac 12 performer is highly unlikely to become a dominant run-blocker and will likely struggle to hold up as an inline blocker at times early in his NFL career, but he is also unlikely to be used that way very often. He is willing to block and functional enough to do so in space against second- and third-level defenders.
Negatives
Perhaps the biggest knock on Kincaid is that he lacks the necessary size - he was listed at 240 pounds in 2022 - to be anything more than a receiving tight end. (Expect him to be up to 250 by training camp.) Along with some minor flaws with his blocking fundamentals and mechanics, the University of San Diego transfer has some work to do to become a complete tight end. Kincaid got away with some telegraphing of his routes in college because he was either bigger than most of the safeties or faster than most of the linebackers guarding him. While he plays the position that he can probably get away with the occasional extra step on a route, he will need to do a better job of disguising his intentions to beat the better NFL linebackers/safeties. Kincaid is also a bit on the older side for a prospect (turns 24 in October). It is also worth noting he missed time in 2022 because of multiple injuries, including a shoulder (October 2022) and thoracic injury (November 2022), which ultimately sidelined him for the Senior Bowl, NFL Combine and the Utes' pro day.
Bottom Line
Kincaid is not without flaws, but all of the ones mentioned above can be corrected - or at least improved - with a full-time commitment to the sport. While his blocking fundamentals and mechanics could be an issue for some teams in the first year or two, the majority of teams who have a first-round grade on him have almost assuredly factored that into their decision-making process. They likely value him as highly as they do for the weapon he is in the passing game. As someone who did not start playing football until his senior year of high school and was not expecting to play college sports when he graduated, there is still a ton of theoretical room for growth in his game.
There will always be a place in the NFL for a tight end with Kincaid's receiving ability because more coaches than ever understand the value of being able to win inside the hashes. If scoring at least eight touchdowns in each of his four full college seasons wasn't convincing enough, Kincaid projects as the rare tight end prospect who could not only be his next team's top red zone threat but also their primary option in between the 20s.
---



Predict the top ten picks of the NFL Draft for a chance to win $100 and FFToday prizes. Enter our NFL Draft Contest now.

---
Doug Orth has written for FF Today since 2006 and been featured in USA TODAY's Fantasy Football Preview magazine since 2010. He is also a high-stakes player who often appears as a guest analyst on a number of national sports radio shows, such as Sirius XM's "Fantasy Drive." Doug is also a member of the Fantasy Sports Writers Association.