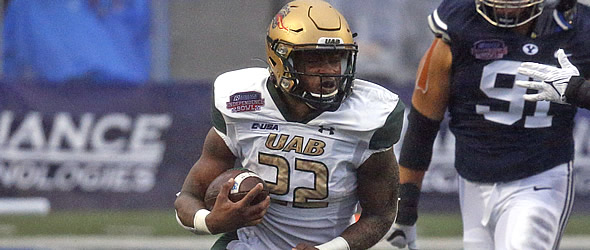 Vitals

College: UAB
Height/Weight: 5'10"/215
Hands: 9 1/2"
Age: 22 (at the time of the 2023 season opener)



Important NFL Combine Numbers



40-Yard Dash: N/A
Vertical Jump: N/A
Broad Jump: N/A
20-Yard Shuttle: N/A
3-Cone: N/A



College Production

(Stats)


High-end NFL Player Comp(s): James Robinson (pre-injury)
Low-end NFL Player Comp(s): Joshua Kelley

Best Scheme Fit: McBride appears to be a natural in a zone-blocking scheme. Given his complete lack of usage in the passing game, he may have to settle for an early-down pounder role.

Best Team Fit(s): Dolphins, Chargers, Titans, Buccaneers

Non-bolded times - Good examples of attribute
Bolded times - Average/poor examples of attribute
Position-Specific Attributes and Grades (2022)
Attribute
Att Grade
Scale
Examples
Burst/Explosiveness
7.5
10.0
0:12, 0:39, 1:21, 1:36, 2:15, 3:40, 5:15
Contact Balance
9.5
10.0
0:28, 0:28, 0:45, 1:06, 2:15, 2:37, 4:51
Instincts/Patience/Vision
8.5
10.0
Power/Tackle-Breaking Ability
9.0
10.0
Quickness/Elusiveness
8.0
10.0
Route-Running/Hands
5.0
10.0
1:30
Ball Security
2.0
6.0
0:45, 0:57, 2:06, 2:30, 3:42
Pass Protection
4.0
6.0
Durability
3.5
4.0
Long Speed
2.0
4.0
Film Grade
59.0
80.0
| | |
| --- | --- |
| Pre-Draft Fantasy Prospect Grade* (out of 50): | 35.0 |
* - How well does his skill set carry over to the fantasy game? For running backs, a player needs to be a three-down option as well as a realistic threat for 1,000 rushing yards and 500 receiving yards to be a candidate for a perfect grade. Positional scarcity at the pro level is also a part of the equation.
Positives
McBride's power and contact balance are outstanding for a 209-pound running back (215 at his pro day). Per Pro Football Focus, he finished his career with a 36 percent forced missed tackle rate - trailing only Bijan Robinson and Javonte Williams among FBS running backs since PFF began charting college football in 2014. As his 1,072 yards after contact last season would suggest, he is going to maximize nearly every run and will break a few for chunk gains because he is typically churning his feet even when it appears the play is over. (His 4.6 yards post-contact ranked No. 1 in the FBS in 2022).McBride does a fine job of pressing the hole and is usually patient enough to let his linemen do their job so he can do his. The Florida native also processes what he sees in the moment very well and is nimble enough to jump out of one gap and into the next at a moment's notice. While his top-end speed is about average for a running back prospect, it is telling he led the nation in 20-yard runs (23) and 30-yard runs (13) and was either first or second in the country in runs of 40-plus (eight), 50-plus (five) and 60-yard runs (four).
Negatives
Without question, McBride's biggest question mark is ball security; he fumbled 11 times over the last two seasons. On four of the five fumbles from 2022 cited above, he was running too upright. While running upright does not necessarily cause fumbles as much as poor fundamentals and/or defenders punching at the ball, it makes McBride an easier target to strip AND hit - meaning he probably carries more of an injury risk than other backs. The next most obvious concern is not so much a weakness as a complete unknown. Even in a run-based offense, it is almost unthinkable that a productive two-year starter such as McBride would have only five catches over two seasons. The Doak Walker Award semifinalist was a man amongst boys quite often in Conference USA, but UAB's level of competition was not great (six of the Blazers' 12 foes in 2022 ranked 100th or lower in run defense. Georgia and LSU were the only two Power Five opponents he faced in three seasons with the Blazers). While patience is one of his best qualities in the open field, he will occasionally try to be too quick to the hole. McBride will also stop his feet a bit too often when he needs to create on his own.
Bottom Line
UAB asked McBride to do one thing (run) and he did it exceedingly well. In fact, the Blazers were almost as productive handing the ball off to him (7.4 yards per attempt) last season as they were throwing the ball (8.2). He ran for 120 or more yards in 10 of 11 games in 2022 with the lone exception coming against the only Power Five school UAB faced (LSU; 13 carries for 34 yards). Outside of fumbling the ball 11 times in two seasons, McBride's biggest problem right now is that the Blazers did virtually nothing to prepare him for the pass-happy NFL. Just because McBride didn't catch the ball or block much in college doesn't mean he is incapable - there are countless examples of players who have proven this fallacy wrong - but it at least casts doubt on his ability to do it.
McBride could be a bit of a revelation if he ends up with a run-heavy team (think Jordan Howard from 2016-18 with the Bears). Given his current limitations (and/or lack of experience) in the passing game, the best he can probably hope for is that his new team already has a passing-down specialist at running back and needs an early-down grinder. McBride will likely pay the price for entering a league that does not prioritize that quality much anymore and probably serve as a backup for most - if not all - of his first year or two in the league.

---



Predict the top ten picks of the NFL Draft for a chance to win $100 and FFToday prizes. Enter our NFL Draft Contest now.

---
Doug Orth has written for FF Today since 2006 and been featured in USA TODAY's Fantasy Football Preview magazine since 2010. He is also a high-stakes player who often appears as a guest analyst on a number of national sports radio shows, such as Sirius XM's "Fantasy Drive." Doug is also a member of the Fantasy Sports Writers Association.