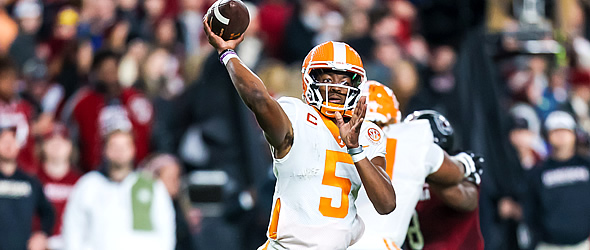 Vitals

College: Tennessee
Height/Weight: 6'3"/217
Hands: 10 1/2"
Age: 25 (at the time of the 2023 season opener)



Important NFL Combine Numbers



40-Yard Dash: N/A
Vertical Jump: N/A
Broad Jump: N/A
20-Yard Shuttle: N/A
3-Cone: N/A



College Production

(Stats)


High-end NFL Player Comp(s): Jordan Love (but a much better decision-maker than he was in college)
Low-end NFL Player Comp(s): Jacoby Brissett

Best Scheme Fit: Spread offense initially, although he showed he has enough tools to make it work in a timing-based offense down the road.

Best Team Fit(s): Commanders, Ravens, Buccaneers

Non-bolded times - Good examples of attribute
Bolded times - Average/poor examples of attribute
Position-Specific Attributes and Grades (2022)
Attribute
Att Grade
Scale
Examples
Accuracy
7.5
10.0

1:09, 1:32, 3:05, 4:11, 4:12, 8:25, 8:50
0:41, 0:55, 2:08, 3:32, 3:37, 3:58, 4:51

Anticipation/Tight Window
8.0
10.0
Decision Making
8.5
10.0
Durability
5.0
10.0
1:05, 1:56, 4:47, 7:05
Improvisation/Throw On Run
8.0
10.0
Poise/Awareness
7.0
10.0
Vision/Read Progression
7.5
10.0
Athleticism/Mobility
4.0
5.0
0:19, 0:23, 1:15, 5:57
Arm Strength
4.5
5.0
Film Grade
60.0
80
| | |
| --- | --- |
| Pre-Draft Fantasy Prospect Grade* (out of 50): | 38.5 |
* - How well does his skill set carry over to the fantasy game? For quarterbacks, a player needs to be a realistic threat for 4,000 passing yards and 500 rushing yards to be a candidate for a perfect grade. Positional scarcity at the pro level is also a part of the equation.
Positives
The 2022 SEC Offensive Player of the Year has most - if not all - of the necessary physical tools to be a good NFL quarterback. A 6-3, 217-pound frame is about all evaluators can ask for from a college quarterback prospect. His arm strength is somewhere between good and very good, which dovetails nicely into the 1,175 yards he accumulated on deep passes last season - the ninth-highest total in the country - although some of the credit for that also goes to HC Josh Heupel's offensive philosophy of going deep. While his accuracy on deep throws is not elite, he frequently displayed more touch on those pass attempts than the average college quarterback. Hooker is not a great athlete by any means, but he is a willing and courageous runner who amassed 2,079 yards and 25 touchdowns on the ground over his career. His ability to avoid the big mistake as a passer may be his best trait, as he posted an 80:12 TD-to-INT ratio while playing at two different schools (58:5 in two years at Tennessee). He also registered a wildly impressive 1.1-percent turnover-worthy play rate in 2022, which ranked third in the country (per Pro Football Focus). Hooker also displays sound footwork/mechanics in the pocket and makes quick (and usually smart) decisions. When he was given a good pocket, he proved to be a confident rhythm passer capable of accepting the check-down, offering hope that he can make the transition from Heupel's offense to a more traditional NFL attack.
Negatives
Hooker suffered a torn ACL against South Carolina on Nov. 19, which is the most pressing concern evaluators will have for him. Will next season be a wash? The next biggest issue is he is already 25 years old. Focusing more on his actual play, Heupel's offense is/was heavily relatively reliant on scripted, one-read (or well-defined) plays and RPOs. This means evaluators have little visual evidence Hooker can consistently get through a progression. The possibility exists he is reading two receivers on one side very quickly and was instructed to run if they were not open. Another possibility is he bailed out if his first option did not free himself quickly. (Did Heupel coach him to leave the pocket after his first two reads - usually on the same side of the field - did not get open or is Hooker that limited? Only those who interview Hooker this spring may get an answer.) Heupel's offense also makes it difficult to know for sure if his quarterback has any real kind of eye or pocket discipline. Despite his gaudy 69.6-percent completion rate in 2022, Hooker's accuracy - especially in the short and intermediate areas - is inconsistent at best. Former NFL head coach Mike Martz has speculated that some of Hooker's issues may have been the product of setting up 5-6 yards behind the line of scrimmage instead of the traditional seven yards. For a player who tallied a meager 12 interceptions in 944 career pass attempts, Hooker also forced passes into tight coverage too often. Worse yet, he straddled the line between showing courage and recklessness as a runner too often.
Bottom Line
The problem with Hooker is that his statistics and physical tools mask what he appears to be right now: an older prospect who is still very much a developmental quarterback. Can he get to the point where he is consistently finding his second option? Sure. Almost every successful NFL quarterback has to get there at some point. Unfortunately, that takes time. It may be hard for Hooker to "develop" in 2023 as he finishes his ACL recovery. If that ends up being the case, he will essentially be a 26-year-old rookie next season who may have missed some or all of his first offseason as a pro.
Buying into Hooker is buying into his year-to-year improvement and the way he has been able to limit his mistakes. The reality of the situation is that while both of those things are true, Heupel's offense likely delayed Hooker's development as a potential pro quarterback by two years, as the NFL does not lean nearly as heavily on fly, slant and screen routes or spreading defenses from sideline to sideline as the Volunteers do. His physical tools and intelligence will give him a chance to succeed eventually, but he has only shown he can do about 20-30 percent of what he will be asked to do at the next level - and even that has been a mixed bag. Given the injury, age and developmental concerns, Hooker profiles much more as a high-end backup who needs to be treated as a project. His next team should consider itself lucky if he emerges as a viable starter by 2025.

---



Predict the top ten picks of the NFL Draft for a chance to win $100 and FFToday prizes. Enter our NFL Draft Contest now.

---
Doug Orth has written for FF Today since 2006 and been featured in USA TODAY's Fantasy Football Preview magazine since 2010. He is also a high-stakes player who often appears as a guest analyst on a number of national sports radio shows, such as Sirius XM's "Fantasy Drive." Doug is also a member of the Fantasy Sports Writers Association.