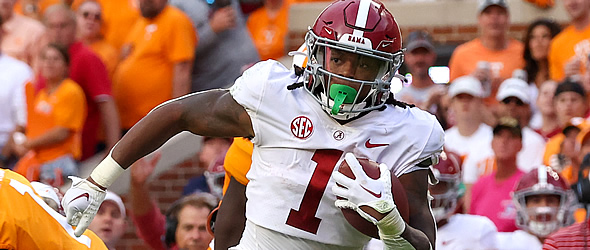 Vitals

College: Alabama
Height/Weight: 5'9"/199
Hands: 9 1/4"
Age: 20 (at the time of the 2023 season opener)



Important NFL Combine Numbers



40-Yard Dash: 4.36
Vertical Jump: 33.5"
Broad Jump: N/A
20-Yard Shuttle: N/A
3-Cone: N/A



College Production

(Stats)


High-end NFL Player Comp(s): A smaller D'Andre Swift
Low-end NFL Player Comp(s): James Cook

Best Scheme Fit: 1B early-down back and primary late-down back in a pass-heavy offense (think Austin Ekeler's role with the Chargers without goal-line work).

Best Team Fit(s): Patriots, Chiefs, Texans, Cardinals, Chargers, Rams, Ravens

Non-bolded times - Good examples of attribute
Bolded times - Average/poor examples of attribute
Position-Specific Attributes and Grades (2022)
Attribute
Att Grade
Scale
Examples
Burst/Explosiveness
9.5
10.0
0:22, 0:25, 2:01, 3:21, 3:54, 4:43, 5:10
Contact Balance
6.5
10.0
Instincts/Patience/Vision
9.5
10.0

0:22, 2:01, 2:38, 2:50, 2:59, 3:54, 4:43

Power/Tackle-Breaking Ability
6.5
10.0
Quickness/Elusiveness
10.0
10.0

0:22, 0:53, 2:21, 3:02, 3:34, 3:43, 3:54

Route-Running/Hands
9.5
10.0
Ball Security
4.0
6.0
0:22
Pass Protection
2.5
6.0
Durability
2.5
4.0
Long Speed
4.0
4.0
2:01, 2:10, 3:54, 4:43
Film Grade
64.5
80.0
| | |
| --- | --- |
| Pre-Draft Fantasy Prospect Grade* (out of 50): | 41.5 |
* - How well does his skill set carry over to the fantasy game? For running backs, a player needs to be a three-down option as well as a realistic threat for 1,000 rushing yards and 500 receiving yards to be a candidate for a perfect grade. Positional scarcity at the pro level is also a part of the equation.
Positives
Gibbs is at a different level than most backs in terms of his burst, explosiveness, quickness, elusiveness, patience and speed. The Georgia Tech transfer usually only needs one step before he is seemingly at full speed and off to the races. His ability to make full-speed cuts (or near-full speed) often leaves defenders grabbing air in the open field. Gibbs has also been coached well to set up his blocks behind the line of scrimmage, which only makes him harder to corral when he steps on the gas. His timed speed at the NFL combine (4.36) shows up repeatedly on his film, almost to the point is hard to believe he only had 15 carries of 15-plus yards in 2022 (still a solid number for a back who finished with 151 carries). Perhaps his best feature is what he can add as a receiver. Pro Football Focus credited him with only two drops on 103 catchable targets over his college career, but that only tells part of the story. Because he is so sudden and good in open space, he profiles as a potential game-breaker in the screen game and anytime the scheme or play call can isolate him on a linebacker. (Per PFF, his 25 receptions of 15-plus yards and 39 forced missed tackles on catches led all running backs over the last three seasons.)
Negatives
Any running back prospect entering the league weighing in the 200-pound range has the odds stacked again him when it comes to running with power. The same can especially be said about their durability. As shifty and elusive as Gibbs is in the open field, he is almost as average as it gets running inside or running with power. If the run play calls for him to run between the tackles and he has to win the physical battle with the defender in the hole, he will usually lose that battle. Considering how much of his game is based on his quickness and speed, it is unlikely he will be able to add enough mass to his frame in the coming years to change that part of his game. (To his credit, he shows a willingness to lower his shoulder on inside runs.) If that ends up being the case, then there is little chance he will be used much in short-yardage or goal-line situations. Gibbs found himself in a limited number of contact balance situations, but the results were not usually favorable when he did. Alabama did not ask him to block very often (which stands to reason since he is slightly undersized and the Crimson Tide did not have their usual talent at receiver in 2022), but Gibbs did not show a great deal of willingness, ability to anchor or correctly identify who to pick up.
Bottom Line
There should be little doubt Gibbs will be a difference-maker in the passing game in the NFL. The question is how much he adds to an offense on top of that. He is a better prospect than James Cook was last season and should not struggle to be his team's primary back on passing downs right away, especially for a team/offensive coordinator that cares more about creating matchups and less about keeping his back in to block in those situations. His inability to get much done in between the tackles and lack of contact balance is what makes the commonly used Alvin Kamara comps hard to understand - he is more explosive but far less physical than (and lacks the incredible contact balance of) the Saints' stud running back.
While size is far from the end-all and be-all when it comes to evaluating running backs and their potential at the next level, there are relatively few that can handle the punishment of being a lead back - much less a featured one - at his size. Even if is able to add about 10 pounds of muscle without losing any of his quickness or speed (which seems unlikely), it could be a tall order. So, how much do teams value a back who may not exceed 10 carries very often but is a threat to take it to the house every time he touches the ball?
Is a matchup nightmare with little shot of handling more than 150 carries in a season anytime soon worth a second-round pick? The Bills thought so last year, and it seems likely another team would have grabbed Cook shortly thereafter if Buffalo didn't. The same could be said for D'Andre Swift and Detroit in 2020. The difference right now is that Gibbs is probably more Cook than Swift - the latter of which has struggled to stay healthy as a pro despite being more powerful and carrying 13 more pounds than Gibbs. Cook is unlikely to be a lead back in Buffalo with Damien Harris now in the fold, and it should come as no surprise if Gibbs ends up in a similar situation. Georgia Tech and Alabama were wise never to let him handle more than 151 carries in a season. It is likely NFL teams will think likewise. As such, Gibbs should be considered a back who will likely exceed 50 catches multiple times in his career but is unlikely to push much past 200 total touches very often.

---



Predict the top ten picks of the NFL Draft for a chance to win $100 and FFToday prizes. Enter our NFL Draft Contest now.

---
Doug Orth has written for FF Today since 2006 and been featured in USA TODAY's Fantasy Football Preview magazine since 2010. He is also a high-stakes player who often appears as a guest analyst on a number of national sports radio shows, such as Sirius XM's "Fantasy Drive." Doug is also a member of the Fantasy Sports Writers Association.