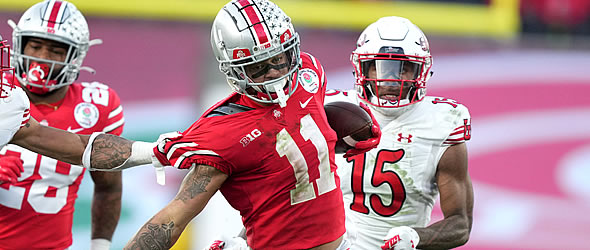 Vitals

College: Ohio State
Height/Weight: 6'1"/196
Hands: 9"
Age: 21 (at the time of the 2023 season opener)



Important NFL Combine Numbers



40-Yard Dash: 4.52 (pro day)
Vertical Jump: 35"
Broad Jump: 10' 5''
20-Yard Shuttle: 3.93
3-Cone: 6.57



College Production

(Stats)


High-end NFL Player Comp(s): Amon-Ra St. Brown
Low-end NFL Player Comp(s): Adam Thielen

Best Scheme Fit: Day 1 primary slot option who may struggle early on the perimeter initially but is crafty enough to become a productive "Z" eventually.

Best Team Fit(s): Ravens, Titans, Packers, Vikings, Falcons

Non-bolded times - Good examples of attribute
Bolded times - Average/poor examples of attribute
Position-Specific Attributes and Grades (2022)
Attribute
Att Grade
Scale
Examples
Ball Tracking
9.0
10.0
0:00, 4:53, 16:21, 88:55
Contested Catch/Body Control
8.0
10.0
Hands
9.5
10.0
Release
9.5
10.0
Route-Running
9.0
10.0
Run After Catch
9.0
10.0
Physicality/Competitiveness
5.5
8.0
Separation
5.5
6.0
Speed
2.5
4.0
Blocking
1.0
2.0
Film Grade
68.5
80.0
| | |
| --- | --- |
| Pre-Draft Fantasy Prospect Grade* (out of 50): | 41.5 |
* - How well does his skill set carry over to the fantasy game? For receivers, a player needs to be a realistic threat for 70 catches and 1,000 receiving yards at some point early in their career to be a candidate for a perfect grade. Positional scarcity at the pro level is also a part of the equation.
Positives
Some receivers win with sheer athleticism and then there are players like Smith-Njigba, who will not blow anyone away with his speed but will consistently beat his man as much with savvy route-running and sound technique. Just about every part of his game seems to reflect a player who pays attention in the classroom. While he benefited from opponents rarely putting their hands on him at the line of scrimmage thanks in part to heavy slot usage, the quickness and suddenness of his release would make it difficult for them to affect him much in the first two to three steps of his route anyway. Along with his ability to sell his route through body language, it makes it very easy for him to create separation consistently. Unsurprisingly, the former five-star recruit seems to have a natural feel for finding open space against zone coverage and draws rave reviews for his competitive nature, which really shines through with how often he works back to his quarterback when the latter is in trouble. The Big Ten's single-season record-holder in receiving yards may do his best work with the ball in his hands. Per Pro Football Focus, Smith-Njigba churned out 790 yards after the catch in 2021, including 100-plus in three of his last five games and 180 in the Buckeyes' epic Rose Bowl victory over Utah (part of his Rose Bowl-record 347 yards receiving).
Negatives
Smith-Njigba's biggest knock might be his lack of raw speed, but there are other small concerns. He missed most of the 2022 season with a hamstring injury, leaving him with only about half of a season's worth of brilliance on his college resume - much of which came against suspect secondaries. He ran 83 percent of his routes from the slot in his career (88.6 in 2021), which gave him plenty of free releases off the line of scrimmage. Although it would not be surprising to see him hold up as a full-time perimeter receiver down the road, it is a bit disconcerting that he has not already proven that he can. As much as he does after the catch and as solid as his quickness testing (20-yard shuttle, three-cone) numbers are - suggesting he is reasonably strong in his lower body - Smith-Njigba does not possess much upper-body strength. This lent itself to his inability/unwillingness to be a strong blocker consistently and could be a problem if he is asked to work outside more often in the NFL against press coverage. It may have also played a role in why he did not get many contested-catch situations (10 such targets out of his 112 total targets in 2021).
Bottom Line
After watching the success that former Ohio State teammates Garrett Wilson and Chris Olave had as rookies last year - and considering Smith-Njigba out-produced both of them in their lone season sharing the spotlight - it would seem reasonable that the Rockwall (Texas) High School product would be the best of the bunch. Instead, we have more questions than answers thanks to his injury-plagued 2022 campaign. Is he merely a dynamic slot receiver? Was the second half of his 2021 breakout season a combination of Wilson and Olave missing games and having a high first-round pick at quarterback (C.J. Stroud) leaning heavily on a technically sound receiver against a handful of average or shorthanded pass defenses? It is a possibility.
The good thing for Smith-Njigba is that high-end route-running skills and being a master of the finer details of the wide receiver position tend to carry over very well to the pro game. Ohio State did not ask him to stretch the field very often and it seems unlikely his next team will either, but wideouts who excel in the short and intermediate parts of the field and can pick up yards after the catch will always be in demand. Smith-Njigba's athletic profile does not scream "future alpha receiver," but it does lend itself to that of a poor man's Tyler Lockett - a player that will likely fly under the radar but be ultra-consistent.

---



Predict the top ten picks of the NFL Draft for a chance to win $100 and FFToday prizes. Enter our NFL Draft Contest now.

---
Doug Orth has written for FF Today since 2006 and been featured in USA TODAY's Fantasy Football Preview magazine since 2010. He is also a high-stakes player who often appears as a guest analyst on a number of national sports radio shows, such as Sirius XM's "Fantasy Drive." Doug is also a member of the Fantasy Sports Writers Association.