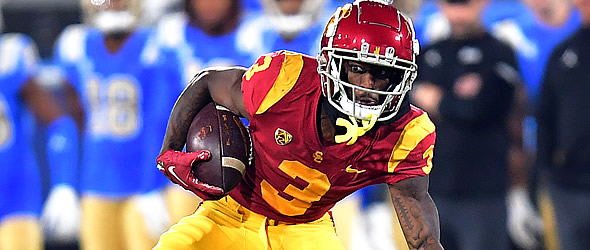 Vitals

College: USC
Height/Weight: 5' 11"/173
Hands: 8 3/4''
Age: 21 (at the time of the 2023 season opener)



Important NFL Combine Numbers



40-Yard Dash: 4.49
Vertical Jump: 34''
Broad Jump: 10' 2''
20-Yard Shuttle: 4.19 (pro day)
3-Cone: 7.05 (pro day)



College Production

(Stats)


High-end NFL Player Comp(s): Emmanuel Sanders
Low-end NFL Player Comp(s): A smaller Tyler Boyd

Best Scheme Fit: Primary slot option right away with the potential to be a solid complementary receiver in a timing-based, pass-heavy offense down the road.

Best Team Fit(s): Packers, Vikings, Falcons, Titans, Colts, Seahawks, Jets, Dolphins

Non-bolded times - Good examples of attribute
Bolded times - Average/poor examples of attribute
Position-Specific Attributes and Grades (2022)
Attribute
Att Grade
Scale
Examples
Ball Tracking
8.5
10.0
Contested Catch/Body Control
8.0
10.0
Hands
8.5
10.0
Release
9.0
10.0
Route-Running
9.5
10.0
Run After Catch
8.5
10.0
Physicality/Competitiveness
4.5
8.0
0:51, 2:47
Separation
5.5
6.0
Speed
2.0
4.0
0:19, 0:25, 1:24
Blocking
1.0
2.0
Film Grade
65.0
80.0
| | |
| --- | --- |
| Pre-Draft Fantasy Prospect Grade* (out of 50): | 41.0 |
* - How well does his skill set carry over to the fantasy game? For receivers, a player needs to be a realistic threat for 70 catches and 1,000 receiving yards at some point early in their career to be a candidate for a perfect grade. Positional scarcity at the pro level is also a part of the equation.
Positives
While their games are very different as a whole, some of Addison's footwork is reminiscent of Justin Jefferson's. The 2021 Biletnikoff winner understands the value of changing up his releases and pacing of his routes, which is a large part - along with his suddenness - of how he creates the separation that he does. As is typically the case for a refined route-runner, Addison possesses a high level of spatial awareness and should be a consistent zone-beater in the NFL. Part of his secret sauce involves what is usually a seamless transition at the top of his stem, which partially helps to explain why he is as productive after the catch as he is. For a receiver who is not overly physical (173 pounds) and does most of his work near the line of scrimmage, Addison is very good after the catch (his seven yards after the catch per reception ranked 18th in the country last season for receivers with at least 75 targets, per Pro Football Focus). Especially for a wideout with an average depth of target of 10.7, this bodes well for his ability to be a productive high-volume target at the next level. He cleaned up his drops in a big way in 2022, recording only two on 79 targets (3.3 percent drop rate) after posting 21 over his first two seasons at Pitt (9.9 in 2021 and 14.3 in 2020).
Negatives
The first potential concern that jumps out about Addison is his 173-pound frame. His size does not necessarily disqualify him as a top prospect - DeVonta Smith and Marquise Brown are recent examples that a receiver doesn't need to check at 180-plus - but he may not have one elite trait that makes up for it either. In other words, he lacks Smith's suddenness and Brown's raw speed. Where his lack of play strength shows up the most is when he faces physical cornerbacks; he can get held up at the line and pushed to the sideline if the corner can hang with him. Another byproduct of his lack of size may be that he occasionally spends too much time and/or takes too many steps in his release off the line - likely because he knows he probably will not win the physical battle. While he flashes top-notch body control, there are very few true contested catches on his tape as well. For these reasons and others, it is hard to believe he will ever be a dominant red-zone player in the NFL. Addison can overcome some of his shortcomings to be a good YAC receiver, but his relatively pedestrian timed speed (4.49) - especially for a 173-pound receiver - shows up when he is trying to create separation on deep throws. From the it-may-be-something, it-may-be-nothing department: Addison loses his feet and falls on the ground more than most receiver prospects, which could be a sign his mind moves a bit faster than his body in some situations.
Bottom Line
There is a distinct possibility that Addison's draft stock took a hit last season at USC. His production fell off drastically from his breakout 2021 campaign, but some of that was a product of missing three games with a leg injury and another (the Cotton Bowl loss to Tulane) with an ankle injury. However, another part of it was Trojans HC Lincoln Riley not using him very often in the intermediate (10-19 yards) and deep (20-plus) quadrants in the passing game. (Of Addison's 79 targets in 2022, only 34 were more than 10 yards - 17 each in the intermediate and deep parts of the field. In 2021, he had 40 deep targets alone and 70 of at least 10 yards.) In 2021, he looked very much like a future NFL alpha receiver. In 2022, it appeared as though Riley had to scheme him up (22 of his 59 catches came on screens).
Addison's lack of strength is going to be a problem for him in the NFL, but his play-callers at the next level will have a large hand in determining how much of a problem it will be. He will need to be used in the slot most of the time - at least early in his career - to minimize his lack of physicality. If his next team hopes they are getting a player that excels in contested-catch or high-point situations like Larry Fitzgerald, they will be disappointed. However, Addison is quick enough and savvy enough to make a very decent living if he is afforded clean releases and given quick-hitting opportunities to produce after the catch. It is hard to see him emerging as an alpha anytime soon, but he is one of those high-floor prospects that should adjust to the NFL quickly and produce at a reasonably high level for many years.

---



Predict the top ten picks of the NFL Draft for a chance to win $100 and FFToday prizes. Enter our NFL Draft Contest now.

---
Doug Orth has written for FF Today since 2006 and been featured in USA TODAY's Fantasy Football Preview magazine since 2010. He is also a high-stakes player who often appears as a guest analyst on a number of national sports radio shows, such as Sirius XM's "Fantasy Drive." Doug is also a member of the Fantasy Sports Writers Association.