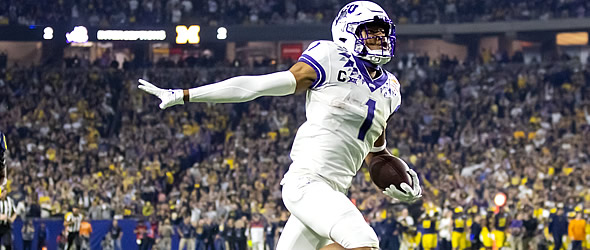 Vitals

College: TCU
Height/Weight: 6' 3''/208
Hands: 9 5/8"
Age: 22 (at the time of the 2023 season opener)



Important NFL Combine Numbers



40-Yard Dash: 4.51 (pro day)
Vertical Jump: 40.5''
Broad Jump: 11' 2''
20-Yard Shuttle: 4.28 (pro day)
3-Cone: 7.31 (pro day)



College Production

(Stats)


High-end NFL Player Comp(s): Martavis Bryant
Low-end NFL Player Comp(s): Marquez Callaway

Best Scheme Fit: Any offense willing to use him regularly on high-probability run-after-catch routes, such as screens and hooks. He is built like an X receiver, but he may have to settle for a Z role unless/until he runs more disciplined routes.

Best Team Fit(s): Giants, Texans, Titans, Chiefs, Cardinals, Rams

Non-bolded times - Good examples of attribute
Bolded times - Average/poor examples of attribute
Position-Specific Attributes and Grades (2022)
Attribute
Att Grade
Scale
Examples
Ball Tracking
9.5
10.0
Contested Catch/Body Control
7.5
10.0
Hands
7.0
10.0
Release
8.5
10.0
0:00, 0:14, 2:30, 10:49
Route-Running
7.0
10.0
Run After Catch
9.5
10.0
Physicality/Competitiveness
7.5
8.0
Separation
4.0
6.0
Speed
4.0
4.0
0:00, 1:10, 1:15, 2:06, 4:39
Blocking
1.0
2.0
Film Grade
65.5
80.0
| | |
| --- | --- |
| Pre-Draft Fantasy Prospect Grade* (out of 50): | 40.5 |
* - How well does his skill set carry over to the fantasy game? For receivers, a player needs to be a realistic threat for 70 catches and 1,000 receiving yards at some point early in their career to be a candidate for a perfect grade. Positional scarcity at the pro level is also a part of the equation.
Positives
The late Al Davis loved to draft height-weight-speed specimens, especially at receiver. Johnston would have almost certainly been one of Davis' guys. Johnston's size (6-3, 208) is almost ideal for a receiver, but it does not begin to tell the story of how good he is after the catch. Not only can he power through tackles, but he also has enough short-area quickness to make the first defender whiff in open space (19 missed tackles forced in 2022, per Pro Football Focus). While he did not run at the NFL Combine, the two-time first-team All-Big 12 performer is a long strider who chews up a cornerback's cushion quickly; he looked faster than his timed speed (4.51) when he was asked to go deep. In short, Johnston can be impactful at all three levels. Despite never scoring more than six touchdowns in a season in college, he has the potential to be a premier red zone threat given the combination of his 6-3 frame, 40.5-inch vertical and great timing/ball-tracking skills. The former four-star recruit seems to have a decent feel for and against zone coverage, consistently finding a clear window for his quarterback. While Johnston's overall production was a bit lacking - at least for a potential first-round NFL draft choice at his position - he balled out in just about every close game TCU had in 2022.
Negatives
There are not many drawbacks to having a big frame as a receiver, but one of them is that it gives cornerbacks more of a target to hit when they want to be physical at the line of scrimmage. Not only does Johnston struggle with this from time to time and run too upright, but he also occasionally does not show much intensity coming out of the blocks on shorter routes or on patterns where he does not expect to get the ball. There were also several instances in which he could have made a play on a short throw but failed to use his body to wall off the defender. Johnston's eight contested catches in 2022 are low for a player of his size, which also speaks to his occasional lack of intensity. While drops do not mean a receiver has bad hands, eight is also a high number for drops on 60 catches and 97 targets. Eye discipline appears to be more of a problem than his actual ability to catch, however. For as dynamic as he is after the catch, he often looks stiff when he is trying to create leverage or deception in his routes. This is relatively common for a taller receiver, but he seems to struggle with it more than most. As long as this continues to be the case, it will reduce his opportunities to be a featured receiver since he will not be able to play much in the slot.
Bottom Line
How much faith do NFL head coaches have in their wide receiver coach? That may be what ultimately decides Johnston's professional fate. He has the physical traits and will be viewed as an exciting piece of clay to mold. He is also a big play waiting to happen, but how much can his new position coach get "that dawg" out of him on every play and preach to him the importance of the finer details of the position? While it may be a bit unfair to him (small sample size and overmatched offensive line), Johnston did virtually nothing (one catch for three yards) in the Horned Frogs' 65-7 loss in the national championship game against the one team (Georgia) that most resembles what he will see in the NFL.
The flashes are there, however. Whether it is pure coincidence or more focus on his end, the same short-area quickness that appears when Johnston is in the open field and trying to dodge a tackle is not the same that shows up on a slant or another in-breaking route. He flashes contested-catch ability and body control. A position coach that can shore up those weaknesses and inconsistencies may have a future alpha receiver on their hands. An average receivers coach may be stuck with an athletic field-stretcher in the Martavis Bryant mold that busts more than he booms. His run-after-catch ability makes him a better bet to succeed than Bryant or even someone like Denzel Mims, but the jury is very much out on his chances to make an immediate impact until the identity of his new position coach is revealed.

---



Predict the top ten picks of the NFL Draft for a chance to win $100 and FFToday prizes. Enter our NFL Draft Contest now.

---
Doug Orth has written for FF Today since 2006 and been featured in USA TODAY's Fantasy Football Preview magazine since 2010. He is also a high-stakes player who often appears as a guest analyst on a number of national sports radio shows, such as Sirius XM's "Fantasy Drive." Doug is also a member of the Fantasy Sports Writers Association.