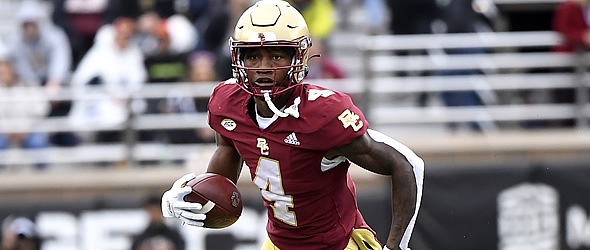 Vitals

College: Boston College
Height/Weight: 5' 9''/182
Hands: 9 1/4''
Age: 22 (at the time of the 2023 season opener)



Important NFL Combine Numbers



40-Yard Dash: 4.42
Vertical Jump: 35.5''
Broad Jump: 10' 7''
20-Yard Shuttle: N/A
3-Cone: N/A



College Production

(Stats)


High-end NFL Player Comp(s): Elijah Moore
Low-end NFL Player Comp(s): Skyy Moore

Best Scheme Fit: Primary slot option with secondary work as the Z in a spread offense. Can also handle the occasional carry on jet sweeps and should be put in motion regularly.

Best Team Fit(s): Packers, Vikings, Titans, Chargers, Rams, Colts, Seahawks

Non-bolded times - Good examples of attribute
Bolded times - Average/poor examples of attribute
Position-Specific Attributes and Grades (2022)
Attribute
Att Grade
Scale
Examples
Ball Tracking
9.0
10.0
0:24, 1:13, 1:14, 7:05, 12:23
Contested Catch/Body Control
8.5
10.0
Hands
7.0
10.0
Release
9.0
10.0
1:13, 6:12
Route-Running
8.5
10.0
Run After Catch
9.0
10.0
3:14, 3:28, 4:09, 6:35, 16:10, 16:23
Physicality/Competitiveness
5.0
8.0
Separation
5.5
6.0
Speed
4.0
4.0
1:48, 3:28, 4:18, 16:10, 17:13
Blocking
1.0
2.0
Film Grade
66.5
80.0
| | |
| --- | --- |
| Pre-Draft Fantasy Prospect Grade* (out of 50): | 41.0 |
* - How well does his skill set carry over to the fantasy game? For receivers, a player needs to be a realistic threat for 70 catches and 1,000 receiving yards at some point early in their career to be a candidate for a perfect grade. Positional scarcity at the pro level is also a part of the equation.
Positives
With the majority of smaller receivers, it becomes apparent quickly they need to spend most of their time in the slot (or at least off the line of scrimmage). Such is not necessarily the case with Flowers, who possesses so much foot quickness and short-area burst that most cornerbacks have a hard time getting a decent jam on him. Boston College did a fine job of making that a non-issue by lining him up in the slot on just over a third of his snaps over the last three seasons while also motioning him quite often and using him on jet sweeps at times. Flowers plays fast and has the necessary speed (4.42) to get deep, making it unlikely he will get caught from behind. He understands the importance of pacing early in his route and when/how to create separation at the top of his stem. (He ranked inside the top 20 in the nation in catches of at least 20 yards (12; t-16th) and yardage pm those plays (500; 11th) in 2022, per Pro Football Focus.) The Biletnikoff Award semifinalist flashes impressive body control near the sideline, plays much bigger than his size in contested-catch situations and has loose enough hips to make multiple defenders look silly in the open field if he has enough space to do so.
Negatives
While Flowers has a little bit of the feistiness in him that Steve Smith used to, there is a reason why there are not a plethora of 5-9, 182-pound receivers in the NFL. Among other reasons, it is hard for those players to remain durable. (Flowers did not miss a game in four college seasons, for what it is worth.) They also tend to struggle to stay on their route plan when facing the bigger and stronger cornerbacks the NFL has to offer. While Flowers is excellent after the catch when in space, he is not at his best when he has to play through contact. Interestingly, Boston College lined him up on the perimeter and used him almost twice as often outside the numbers as it did inside. When he did get work inside the numbers in 2022, it was quite often on shallow crosses, which begs the question of how willing and/or able he is to work over the middle of the field on more physical routes such as hooks or in-breaking routes. His most obvious and immediate concern, however, may be the 24 drops over his college career (11 percent drop rate), including nine in 2022. How much of that was a function of playing with quarterbacks such as Phil Jurkovec, Emmett Morehead, Dennis Grosel and Anthony Brown as an Eagle is up for some debate.
Bottom Line
Comparisons to Tyler Lockett are warranted in the sense that both receivers are about the same size and very fluid in their routes. The major differences between the two are that Flowers can do more after the catch but is not quite as sure-handed. Although he is technically a three-level receiver, Flowers is a player that NFL teams should want to utilize primarily on screens, hot reads and deep shots - at least initially. Regarding his effectiveness as a vertical receiver, Flowers recorded five or more receptions on targets 20-plus yards downfield in all four of his college seasons, including 12 in 2022.
One can only imagine what might have been possible if Flowers had the benefit of better quarterback play throughout his BC career, and that part of the scouting process will always make evaluating receiving talent trickier than it should be. Would drops be an issue for him if he had a Day 1 or Day 2 signal-caller? Flowers should be dynamic enough to live on the perimeter in the NFL, but his new team might be better served to consider him a movable chess piece as a rookie. His long-term upside is unlikely to be as an alpha receiver, but it is well within his range of outcomes that he solidifies himself as a high-end complementary receiver.

---



Predict the top ten picks of the NFL Draft for a chance to win $100 and FFToday prizes. Enter our NFL Draft Contest now.

---
Doug Orth has written for FF Today since 2006 and been featured in USA TODAY's Fantasy Football Preview magazine since 2010. He is also a high-stakes player who often appears as a guest analyst on a number of national sports radio shows, such as Sirius XM's "Fantasy Drive." Doug is also a member of the Fantasy Sports Writers Association.