8/23/07



OK. So you've drafted your starters and your team is solid. You're getting into the later rounds and need to round out your team. Hopefully, you've already built depth at RB because at this point, it's too late in that arena. But, there are a lot of nice WRs to be taken later in your draft who could potentially help your team.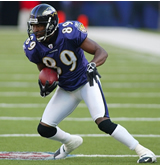 Mark Clayton, Baltimore—This guy is still under the radar and he's consistently going late in the seventh round, even falling to the eighth. In my drafts, my WR strategy is revolving around getting Clayton in seven. If you can get him as your #3 WR in round seven or eight, you're doing yourself a service. He had a very solid year last season (939 yards and 5 TDs) and has established himself firmly as the #1 WR in Baltimore. Clayton has a very capable QB in McNair getting the ball to him and if McNair goes down (which has happened often in the past), Boller is a decent backup. Teams can't really double-team him because of the other weapons Baltimore has in McGahee, Heap, and Mason. If Clayton's on the board in round 7 and you pass him up, you better have a good reason besides a sprained ankle, which won't keep him from the starting lineup Week 1.
Drew Bennett, St. Louis—Here is a real wild card in drafts. I've seen him go as high as the 6th round and as late as the 11th. If you've watched St. Louis the past few years, you know they could really use a big red zone target. At 6'5", 206 lbs, I expect Bennett to fill that void this season. Holt and Bruce consistently make the catch, get a couple yards, and dive to the ground or out of bounds to avoid the hit. Bennett is a different prototype; a perfect combination of size and speed that the Rams have lacked and he won't be looking to just go down after making the catch. Bruce only had 3 TDs last year and isn't the deep threat he once was. Expect Bennett to catch his share of deep balls and get his share of targets in the red zone. Outside of the one season he blew up playing with Billy Volek, Bennett has been underutilized as a WR. He could be a nice pickup late in your draft – especially in the Rams' explosive offense.
Greg Jennings, Packers—As a rookie, Jennings put up over 600 yards despite playing through an ankle injury. Rookie WRs generally don't put up these numbers, they emerge their second or third season. He looks like the guy the Packers have wanted to play across the field from Driver for what seems like forever. Throw in the facts that the Packers will be playing from behind quite a bit and their offensive line is built for the pass and not the run, and that makes Jennings' fantasy prospects look even better. One thing that piqued my interest this off-season was Favre complaining that he could have had a receiving corps of Driver, Randy Moss, and Jennings. Favre obviously likes the guy. Since the Pack didn't go out and get Moss, that leaves Driver and Jennings – which is a good thing for Jennings owners. The second-year receiver is consistently being drafted in the 8th round and if you don't have your #3 WR at that point, Jennings is an excellent choice.
Ronald Curry, Oakland—I love me some Ronald Curry. The final four games last season Curry averaged 85 yards per game and had one TD—and this was under the infamous "bed and breakfast" offense. Curry is a pure athlete, having converted from QB out of college. It looks like he's finally made the leap to becoming a quality WR. Now that Curry has established himself as a starter, don't be surprised to see him lead the team in yards and tds with all of Jerry Porter's problems in the past. Oakland will certainly be playing from behind and throwing a lot, so don't discount the addition of Culpepper to this team. The former Viking and Dolphin makes bad decisions and holds the ball too loosely in the pocket, but he can throw the deep ball with the best of them. Curry can only benefit from the Culpepper addition. Expect more than one TD out of him this season. He has the speed to go deep to go with the ideal size and athleticism for a red zone target. I haven't seen Curry go before 9th round in any draft. If you can grab him late as your #4 WR, you have possibly the best "sleeper" in the draft.
D.J. Hackett, Seattle—Hackett is a tough nut to crack. Seattle has Branch as their apparent #1 WR. Engram has been around forever and is nothing more than a possession receiver. Burleson came into camp last year hyped as the next great WR and disappointed. Hackett had a nice 2006 season with 610 yards and 4 TDs in a backup role. In the Seahawks' first preseason game, they targeted Hackett on nearly every play in one possession. Someone has to fill the Darrell Jackson void. Branch has never had a season with more than 1000 yards or 5 TDs. Hackett is being taken between rounds 9 and 11. He could be a very nice grab as a #4 WR and is still under the radar.
Devery Henderson, New Orleans—This guy has a lot going for him. He's been in the Saints system for a few years and has shown flashes of greatness. With Horn moving on to Atlanta, Devery will begin the season as a starter. One mantra that experienced fantasy owners like to follow is to grab the #1 WR in a poor offense or the #2 WR in a great offense later in drafts. New Orleans is now a great offense and Sean Payton loves to play aggressive football, which means a lot of deep balls. Devery isn't a sure thing, though. There are a ton of guys around him that will get their touches. McAllister, Bush, Colston all will have more yards and TDs than Henderson. Throw in Terrance Copper and the additions of Eric Johnson and Robert Meachem and that's a lot of weapons for just one football. Still, Devery is being taken between the 9th and 12th rounds and if the above guys are all gone when you're looking for a suitable #4 WR, Devery certainly fits that mold.
There are six guys that you should have a shot at late in your draft. Don't make the mistake of taking any of them earlier than you should. Fill out your roster with value picks and get these guys late where they'll really help your team.