So, did you get past the first "rivalry week"? If you are here again, which I am happy that you are, then let's take a look at what the NFL has in store for us before next week's big showdown at "The Razor" when Tom Brady returns to the stadium, and fans that loved him for 20 years.

It seems the NFL schedule makers have offered up more than one slam dunk in Week 3. There in lies the problem. Many Survival Pools have been fleeced by the major upset of the week that after the fact, should've been seen by most if not all players.

Upset Special: Chicago at Cleveland

The Browns gave everyone a nice scare letting the Texans hang around 14-14 at half last week. Had Tyrod Taylor not gone down to an injury, he and Brandin Cooks may have singlehandedly crushed many Survival Pools.

This week Cleveland hosts another team that will have its backup QB under center. But instead of coming off the bench, Justin Fields will start his first NFL game in Cleveland about two hours from where he played his college ball (OSU). Combined with a Bears defense that is built to stop the run and create turnovers, the Browns may find it difficult to cover the point spread, let alone win the game. Baker Mayfield won't have Jarvis Landry who landed on IR for the first time since 2014, but Odell Beckham Jr. will return for the first time in a year to try and take the pressure off the running game.

Fields was drafted to be the franchise quarterback and this week is a great opportunity for the rookie to prove his worth without fear of being benched for a mistake. The formula is there for the upset and makes this is very dangerous pick. If the Bears coaching staff is smart, they are game planning to mimic Tyrod Taylor's Week 2 performance with a faster, more mobile, more accurate and younger quarterback giving the Bears a win on the road.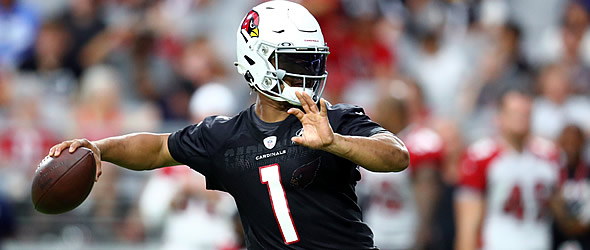 #3: Arizona at Jacksonville: (1-1: buf, TB)
Kyler Murray has the Cardinals firing on all cylinders. In two weeks, they are the second ranked offense both in total yards and scoring and this week go up against a Jaguars team that is in the bottom 5 in all defensive categories. Meanwhile, the Trevor Lawrence era is off to a rocky start and should have hard time keeping up with the explosive Arizona offense. Barring a game scripts where 2020 undrafted sensation James Robinson can run the ball 25-30 times and Lawrence can manage the game, the Cardinals should be able to fly in and fly out. But buyer beware. Last year, this same team was 2-0 and lost the next two to Detroit and Carolina, killing their post season chances. With last year's loses fresh in Kyler Murray's mind, he is reminding his teammates that they can't let that happen again. As such, put this one in pen.

#2: Denver over NY Jets: (2-0: TB, GB)

Welcome to the NFL Zach Wilson, and Gang Green. After two games, the BYU rookie QB is having as much luck as Sam Darnold did with this team. Unfortunately for Wilson, it feels like the whole team is learning how to play together – at a much slower pace than the rest of the NFL. The QB's stat line is
Zach Wilson - 2021
G
Comp
Att
Yds
Avg
TD
INT
Sacks
2
39
70
468
6.7
2
5
10
Not overly impressive. The Jets offense is second to last in average points scored (10) turnovers (5), and 26th in total yards. With Wilson doing his best Shane Falco impression, it would seem that the top 5 Broncos defense should feast on the rookie. Barring the home team getting altitude sickness, or all of them going on the COVID restricted list, this is the game that you should be taking if you are reading this column Friday or later.
#1: Carolina at Houston: (2-0: SF, CLE)

There are a few times during the season that you will look over the weekly schedule and say, yep, this one is the no-brainer.
Panthers / Texans Comparison
CAR Def
Rk
Stat
Rk
HOU Off
190.0
1
TOT YDS
17
375.5
143.5
1
PASS YDS
13
254.5
46.5
1
RUSH YDS
11
121.0
10.5
1
PTS SCORED
8
29.0
3
15
T AWAYS/T OVERS
9
2
What do you see when you look at the stats for Carolina above? Number one in total yards allowed, passing and rushing yards allowed. And most importantly, the fewest points allowed. Combine that with the injury to Tyrod Taylor who is being replaced by rookie Davis Mills, and you have the perfect formula for the Lock of the Week.

Meanwhile, Sam Darnold is completing 68 percent of his passes and assuming he continues to manage the game and allows his defense to terrorize opposing quarterbacks; this game should be over before half.