Gone are the options of Kansas City, Philadelphia, Dallas, Green Bay and Buffalo. And if your survival pool is still going, it now come down to those games that you know are a true tossup. It has been my experience over the last 20 years that divisional matchups are usually the worst option when given two choices. But this week, we may have to gamble.

#3: Washington over NY Giants
(8-6: BAL, cin, PHL, DAL, kc, tb, LV, ind, NE, SF, nyg, NYJ, GB, sea)
This is effectively a playoff game. Make no mistake about this. The Commanders, who are 6-1-1 in their last eight, are squarely in control of their playoff destiny and look to return to the postseason after their 2020 wild card loss that saw them make the postseason with a 7-9 record.

The Giants meanwhile are on a 1-4-1 streak after starting 6-1 and hoping to hold on to the last playoff spot. With Washington, Detroit and Seattle all holding the tiebreakers on the Giants, a loss this week makes it extremely difficult for the GMen to make the postseason.

Despite that, and this writer's love for his lifelong Giants, if we go by the numbers, Washington's 4th ranked defense should stop the Giants attack like it did in Week 13. With the Giants defense giving up almost 350 yards per game in the last four games, specifically being attacked on the ground like Washington likes to do, this game has the makings of a Commanders win with Brian Robinson Jr. and Antonio Gibson pounding the rock. As with every divisional game, buyer beware.

#2: NY Jets over Detroit
(9-5: NO, BUF, kc, det, PHL, sf, DAL, MN, MIA, chi, CIN, WAS, SEA, ten)

This pick is in honor of "Greeny" (Michael Greenberg), who was a classmate of mine in elementary school. Everyone knows that he is a huge tortured J-E-T-S fan and this year has been a blessing after so many bad seasons. But Lions fans can commiserate with Jets fans. In the last 22 seasons, both of these teams have made the post season only four times and this game means more than any other December game since 2000 for either.

Since starting the season 1-6, the Lions have rallied to a 6-7 record, one game back of the last NFC playoff spot. But this week they find themselves playing the Jets, a team that has lost three of the last four games and on the outside looking in at 7-6. They desperately need to shut down a Lions offense that averages 376 per game, but has a defense that gives up more than 400 yards to opposing offenses. With Mike White (ribs) under center, rookie Garrett Wilson flashing his speed and skill, combined with Ahmad Gardner's shutdown capability on Amon-Ra St. Brown, the Jets have the formula to beat a Lions team that might have found something in their new personnel.

Take the Jets and the points at home in this one.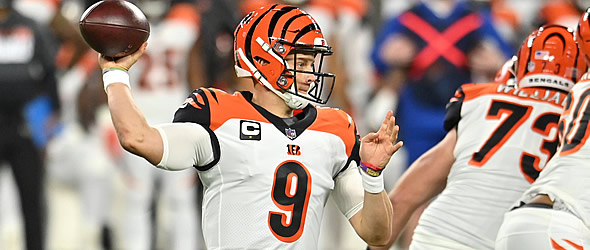 #1: Cincinnati over Tampa Bay
(9-3: den, lac, GB, BUF, LAR, tb, PHL, KC, NYG, BAL, MIA, CLE, DAL)

Joe Burrow and company have this train steaming towards the post season and hopefully a return trip to the Super Bowl. Before then, they have a tropical trip Tampa to visit the G.O.A.T and his Buccaneers who are leading the NFC South, but seriously in trouble.

In last week's loss to San Francisco, Tampa Bay put up 360 yards on the 49ers, but only could muster 7 points while the defense gave up 35 to Brock Purdy, Mr. Irrelevant, who played exceptionally well managing a balanced offense. Burrow is more than a game manager and Joe Mixon can light up a defense. Not a formula for a Bucs win.

More importantly, if you are to look at one glaring statistic, Tampa Bay is scoring only 17.2 points a game (28th overall) and won't be able to keep up with the Bengals (25.8 points). If you haven't used this Super Bowl contender, this is the week.
 Bengals-O / Buccaneers-D Comparison
CIN Off
Rk
Stat
Rk
TB Def
371.7
5
TOT YDS
10
320.7
268.1
4
PASS YDS
6
195.3
103.6
24
RUSH YDS
20
125.4
25.8
7
PTS SCORED
9
19.5
13
3
T OVERS / T AWAYS
27
12
 Bengals-D / Buccaneers-O Comparison
CIN Def
Rk
Stat
Rk
TB Off
331.1
14
TOT YDS
18
338.6
220.1
20
PASS YDS
5
265.7
111.0
11
RUSH YDS
32
72.9
20.4
11
PTS SCORED
28
17.2
15
16
T OVERS / T AWAYS
8
14