Welcome to the semi-finals of your fantasy season, we hope that you are still playing meaningful games this week. But that isnít why we are here. Itís come down to the last three weeks and there a handful of people left in your survival pool, and now the games that you are choosing between have 1 to 3-point differentials on most betting sites. But now we have a number of key injuries and weather conditions to considerÖ

#3: Miami over Green Bay
(8-7: BAL, cin, PHL, DAL, kc, tb, LV, ind, NE, SF, nyg, NYJ, GB, sea, was)
The Dolphins and Packers are going in two different directions. Ironically, its in opposite directions of years past (think a Christmas Story). These two teams have switched places in their recent historical standings, and with that, the Dolphins need a win to make sure that control their own playoff destiny.

Unfortunately for Packerland, this season doesnít offer much hope for your post season chances, currently sitting around 8 percent. Aaron Rodgers may have come back to lead the team, but he clearly doesnít have enough weapons to make them competitive and the defense is mediocre. Yes, Aaron Rodgers is good, but he is only one man.

If you need a statistical reason to choose Miami over Green Bay, just know that Green Bay is 15th in offense against a Miami defense that has improved to 23rd, but is balanced out by a 5th ranked offense that will face a Packers defense that only is 15th overall.

#2: Baltimore over Atlanta
(9-5: NO, BUF, kc, det, PHL, sf, DAL, MN, MIA, chi, CIN, WAS, SEA, ten)

The Ravens arenít flashy and they arenít a ton of fun. They have a kicker that every fantasy owner wants because he is automatic, and with Lamar Jackson out, Tyler Huntley is the leader of this vanilla offense that lacks a passing attack.

Meanwhile in Atlanta, you have rookie QB Desmond Ridder under center with Tyler Allgeier at running back eagerly showing the NFL that they deserve to be in the league. Cordarrelle Patterson has been relegated to an afterthought, but in the long term, this duo will be a great combination.

Thing is though, the Falcons defense isnít carrying its weight. They are ranked 28th in the league and even a middle-of-the-road offense would have success against this unit, and no matter how well Ridder and Allgeier play, it wonít be enough.

Take the poser Ravens this week, as they will be an early exit from the post season.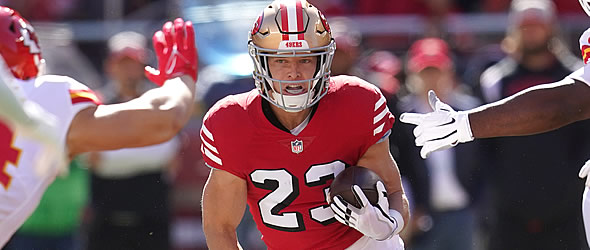 #1: San Francisco over Washington
(10-3: den, lac, GB, BUF, LAR, tb, PHL, KC, NYG, BAL, MIA, CLE, DAL, CIN)

Talk about a football team that is resilient. That is the San Francisco 49ers. Kyle Shanahan, son of Mike Shanahan, a long time Denver Broncos head coach, has this team believing that no matter who is under center, they will win. And regardless of injuries, the team will do anything to fill roles with competent, and even exemplary players, like Christian McCaffrey to make sure that their team is playing in the Super Bowl.

This is a formidable team to face for the Washington Commanders. Just beaten by their divisional opponents, Giants, this team is poised for an implosion. No one wants it, but it is a very real probability. Their schedule is difficult, and they have a less than 38% chance of making the playoffs after a pivotal loss.

Still, if you have made it this far in your survival pool and wanted to bet your winnings a stellar defense (ranked first in almost every category), can you really go wrong taking the 49ers at home against a Commanders team that now is hanging on by a thread for their playoff life?