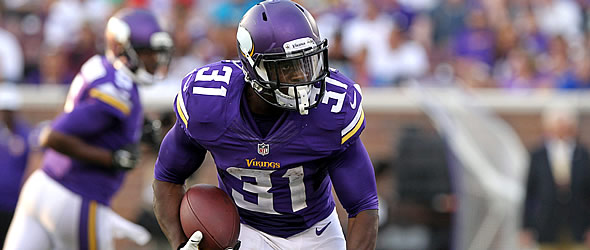 The 49ers signed Jerick McKinnon to be their starting RB, but can he handle the increased workload?
In April, the Minnesota Vikings selected running back Dalvin Cook at the 2017 NFL draft and Jerick McKinnon's role was very much in doubt. Now, a mere 10 months later, the San Francisco 49ers have made him the fourth-highest paid running back in the league (four years, $30 million).
Will he be able to live up to the now sky-high expectations?

McKinnon in Minnesota

As Cook was showing off his immense skills to NFL defenses (444 yards from scrimmage in four games), McKinnon played very little, seeing just 18 touches over that span. However, the rookie tore an ACL and McKinnon along with Latavius Murray helped carry the Vikings to the NFC Championship game. For his part, McKinnon combined for 924 yards from scrimmage and five scores over the final 12 games. He averaged 3.88 ypc over the dozen games and 8.86 yards per reception.

Hardly elite numbers, he finished the season with 129.1 fantasy points, ranking him 24th among running backs in 2017. Even if we ignore the four games he was stuck as a change-of-pace back, his 10.2 FPts/G over the final dozen contests ranked 17th among backs.

Still, McKinnon is athletic (4.41 40 at combine, 32 reps, 40.5" vertical, 11'0" broad jump) and in 2017 proved to be an elusive runner in space.

McKinnon in San Francisco

After Carlos Hyde signed with the Cleveland Browns on the first day of free agency, McKinnon's signing transformed him into a three-down back for the 49ers given that the other options are fellow Georgia Southern alum Matt Breida and three guys with a total of six career NFL carries - Joe Williams, Raheem Mostert and Jeremy McNichols.

Head coach Kyle Shanahan obviously likes what he saw from McKinnon, who posted an 82.4 pass-catching grade from PFF (tied for seventh). That is a useful ability in a 49ers offense that saw Hyde catch a personal-best 59 balls last season (previous high was 27).

McKinnon also posted high marks in his ability to pass-block, grading out as the eighth-best among running backs. That's important to a team who just spent $137.5 million on their franchise quarterback, Jimmy Garoppolo.

The fifth-year back will obviously get his chance to be "the guy" for the 49ers, but at 5-foot-9, 205 lbs., there is a question of whether he can take the pounding. In four NFL seasons, he's never rushed the ball more than 159 times and the past two seasons he's posted career high totals of 202 and 201 touches. Even at Georgia Southern he cracked the 200 attempts mark just once.

In 2017, the top-10 fantasy backs averaged 312 touches which would be more than a 50-percent increase for McKinnon. For as long as he stays healthy, McKinnon should be able to post high RB2 numbers, particularly in PPR leagues given the head coach's affinity for throwing to his running backs.

For me, however, the question is whether he can survive a 16-game schedule with the increased workload. If your draft strategy includes McKinnon as one of your two starting running backs, make sure to have a viable third option.


---
Steve Schwarz served as the fantasy sports editor of The Sports Network and is the 2014 FSWA Football Writer of the Year.