Fantasy owners hit the midway point in their seasons this weekend and both injuries and byes are making lineup construction more difficult. Four teams will take their seats on the sidelines in Week 7 and it will hit fantasy owners hard – Green Bay, Pittsburgh, Seattle and Oakland. And it won't get any easier with four teams off in Week 8 and six in Week 9. I hope you are prepared.

Truths

"You can be standing right in front of the truth and not necessarily see it, and people only get it when they're ready to get it." George Harrison

Sony Michel is stronger than Bill Belichicks penchant for RBBC.
It took a couple of regular season games for Michel to prove that; a) he was healthy b) he wouldn't fumble and c) he wouldn't get Tom Brady killed. Since then, he's been Belichick's primary running option averaging 22.3 carries, 102 yards and 1.3 rushing touchdowns. He won't get the pass-receiving work as long as James White is healthy, but being called upon for 75.3% of the RB rushing attempts is fantasy gold in the Patriots' high-scoring offense.
Jameis Winston is another Ryan Fitzpatrick.
They both throw for yards. They both throw touchdown and they both throw a lot of interceptions. For the 2018 season Fitzpatrick is averaging 339 yards and a 2.18 TD/INT percentage and Winston in his one start was 395 and 2.0. While Winston only averages 259 yards passing per game for the career, he's going to continue to produce this season. It's not the quarterback, it's the team's offensive package. They don't have the talent to run, they have most of the high-paid personnel involved in the passing game and their defense gives up a pile of points. It doesn't matter who is under center this season for the Buccaneers, he's going to be start-worthy.
C. J. Beathard is not a fluke, however …
As with Fitzpatrick and Winston, Beathard took over an offense designed to be QB friendly. Garoppolo proved it last season and Beathard has simply been the next man up. He's averaging 26.4 FPts/G as a starter including multiple touchdown passes in three straight games. In fact, that's better than the $137 million man. However, he'll only see three subpar opponents the rest of the way (ranked 20th or worst in QB fantasy points allowed) and six top-10 defenses so it will be difficult to roster him as anything except a backup and occasional starter.

David Johnson feels like a disappointment, but in reality, he's been top-10 and the prognosis is favorable.
Johnson has yet to get untracked on the ground, but he's still ranked 10th in FPts/G (13.2). He's survived on touchdown production (five of six games). The Cardinals primary workhorse wasn't used enough in the early games, only 11.3 carries per game (probably because Arizona couldn't sustain any offense under Sam Bradford). He's averaged 19.3 rushing attempts the past three games and 21.7 touches and that along with a favorable schedule should allow him to move closer to the top-five. He may never reach his preseason draft position, but middle of the top-10 would be a solid return.
Don't look now but Robert Woods is playing a starring role.
Woods is producing at a personal record 13.1 FPts/G pace. No, he hasn't taken away from Brandin Cooks (11.0) or Cooper Kupp (12.7). It's just Jared Goff and the Rams offense are producing at a phenomenal pace. The Rams won't see any tough pass defenses until December, facing San Francisco, Green Bay, Seattle and Kansas City in their next four, so there is no reason to think this roll will end anytime soon.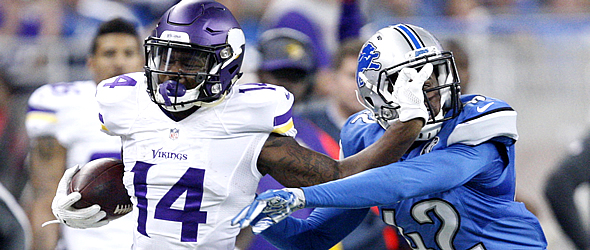 Lies

"If a man will stand up and assert, and repeat and reassert, that two and two do not make four, I know nothing in the power of argument that can stop him." Abraham Lincoln

Adam Thielen and Stefon Diggs are no longer 1 and 1A.
Last season both receivers averaged 9.6 FPts/G. This season, Thielen is far outdistancing his "partner in crime" averaging 15.9 FPts/G. So, he's the man, right? No, I don't think so. Thielen has racked up at least 100-yards receiving in all six games and that streak can't continue forever. Meanwhile, Diggs' average has also increased to 11.0 FPts/G. Defenses will start leaning toward Thielen and Diggs will star. It's an ebb and flow thing. Both guys are thriving under Kirk Cousins and OC John DeFilippo.
Belichick said Josh Gordon's "role is expanding weekly."
Sorry, I think we've seen about the limit of this so-called expansion. Gordon may catch a higher percentage of balls going forward (he was 5-of-9 for 42 yards Sunday night), but to think he'll consistently see double-digit targets on a team with Rob Gronkowski, Julian Edelman, Chris Hogan and White out of the backfield is naïve. Gordon is the deep threat, there to stretch the defense and open the middle for "Gronk." He'll catch a couple bombs over the next 10 games, but if you start him every week you will be disappointed more than not.
The new contract signed by Odell Beckham Jr. will make him a team leader, said by a few people in Giants management back in late August.
Welcome to the Thunderdome! "Two men enter, one-man leaves." If being a team leader means pushing Eli Manning under the bus (not that his play hasn't deserved it), them he's a team leader. More likely, he's upset that he's not getting his numbers and recognition. Beckham currently ranks 30th among fantasy receivers averaging 9.6 FPts/G. Meanwhile, I haven't seen his "dirty dancing" commercial with Eli lately. Nothing can be done this season, but if the Giants don't draft/find a franchise quarterback this offseason, the "team leader" may become a "team pariah."
"There isn't anything I can do to improve my kicking game."
False. If you are paying attention you will note that Greg Zuerlein is returning to the Rams' lineup for Week 7. Those are the same Rams who are averaging 32.7 ppg. Here's the really good news – he's only owned in 49% of all leagues, as owners apparently dropped him when he was injured. He's not the only top kicker still on the open market. Jason Myers (10.5 FPts/G) is available in 96% of all Yahoo Leagues.
With Devonta Freeman now officially sidelined for at least eight games, Tevin Coleman should be a fantasy stud.
Actually, Freeman has already been sidelined for four of six games and Coleman has disappointed his fantasy owners. In the four games Freeman has been absent, Coleman has averaged only 13.8 carries. In addition, third-string Ito Smith has "skimmed off" three short touchdown runs. Coleman hasn't produced a rushing touchdown since Opening night. I have no confidence that Coleman can assert himself into a dominant role.

---
Steve Schwarz served as the fantasy sports editor of The Sports Network and is the 2014 FSWA Football Writer of the Year.