It's the final weeks before the fantasy season begins. I'm sure like me, most of you have done your research and are ready for your draft. You have analyzed every quarterback, running back, wide receiver, tight end and defense.

But what of the final round of the draft. Do you randomly take a kicker? Shouldn't you have done at least some research in this one final area?

Certainly, it's hard to figure out what will happen and the reward is usually no more than two points-per-game whether you have the best in the league or the No.12 kicker in your 12-team league, but how many times have you lost a week by a point or two? Or fractions of a point? How many times have you finished one game out of first place? What if we take just a few minutes to analyze who to choose? … You know after Justin Tucker is off the board.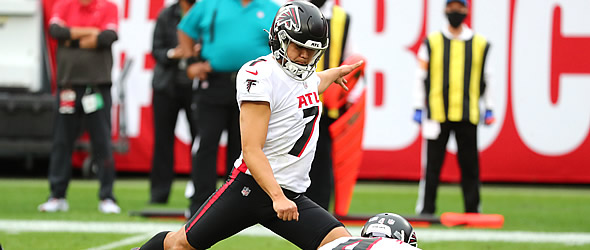 Oh and by-the-way, Tucker wasn't No.1 in 2020 - that was the Falcons' Younghoe Koo at 11.6 FPts/G (for those with at least two games played). In fact, Tucker finished just 10th in 2020 producing 8.1 FPts/G.
Additionally, Koo won the kicking title in 2019 too. So shouldn't he be your top option as he goes for a "three-peat"?
I understand the bias toward Tucker (ADP 135). He's been Mr. Reliable. On the chart below he's never averaged less than 8.1 FPts/G. In fact, he's never averaged less than 8.0 FPts/G in any of his nine NFL seasons. And he's played 144 consecutive games without missing a game (sorry for the announcer's jinx Justin). He's a "set-it-and-forget-it" kicker.
Harrison Butker (ADP 139) is also coming off the board ahead of Koo (141.7). He kicks for the high-flying Kansas City Chiefs offense. He's always on television. He had three very good seasons before 2020 when he slumped to 12th at 7.7 FPts/G. However, he attempted a career-low tying 27 field goals last season for the second time in three seasons.
Top offenses don't necessarily make elite fantasy placekickers. Green Bay led the league with 509 points and Mason Crosby finished near the bottom (6.7 FPts/G). Buffalo finished second with 501 and newcomer Tyler Bass finished fourth.
You need solid offenses to move the ball to the opponent's end of the field for your kicker, but you need offenses which stall before punching it in for touchdowns. None of last year's top-three were top-10 in extra points. Only three times in the past five seasons has a top-three fantasy kicker also been top-three in XPs (3-of-15 or 20%).
I prefer an indoor kicker or a warm weather kicker for those cold December and January days when the winds are howling, the snow is falling and the ball has all the flexibility of a rock. There is only so much helium you can sneak into a "k ball" when the referees aren't looking. Notice in 2020 seven of the top eight placekickers were kicking in domes or in warm weather.
Before Koo went back-to-back, Greg Zuerlein won twice in a row while kicking in sunny Southern California for the Rams (2017-2018). He's in Dallas now, under a dome, so can still be a factor once again as long as he and Dak Prescott are healthy (Zuerlein currently on PUP list, Prescott sore shoulder).
I also like Rodrigo Blankenship, the second-year kicker with Indianapolis. Kicks in a dome. Plays six games in the AFC South in dome or warm weather sites. In fact, he has only one worrisome games as far as weather goes the entire season – a November 21st date in Buffalo. He's going off the board eighth among kickers at ADP 152.8.
So there is no need to panic when someone jumps up and selects Tucker just before the last round begins. All is not lost. Here are at least three other very good options; Koo, Zuerlein (if healthy) and Blankenship.