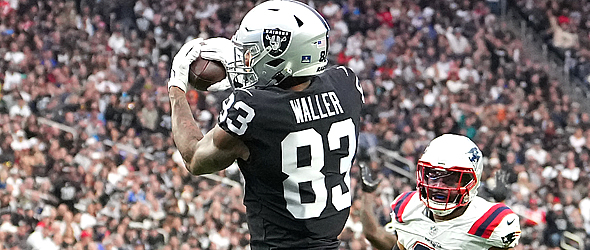 The complaint for both Giants fans and fantasy owners who rostered Daniel Jones last season was that he had no weapons. Apparently, Giants management agreed with this issue, because their first major move after locking up the quarterback and franchising running back Saquon Barkley was to trade a third-round draft choice for Las Vegas tight end Darren Waller.
Waller with the Raiders 2018-22
Waller first exploded onto the fantasy scene in 2019 when he posted a surprising 90-1145-3, but he's actually been in the league since 2015 (he spent three seasons in the Baltimore Ravens system including a suspended year for substance abuse in 2017) and will be 31-years-old this September.
In that 2019 season he cranked out the second-most fantasy points (223) and sixth-best FPts/G number at 13.9, while playing all 16 games. The following season he was even better, producing 280.6 fantasy points and 17.5 FPts/G, again finishing second in the league to Travis Kelce.
However, after producing two consecutive elite seasons, he has disappointed fantasy owners the past two seasons. It's not that he was horribly bad when he was on the field, he just he wasn't on the field very often. He played 11 of 16 games in 2021 and only eight games last season, averaging 12.1 and 10.6 FPts/G, respectively.
Given his $17 million salary last season and almost $12 million owed to him for 2023, the Raiders apparently were willing to part with Waller for a second-day draft choice.
Waller with the Giants
Given all the pass catchers in Las Vegas (the team just agreed to a deal with Jakobi Meyers in addition to holdovers Davante Adams, Hunter Renfrow and Mack Hollins), you would think New York should be a better spot for the former Georgia Tech wide receiver. The Giants had no receiver with more than 724 yards or more than 57 receptions. Fourth-round rookie Daniel Bellinger led the tight end room with 30 catches for 268 yards and a pair of scores, therefore Waller immediately becomes the No. 1 tight end with little competition at the position. And with no elite wideout on the current roster (leading candidates being Wan'Dale Robinson, Darius Slayton and Richie James), Waller could end up being Jones' "go-to" guy in key situations.
However, comparing Jones to his former quarterback, Derek Carr, Carr is easily the more prolific passer. Carr averaged 4,106 yards and 22.8 touchdown passes from 2018-22 while Jones comes in at 2,900 yards and 15 touchdown passes for his last four seasons. With the Raiders, Waller had elite upside when he was on the field. Those expectations should be tempered considering how his new quarterback was used last season. The only hope for Waller's fantasy value is that Jones did throw a career-high 472 passes and 3,205 yards last season despite the lack of weapons. Unfortunately, you also have the specter of two consecutive seasons as a "part-time player" due to injury.
The bottom line
In my estimation, there are at least nine tight ends who should produce better results than Waller in 2023, therefore his value isn't likely any better than a ninth- or 10th-round pick. However, given his name recognition value, someone in your league not paying close enough attention will likely select him earlier than this and regret the pick. Don't be that guy.